Mon Nov 25, 2013 6:39 am
Thanks for the welcome, fellas. I started out in the outdoor market and have only been doing kitchen blades for about 2 years. A Gentleman from my Church recommended the forum. His name is Mike but I don't know what his screen name is.
I'll try to toss up a pick. It's one of my 10.5" chef's blades, .110" stock CPM 4V RC 60, layered and stabilized oak handle, loveless bolts. I do an angled plunge on my kitchen knives. I do this for a couple reasons. First is to allow a forward handle extension, this allows for more grip options and IMO a more secure pinch grip and ability to choke up. The other reason is to take the grind off the back edge of the blade for superior slicing.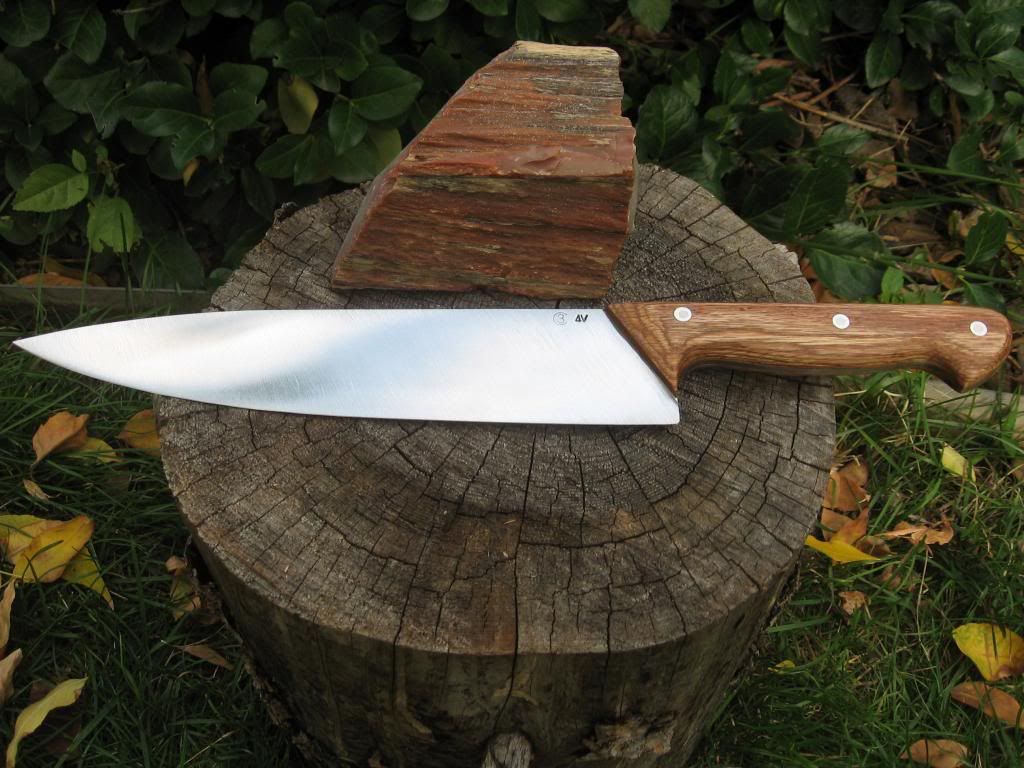 Thanks for looking.
Mon Nov 25, 2013 9:55 am
Very nice work! The only issue I have with the forward angle on handles like that is it makes it necessary to use odd angles to sharpen the entire edge without hitting the handle. At least for me anyway. lol It isn't anything that can't be worked around though, as I have a knife I have to watch the handle on already anyway.
Mon Nov 25, 2013 10:56 am
Hey DM, I did encounter that issue but with the handle starting about .5" up on the blade it doesn't get in the way. If you do the trig on the blade the grind is right about 7-10 degrees, so it's pretty thin. The only recommendation i make for sharpening is that folks don't use a device with a set angle. Freehand stone or strop.
Tue Nov 26, 2013 7:00 pm
Looks awesome
Tue Jan 14, 2014 7:10 pm
Hi folks,
This is my first message in this precious forum. My name is Onur. I am from Istanbul / Turkey.
I enjoy to cut walnut knife blocks, scales and other turning squares from this beautiful wood and hope that we will know each other more here.
Kind regards,
Onur Celiker
Tue Jan 14, 2014 10:15 pm
Welcome Onur,

That wood is beautiful! I may need to have some of that!

Regards,
Jeff
Tue Jan 14, 2014 10:28 pm
Thank you very much Jeff!
I do not know if it is true to share my website here or if i could write the website name on my signature line. So you can check out the available woods.
I have many beautiful burl and high figured Turkish walnut knife blocks on my website.
Sincerely
Onur
Jeff B wrote:Welcome Onur,

That wood is beautiful! I may need to have some of that!

Regards,
Jeff
Tue Jan 14, 2014 10:47 pm
You can email Mark at CKTG to get permission to list your website.
Tue Jan 14, 2014 11:30 pm
Hi & welcome Onur
Tue Jan 14, 2014 11:43 pm
Thank you so much!!!
MadRookie wrote:Hi & welcome Onur