Ok, as you all know I am a staunch EP supporter & user.
I use the Pro model with some mods I devised to smooth the sharpening process.
Stones......mmmmmm......I think I have virtually tried them all.....from the stock / Chosera / Shapton Pro / Jnats / Sigma Power Select II / Sigma Ceramic......and then along came the Shapton Glass EP mounted range.
Being a sport to travel new roads & experiment to achieve that ultimate edge (by the way which never happens), my eyes popped & I took the plunge and bought the following set....
1k/2k/4k/8k/16k/30k
Some Pics: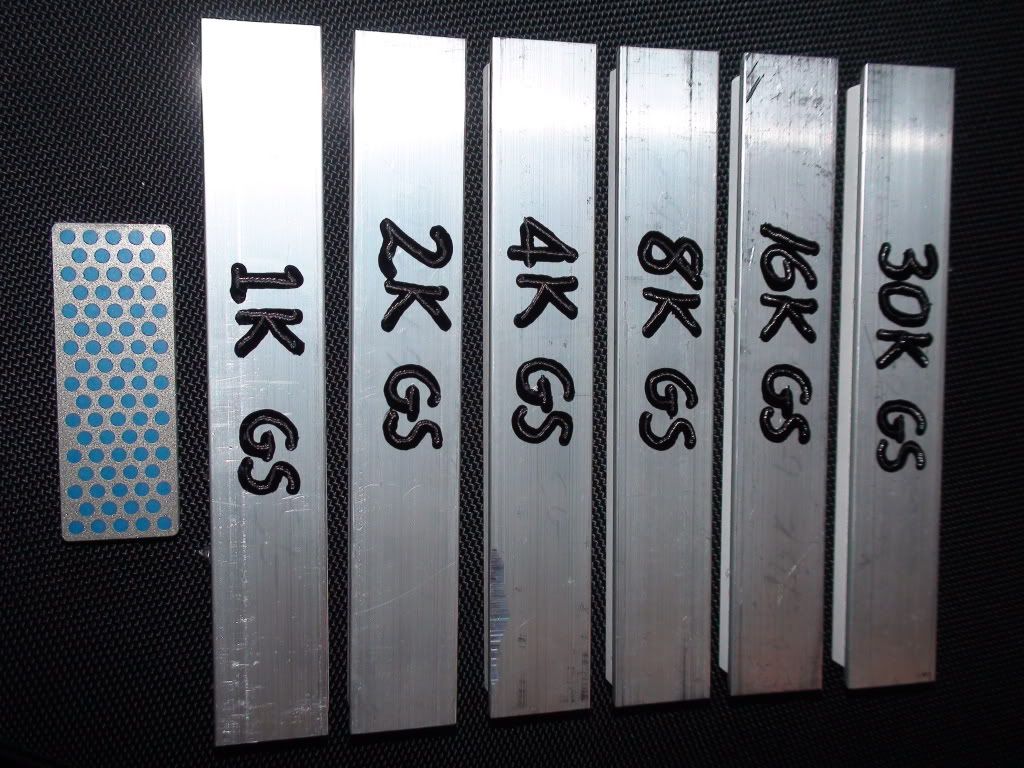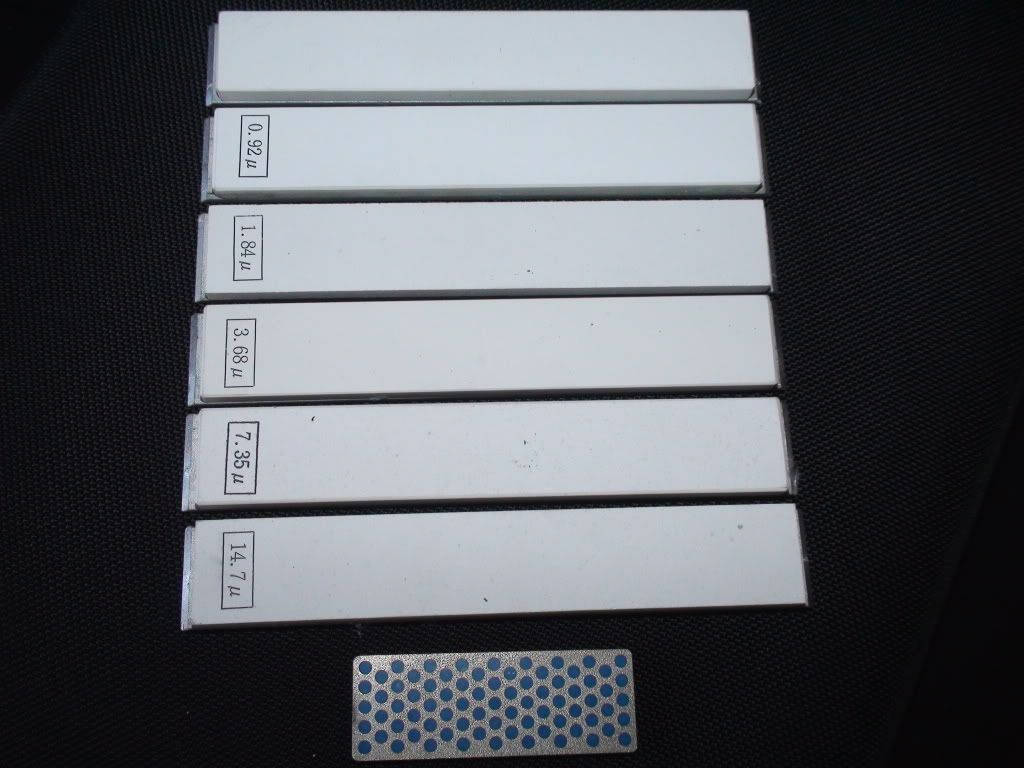 Now all my low end grinding is done by atomas, so stone usage starts at 1k.
Steel.....my thinking was to challenge M390 as this to date has been the most stubborn to succumb....
So I popped on the 1k, set the angle cube and concentrated.
I did 1 pass and turned the stone - seriously plenty swarf from just 1 pass - checked under the veho @ 400x and wow - this stone is aggressive!
My progression consisted of 4 scrubbing passes per blade side per stone through 1k/2k/4k/8k, with 6 scrubbing passes with the 16k & 30k stones respectively.
Well:
1k - fast cutter, very fast, plenty swarf, hazy finish, good feedback, no clogging - impressive
2k - fast cutter, plenty swarf, bevel quite shiny with light strokes, good feedback, no clogging - impressive
4k - also fast for a 4k, reasonable swarf, very shiny bevel, good feedback, no clogging - impressive
8k - this is where it seems the tide turns - still fast for a 8k, less swarf, creamy feel, good feedback, mirror finish, still no clogging - impressive
16k - little swarf, fast cutter for a 16k, good feedback, smooth creamy feel, no clogging - impressive
30k - same as 16k, just very, very smooth, creamy & excellent feedback - impressive
My verdict:
The Glass stones impressed, all of them.
The feedback is really good, I would say on par with the Choseras, but with a more "direction/precision" feeling to it, and so much better than the Shapton Pros.
Clogging/loading of the stones are non existent and up at the 16k & 30k level, the Shapton Pros fall out of the bus.
I sharpened 2 x knives and lapped the stones in between sessions - dishing was virtually non existent and lapping on the 3x8 Atoma plates were indicative that these Shapton Glass stones would serious last uber years. ( I lapped the 1k/2k/4k on the 140 Atoma and the 8k/16k/30k on the 1200 Atoma).
Final Thoughts:
I still love my Choseras & Sigma Power Select II, but for now they will be retired to the far back, out of reach spot in the sharpening cabinet, next to the Shapton Pros.
My Shapton Glass stones will with immediate effect reside in the top main accessory drawer - ready to do all the duty from here onwards.
Sooooooo, those EP user out there still sitting on the fence for aftermarket stones - get these Shapton Glass stones on your shopping list pronto - you will at this stage not find any better product out there!
Thx for taking the time to read.