I have been privileged to have owned & used all the steel mentioned, excepting 52100.
I am a M390 junkie, but of late I have switched to the Yoshikane in the SLD steel. (for my kitchen cutlery)
SLD takes a very keen edge, is very tough at 64Rc and very easy to strop back to scary (unlike M390 which due to the high Vanadium content is a pita to strop).
But the edge retention only plays part in my call - out of the lot (and I include many of the "top" custom makers gyutos I own, have owned/used), the Yoshikane although not being a laser has the best blade geometry I have experienced - truly a superb cutter.
My personal experience/opinion:
M390: very high carbon content/best edge retention/good toughness/stainless/scary edge taking/pita to maintain (based on the average user which is not always a sharpener junkie with oodles of high tech sharpening equipment).
SLD: high carbon content/very good edge retention/takes very keen edge/very tough/easy to sharpen & maintain.
SKD12: similar to SLD with lower carbon content/not as good edge retention.
SG2: presents carbide fallout in less than 30 degrees (inclusive) angles and is rather prone to chipping.
The comparison chart below (courtesy of zknives) depicts the chemical makeup of the steels in question - various element percentages boosts certain characteristics in a steel - it will always be a trade off between hardness/toughness/edge retention/oxidation/ease of sharpening etc...etc....
What the chart cannot do is take the best steel and insert it into the perfect/ideal knife geometry/profile - this is what Yoshikane does near perfectly.
Will the quest for the ultimate, perfect knife ever stop......methinks not......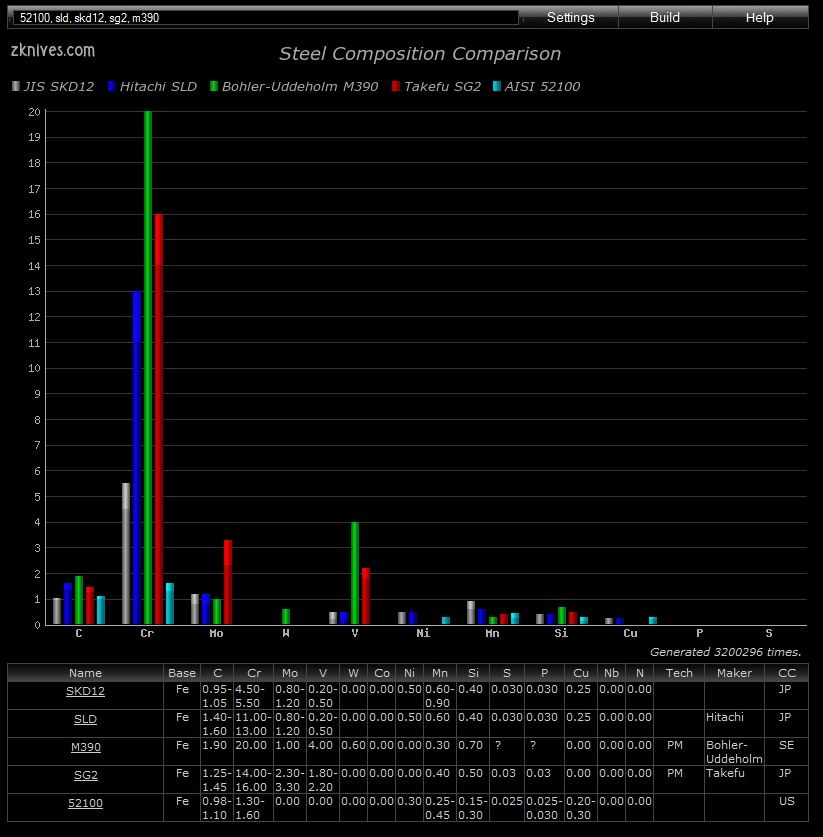 This is just my take after years of beating the crap out of most veggies & protein with a variety of knives, inclusive of sharpening them - an extremely costly exercise it has been.......