I wanted to provide a shout-out to Tim (Taz), who did some excellent work for a friend of mine back in August (yes, I've been that preoccupied since then!).
My friend, who is only recently into kitchen knives of all types as a very good amateur cook, bought a 10" SAB Nogent (**** Elephant). He, like most of us, read lots of online forums, had a soft spot for Julia Child's oldest videos, and wanted a connection to the long history of this "cheap but extremely functional" tool. He shopped for months, finally found a supplier of the original, proper steel and design, and got what is claimed to be one of the very, very last factory stocks. Because of the low supply, the seller made no apologizes for the state of the knives: my friend had to adamantly request a straight blade, and out of the fifteen or so, there was only one (and it was still a bit bent).
Unfortunately, the blade was also improperly ground, unusually thick at the heel, and had never been sharpened or thinned, so it still had the extreme height and robustness of the original design. (For all you BDL disciples out there, comparing images of his beloved SAB to the original design is, well, surprising. He clearly sharpened, thinned, and used his knife for many years before taking his popular pictures. Despite my respect for BDL, I'm suspicious that many comments and conceptions of the SAB profile relate to tailored knives and the smaller utility chef's, and not necessarily the original pattern of the massive 10" chef's—this includes BLD's own impressions after so many years of customization.) In many ways, the knife was one of the worst knives I have used out of the box, and even after some heavy sharpening, it became clear that thinning the knife and correcting the edge would take either many hours and individual sessions on the stones, or some high-powered belts. It would also take serious talent.
Enter Tim. Backstory aside, Tim graciously offered to meet us, talk knives, and try his hand at thinning (read: completely overhauling) the SAB. Since we occasionally share the same state, we drove up to meet Tim and he showed us a few things. Without dwelling on the topic, let's just say that Tim was a very generous and friendly host all-around.
Amazingly, he worked on the SAB while we waited. This is amazing because few people would dare to correct such a knife after only seconds of observations and without cutting anything with it—not to mention the fact that Tim had very little experience with correcting SABs, so this wasn't routine work for him (although Tim has lots of experience thinning other knives!). Tim examined the knife carefully, recommended some changes, and continually asked us what we wanted. He spent about an hour on the knife total, including breaks to chat. We did not request any kind of "polished" finish, so please don't expect that the pictures below reflect Tim's normal "fit and finish"—this was a utilitarian fix for someone who just wanted the knife to perform its best, and not to look new or polished. (In addition, my friend used the knife before taking any pictures, so it already started for form a new patina.) The final product simply amazed us, especially given the circumstances. I would not flinch if someone showed me similar work and suggested it took days to complete and several trial-and-error tests. After taking it to the stones at home, it performed on an entirely new level, and has since pleased its user very much.
I won't provide any more narrative details about our experience or Tim's work. I will instead provide a series of pictures that my friend took after the work was done. Tim's reputation – especially with handles – precedes him (and me), but these pictures and the captions should only add to our respect and admiration of his work and generosity.
General profile adjustment. Note the flat spot and belly. The original had an uneven edge, including a major flaw in the belly that Tim corrected. The new profile is much closer to the "classic" KS/SAB we all imagine, which is quite shorter at the heel than the knife as my friend received it.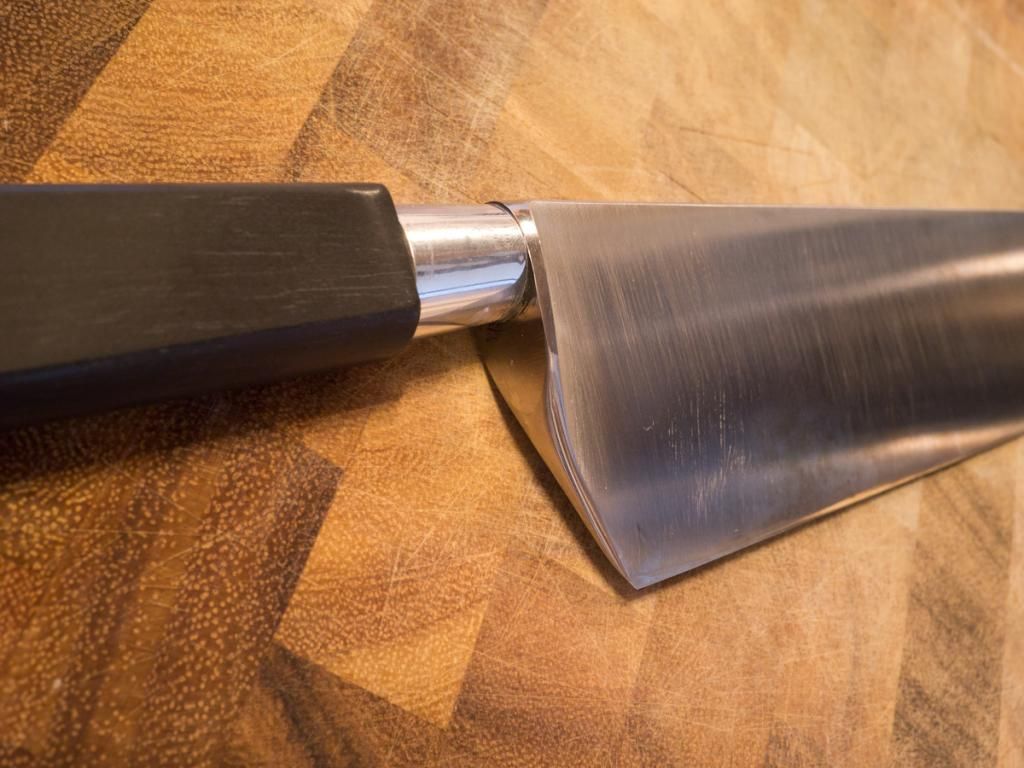 Here you can see Tim's creative solution for the bolster. The knife had virtually no grind for the first 2.5-3 inches of the blade, and the wide bolster made thinning this unground area virtually impossible. Time not only thinned the whole section, but he tailored the bolster to maintain its classic presence (my friend did not want it entirely removed) while also updating the look and wedging it to make future sharpening and thinning easier. A masterful improvisation, to say the least.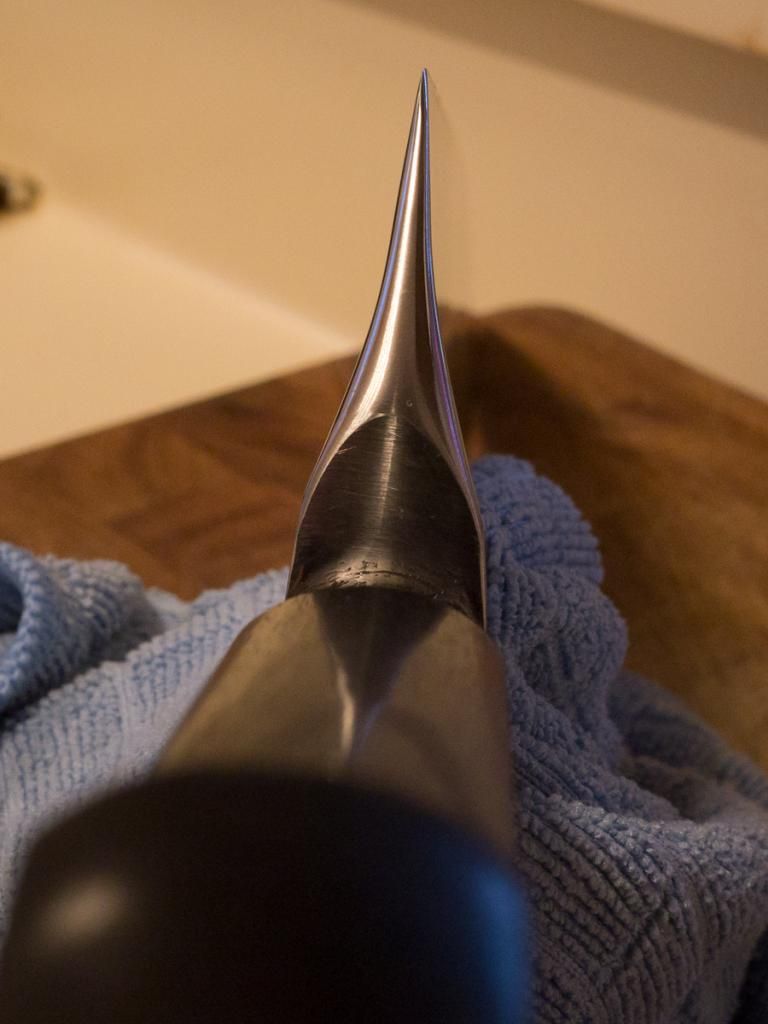 Another shot of the bolster. Note the wonderful, sculpted physicality and polish, all improvised, and all freehand.
As I mentioned, many of these original forgings are bent. While Tim did not correct this aspect of the knife, you can see how me maintained the original spine and respected the distal taper of the original.
Again, one can see how Tim thoroughly thinned the previously unfinished rear of the blade, as well as how he altered the bolster to accommodate more freehand customization on the stones in the future.
It is very difficult to capture a "choil shot" from the tip of the blade, but my friend tried to do this to reflect just how thin Tim managed to grind the knife. (Obviously, the bolster makes it impossible to see this at the choil.) The knife lost a bit of height all around, and shed some weight; it also lost a bit at the tip. However, it gained an amazing new grind that is considerably thinner from tail to tip. To make all this even more impressive, my friend requested the knife maintain the beefy, do anything quality of its original size and shape, which includes the wince-inducing cleaver tricks of Julia Child. Despite its thinness at the tip, new profile, and vastly improved geometry, each portion of the blade now excels in different ways, and the first three inches at the heel are still robust enough to crush through just about anything you can imagine.
Kudos to Tim. While I'm not equipped to review the knife (I've only used it a handful of times, and while I've sharpened it, it has always been to my friend's specifications), I can say that it went from being one of the most troubled knives I've ever used to one that captures so much of the SAB history while performing better than its German counterparts on the board. It is also a real looker now, too.