Fri Oct 26, 2012 9:52 am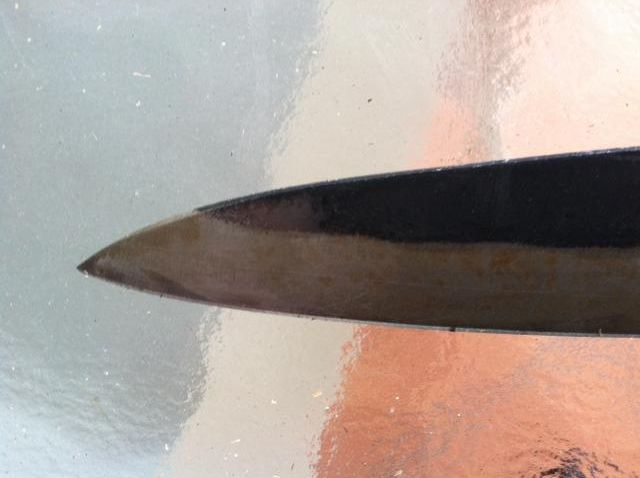 After carving up about 120 Jack O' Peppers for a big event at my restaurant (well, not MINE..the one I work at) I noticed while wiping the blade (about every 10 peppers required a wipedown) the distinct wearing of the kurouchi finish on my Tojiro Petty. This is exactly what began on my Tojiro White Steel Santoku until the kurouchi finish on that blade was gone for the most part. Is the finish on these blades THAT poor? Anyway, these knives have been replaced by a MAC 5" Utility (which finished coring these peppers very efficiently) and a Fujiwara FKM 07 for work. But really....anyone else experience this issue?
Fri Oct 26, 2012 10:27 am
No kurouchi finish will last. At least none that I've seen. You should expect it will wear off with use.
Fri Oct 26, 2012 10:50 am
Fair enough. People have given me reason to believe otherwise, but I always doubted that finish was forever. I was surprised to see it wear away that quickly however. Still, these are working knives, not rack trophies.

I have worked a decent patina on the Santoku and rust is not an issue; that's good.
These blades are great performers and I'll keep them around for home use unless someone wants to buy them (the time to thin out the cutlery herd is VERY close at hand).
Sat Oct 27, 2012 10:30 am
an acid bath should safely remove the entire kurouchi finish if you would like your knife to look better and it will also cut down on carbon reactivity. theres a bunch of demonstratons on youtube if your interested.
Sat Oct 27, 2012 3:13 pm
Mine looks like absolute hell after just a matter of weeks and I'm a home cook.

If you want your knives to stay looking new, get stainless! Artifex Paring knife sounds like a way to go.
Sun Oct 28, 2012 8:55 am
Exactly what I did. Both the Tojiro Shirogamis were replaced with stainless blades for work. They still show up in the pro kitchen on occasion (rarely) but for the most part they have been replaced in the line up by a MAC 5" Utility and a Fujiwara 7" Santoku. Both are made of stainless, perform marveously, and require minimal attention.
Sun Oct 28, 2012 1:48 pm
I have never seen a lasting KU finish, even amongst the higher priced knives. I have seen a few people strip the KU off these knives and just build a natural patina instead.
Sun Oct 28, 2012 10:29 pm
...or, strip it to polish it. Unworthy battle from my perspective, but I've seen it.
Mon Oct 29, 2012 6:09 pm
Takeda KU is pretty tough....