Fri Oct 05, 2012 9:07 pm
I would cook the beef to rare and then do the Patina. I tried it with raw beef and it didn't work as well. But with the quantity you are talking about, I don't know how well it would work.
Sat Oct 06, 2012 5:26 am
I'll try that as well..at this point I'm up for anything. I discovered on another forum some guy had good luck with the cold blue on a Chinese cleaver. As the more I think about it, any chemical is going to be washed from the blade, so I see that as a future option.
Sat Oct 06, 2012 8:52 am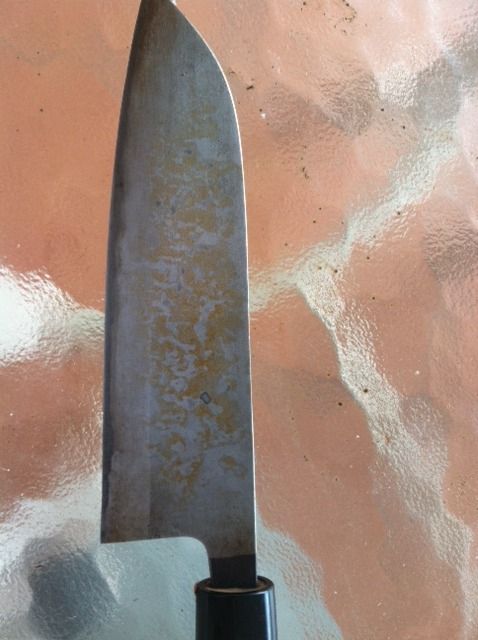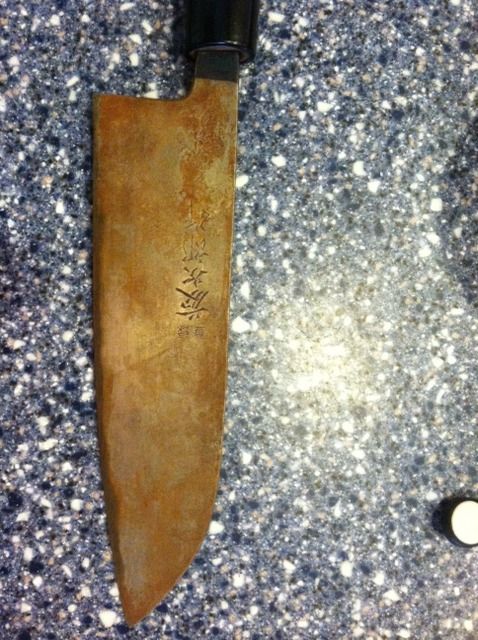 Sat Oct 06, 2012 9:06 am
Mark has graciously posted pictures of the rogue Tojiro (I couldn't figure out how to do it..thanks Mark)

As you can see, that is some serious rust. It grew after the blade was thoroughly washed, dried, and put back in my case. The other pictures show the Santoku next to it's little brother Petty which has demonstrated none of this bad behavior.

The 3rd pic is the recent (and continuing) attemot to develop a rare beef patina as suggested by taz. Lets hope this works...
Sat Oct 06, 2012 11:15 am
Bagah!! That is some rusty rust!
Sun Oct 07, 2012 7:16 am
I would wrap it in a paper towel and leave it out of the bag? I have some Dexter Blade Guards and even after the knife is dry, if I put them in the guards for longer periods of time, they can get rusted, and I mean pitted rust! Stainless knives it doesn't bother, but the Dexter guards don't like the Carbon blades for some reason.

If the blade is truly dry, it shouldn't rust. Maybe get some Kwik Seal oil and spray the blades before you pack them away and wash before use? Or just get a Stainless knife; Artifex 210mm would be great!
Sun Oct 07, 2012 5:22 pm
Fujiwara 180mm Santoku is on the way. I'm going to play with this one at home. Just sliced/diced a pound of rare beef for a Szechuan dish tonight using the culprit Tojiro. Worked flawlessly. I guess maybe it isn't a commercial grade blade. Sure works well though..............
Mon Oct 08, 2012 4:44 pm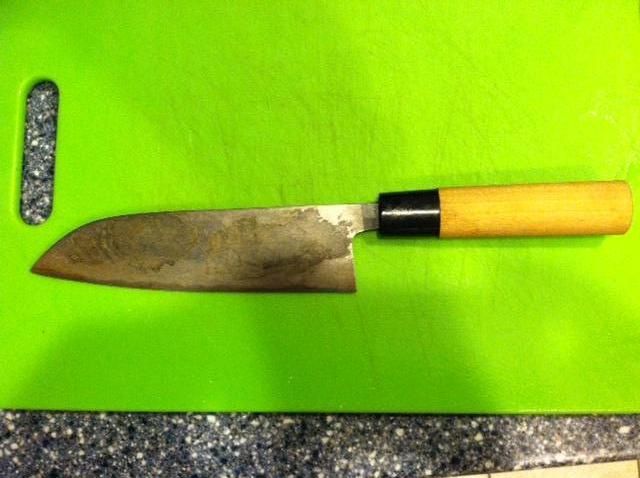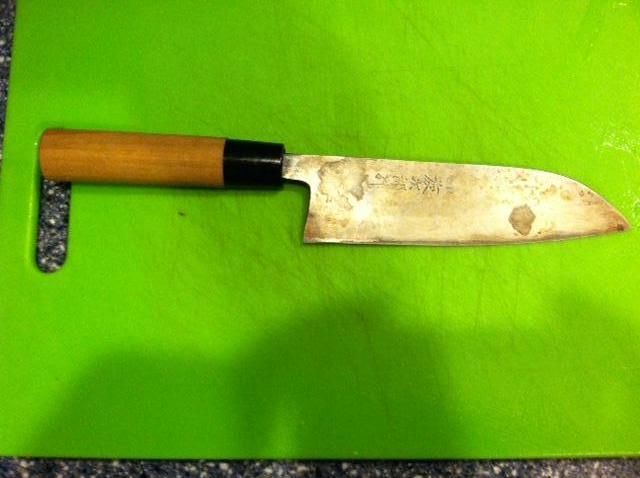 Latest effort using rare beef method. Looks good..no rust since
Mon Oct 08, 2012 6:30 pm
I don't know why it works, but it seems to work pretty well for me in the home kitchen. I'm sure there is some reasoning to it, but I haven't figured it out. Someone once said something about how the proteins and salt from the blood react to the metal??