Thu Nov 21, 2013 1:32 pm
Small presentation of my chef knives .. Has mostly made ​​collectible knives but always planned to do some chef knives Here is a sample of the first blades.
Steel is a stainless steel powder from Damasteel in Söderfors heat treated to 60 RC
Blades are 250mm total length 380mm height 50mm, handle stabilized birch and fossil walrus
http://www.tobbeiar.se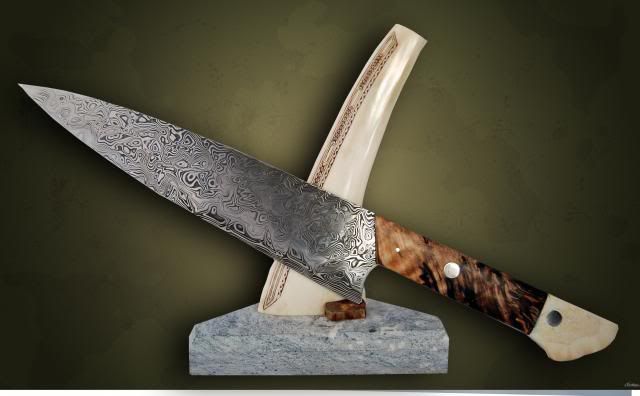 0
Thu Nov 21, 2013 10:54 pm
Wow... just had to pick my jaw up off the floor... lol Those are gorgeous knives!
Even if I could afford something like that, I'd be afraid to use it and frame it or something. lol
Very nice pieces of art and excellent work!
Sun Nov 24, 2013 6:04 pm
very nice indeed.
Sun Nov 24, 2013 10:34 pm
Outstanding work and Birch is such a versatile wood.
Tue Nov 26, 2013 6:09 pm
Very nice Damascus pattern
Sat Jan 11, 2014 12:48 pm
Sat Jan 11, 2014 3:13 pm
TOBBE <>
Beautifully artistic incarnations of steel, bone, and wood. I really enjoy the variably sized top rivets; it injects a nice interruption to the senses.
Sun Jan 12, 2014 9:32 am
All three knives are beautifully done, but if I had to pick a favorite it would be the middle knife with the feather damascus and bone handle. The handle and blade look like they belong together.
Sun Jan 12, 2014 10:38 pm
Very intriguing profile. Like your handle wood selections.