Thu Mar 14, 2013 12:55 am
Fellow sharpening enthusiasts,
My wife surprised me with a used sharpening stone she saw for sale. After flattening it as it was quite dished I tried it on my Kikuichi TKC. It is a medium/soft stone that soaked quickly (2-3mins) and it left a very biting hair popping sharp edge. I'm guessing it is in the 2-3k range but I could be waaay off. Anybody have any clues on what it is? Thanks!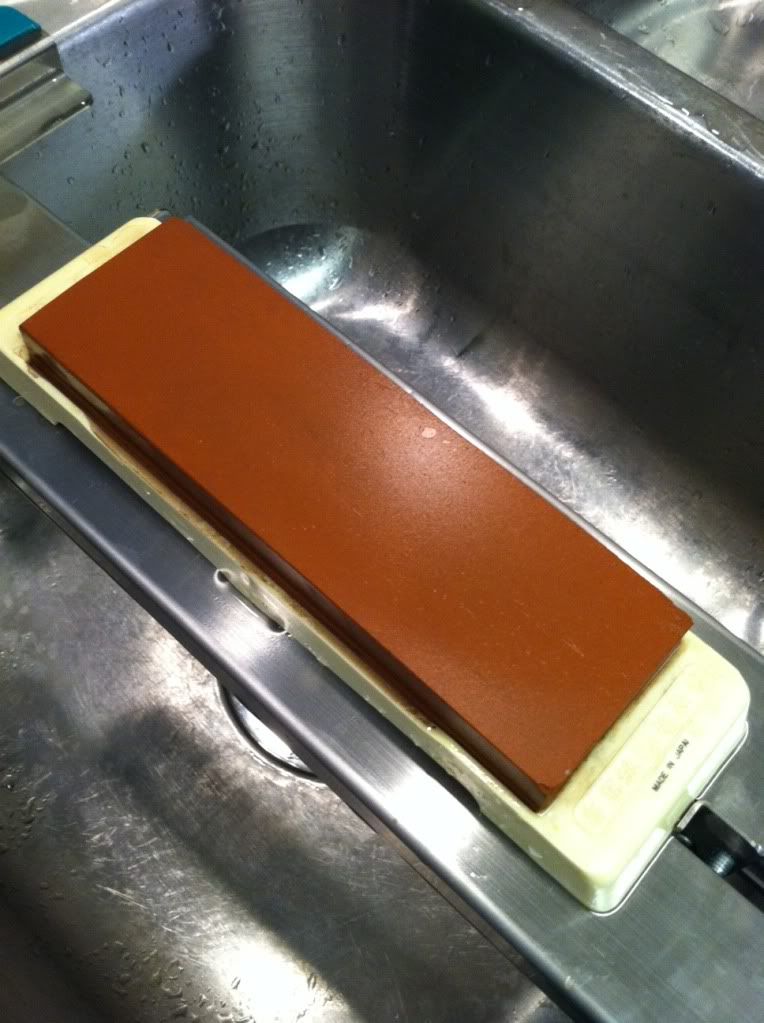 Thu Mar 14, 2013 1:04 am
The kanji means "high grade whetstone," a general description.
I hope someone can id it from the base and the tone. Good luck!
Thu Mar 14, 2013 1:10 am
Thanks for the info! For the $3 my wife paid I was expecting complete junk but it cut surprisingly well.
Thu Mar 14, 2013 2:23 am
usually brick colors range in the 800-1k....
looks like a naniwa 3k that has a base.
must be this one
http://www.fine-tools.com/kombischleifstein.html
Thu Mar 14, 2013 2:27 am
Looks to dark to be the 3k, looks more like the 1k.
Thu Mar 14, 2013 2:48 am
after taking a quick look at the grit size, you're right jeff.

my bad
Thu Mar 14, 2013 10:06 am
Jeff and Franz,

I appreciate the help! For the $3 my wife spent I'll find a use for it. If anything it will be a good practice stone.
Thu Mar 14, 2013 2:57 pm
I'll give you $4 for it.