Mon Oct 21, 2013 7:43 am
Ok...a little off the wall question. The wife bought me a blade blank for my birthday a few weeks back and I sent it off to a guy I know that does a lot of paracord weaving/wrapping to put a temporary handle on it. Eventually it will get a nice burl handle but I want to practice on some old knives before so I don't mess this one up. Anyhow...I didn't realize that he puts some of the stuff he wraps in boiling water to tighten up/shrink the cord to whatever he is wrapping. Luckily he let me know and asked if it was ok before he did anything with the blade. Wondering what your thoughts are about doing this on a 1095/15N20 damascus blade. I know he could dry the exposed portions as soon as he pulls it out of the water, but am concerned about the portion that is covered with the paracord rusting and eventually showing. Was almost wondering if he could do the boiling water and then put it in the oven at 150-200* or use a hair dryer on it to dry it right away. Any thoughts?
Here's a couple not so great pictures I took of the blade.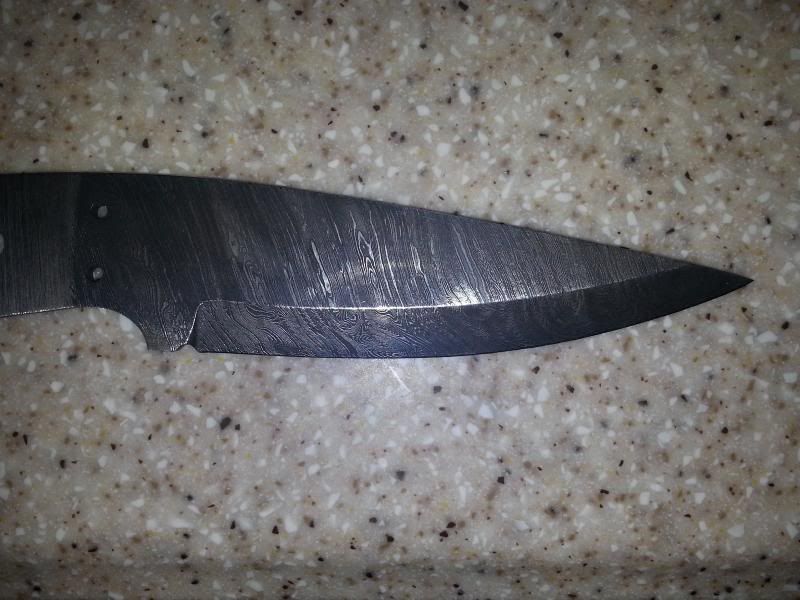 Mon Oct 21, 2013 8:16 am
That's a good question....and I'm not sure there is an answer.
It might, or might not, rust....depending on how much of the water you get out and how fast.
Personally, I'd force a patina, or even coat the handle with something, before dipping the handle in water.
Maybe blue it....that would prevent it from rusting I'd reckon:
http://www.birchwoodcasey.com/ProductSe ... a867399319
Mon Oct 21, 2013 8:19 am
The paracord will get soaked with the water and dry out slowly, even in an oven. In many knives like that, mild steel is used for the tang and that may rust quicker than the Damascus steel. If you are rehandling it, you can remove any rust before putting the new handle on, but it can be a pain depending on how deep it goes.

I would see if he can do a dry wrap instead of the wet wrap? Or maybe spray some urethane or something on the tang itself to seal it and then have him wrap it, just mask off the blade first?
Mon Oct 21, 2013 8:36 am
Will poly hold up to boiling water better than bluing it?!?!
Mon Oct 21, 2013 8:59 am
I dunno? It can still rust when blued, no idea what bluing being boiled will do to the container or smells/chemicals released??? Not sure what poly or some sort of finish can stand up to heat wise? Can the guy put the cord or whatever into boiling water, remove it and then wrap it?

Safest bet is the wrap everything dry and keep it dry. Never heard of people boiling the paracord before?
Mon Oct 21, 2013 9:16 am
I have, it tightens it up.
Mon Oct 21, 2013 9:25 am
Had I known about the boiling, I definitely would have coated it first. As best I can tell from all of the blanks I've seen from this maker, the full blank is damascus, they just don't dip the handles and keep them rough so any adhesive used on the handles has something to bite into. Worst part is the knife is already wrapped and I know he's got quite a bit of time it because he wasn't happy with the first couple of attempts. hmmmmm..... I'm really not too worried about minor surface rust under the wraps as that would clean off easily with a wire wheel before I handle it, just nervous about it actually causing corrosion.
Mon Oct 21, 2013 9:36 am
Didn't know that Adam! I learn something new every day!

Even if it pits, you can still wire brush the stuff out to clean it up for the later rehandle, just make sure he fully dries off the part up front that will be exposed between the bolster/handle and the blade area!