Tue May 29, 2012 6:40 pm
I got some really nice custom handled knives back from one of my customers today. He does some sweet work.

Konosuke HD Western
Nubatama 210 Gyuto
Moritaka 240 AS

I couldn't get to them today but I'll have them up on the site tomorrow. We really had to bust our butts getting all the orders out. We had close to 140 of them go out today.

In addition a box from Stephan Fowler showed up. I'll get those up on the site soon as well. I still may hold them back a few days for the newsletter.

Pictures tomorrow here!
Tue May 29, 2012 9:26 pm
I'm happy business is booming for you! Life is good. Making lots of money with no time to spend it !
Wed May 30, 2012 8:47 am
This one is a Konosuke with Amboynia Burl, Black spacers, brass rivets and mosaic pin.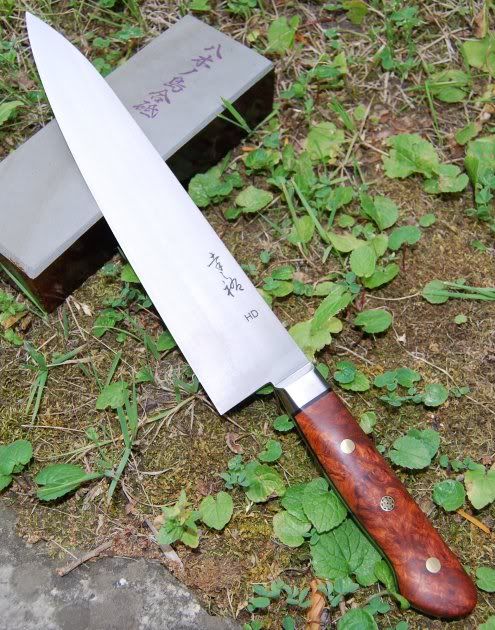 Wed May 30, 2012 8:49 am
This is a Moritaka 240 Gyuto with Oregon Maple burl, M3 Gunsmoke and Gold Ferrule, Black Spacers, M3 Galactic Gold Spacer and end cap.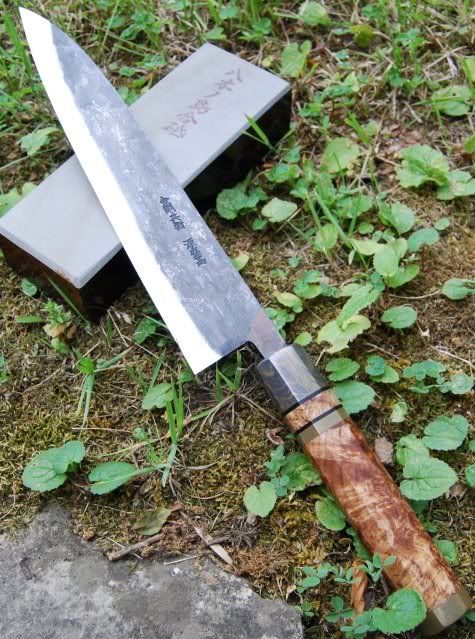 Wed May 30, 2012 8:57 am
Here's the Nubatama 210mm Gyuto with Spalted Sycamore, M3 Lapis and Gold Ferrule and Brass spacer.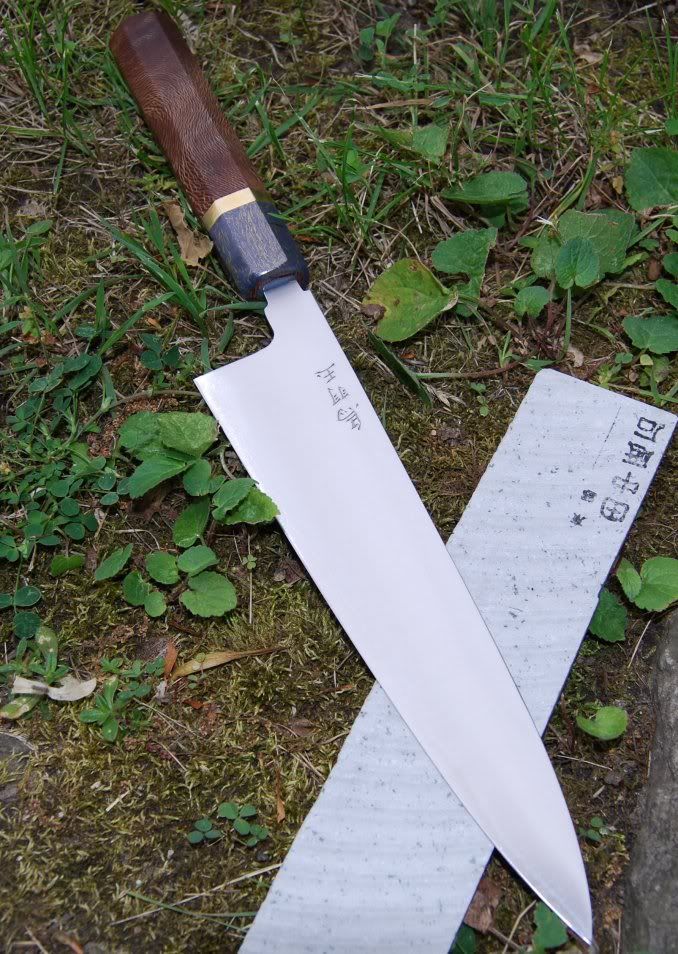 Wed May 30, 2012 11:01 am
That Moritaka handle is just like.... I dunno.... .. WHOA!!!
All 3 of these are exceptional. Drool, drool!
Wed May 30, 2012 11:24 am
Looks great!
Wed May 30, 2012 1:38 pm
These are all on the site now. You can find them in the respective sections for knife brands, under custom knives and in the new arrivals section:
http://www.chefknivestogo.com/newarrivals.html
I've got a bunch of Hiromotos on deck from a couple different guys along with some more custom cck cleavers, nubatama customs and a few other goodies.
Wed May 30, 2012 8:59 pm
That Nubatama 210 handle is soooooo unbelievable!!!! Lapis ? is it really Lapis? The wood is so pretty too.
Wed May 30, 2012 9:03 pm
I've got to know who made that Nub handle, seriously.