Fri Jun 06, 2014 7:07 am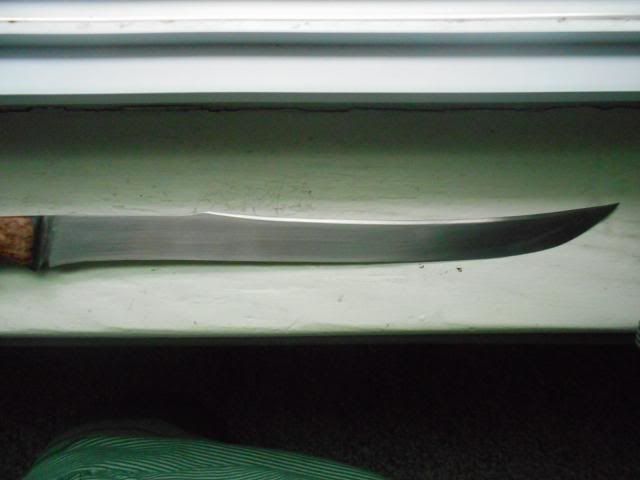 This is a knife I started almost 2 years ago. The profile is straight out of my imagination more than anything else. At over 16" long its got some flex and could filet a large fish or perhaps carve up a big bird. The Red wood Burl is very old, very stable and probably the most stunning piece of wood Ive ever worked with. I will be finishing up this baby soon and probably stitching up a nordic style leather sheath for it. More pics to come.
-tim
Tue Jul 08, 2014 11:55 am
Some New Pics....just about time to put a wicked edge on her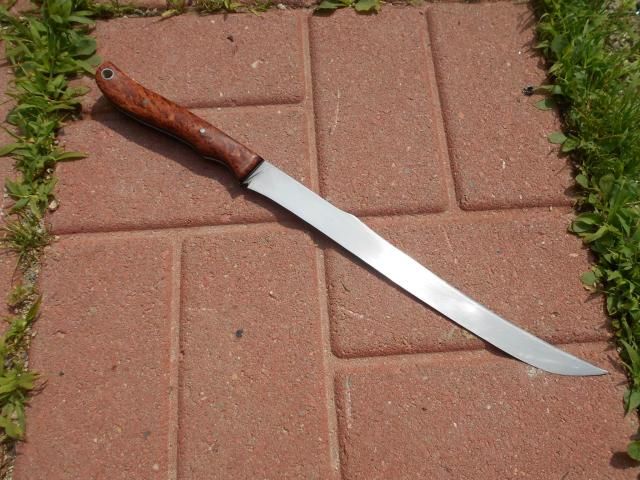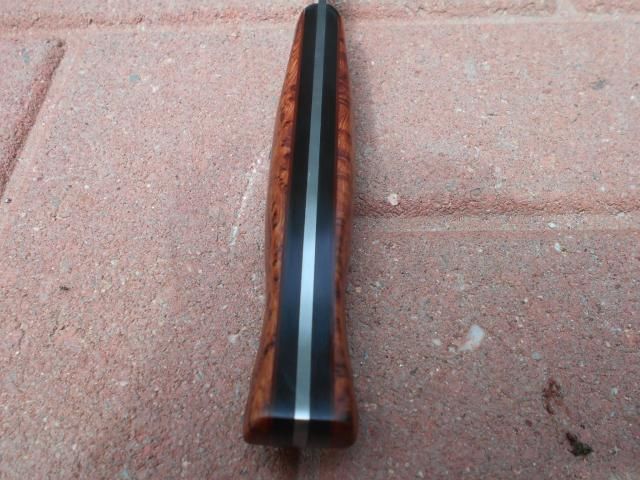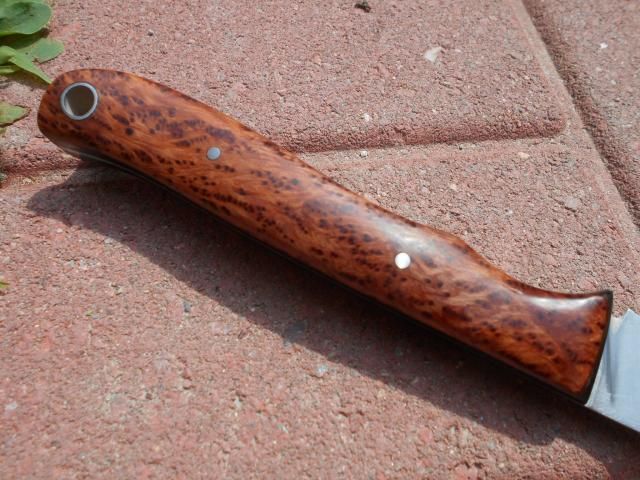 Tue Jul 08, 2014 1:32 pm
wow what do you plan to use it for?
Tue Jul 08, 2014 1:34 pm
Stunning knife Tim, Wow!
Tue Jul 08, 2014 1:52 pm
Last year I had a request to build a large filet knife with about a 10" blade. It was for an avid fisherman on Cape Cod. I started this one at the same time but added in a couple curves based off of some old drawings of mine I had lying around. I admit it is a bit more fantasy style than pure function. It is for sale actually on another forum.

I guess you could use it to filet quite large fish? Carve a holiday ham or turkey maybe? Slice some cake for your daughters 1st birthday? Well that is how I used it anyway;)

Here some specs:
OAL: 16.5"
Handle length: 5.5"
Sharpened edge: 10.5"
Thickness behind edge: .010"
Stock Thickness: .110
Steel: AEB-L heat treated to 60 RC by Peters

Handle Material: This is some of the most awesome natural Redwood burl I have ever seen. It was cut from a very old slab that was found in an abandoned barn IIRC (not by me). There are also thin red g10 liners between the Redwood and the thicker black G10 liners. The pins are 304 Stainless.
Tue Jul 08, 2014 10:06 pm
You use it for killing orcs.

Seriously, though, it's beautiful. The redwood has some fantastic colors.