Tue Jan 07, 2014 10:02 pm
Was given a couple of Shun knives that had seen better days.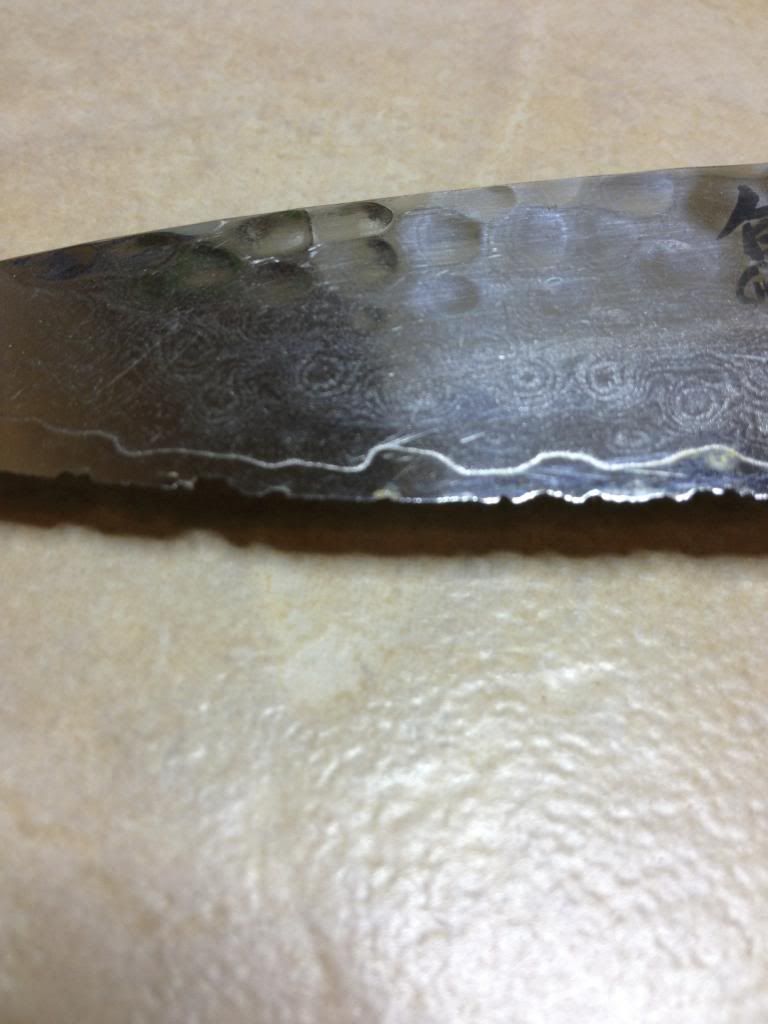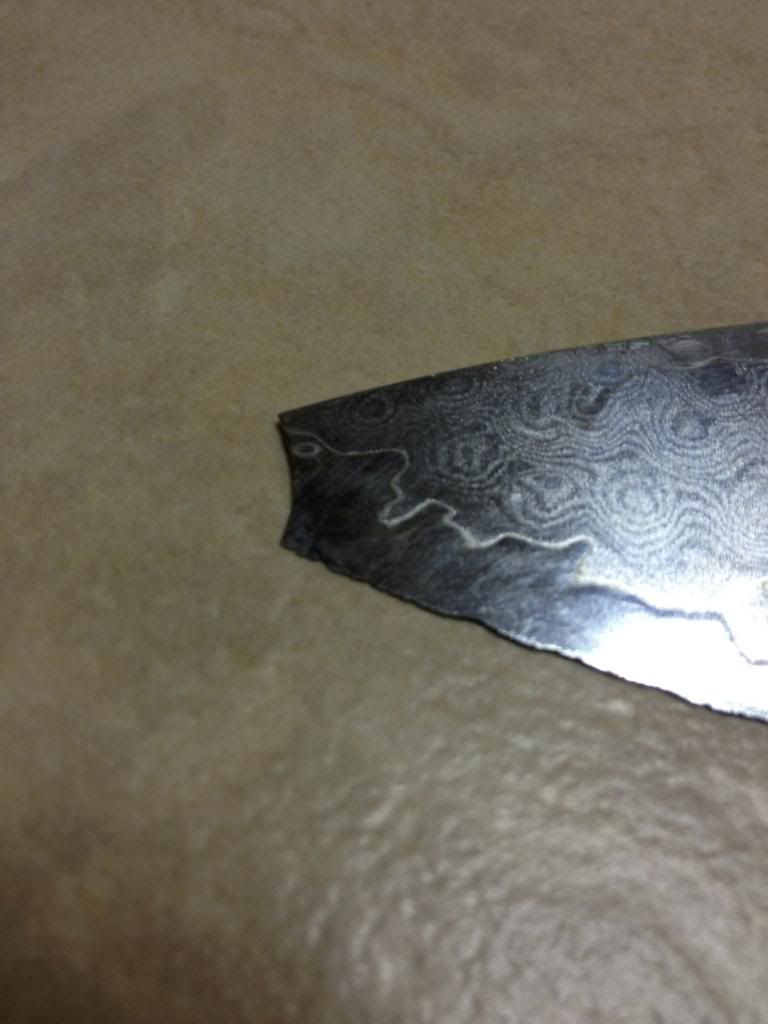 After my beloved Nubatama 150, Shapton Glass 500, Chosera 1k and Chosera 5k and Sigma Power Select 13K
Truly rewarding work, can't imagine it without that 150 though but I suppose I'm spoiled.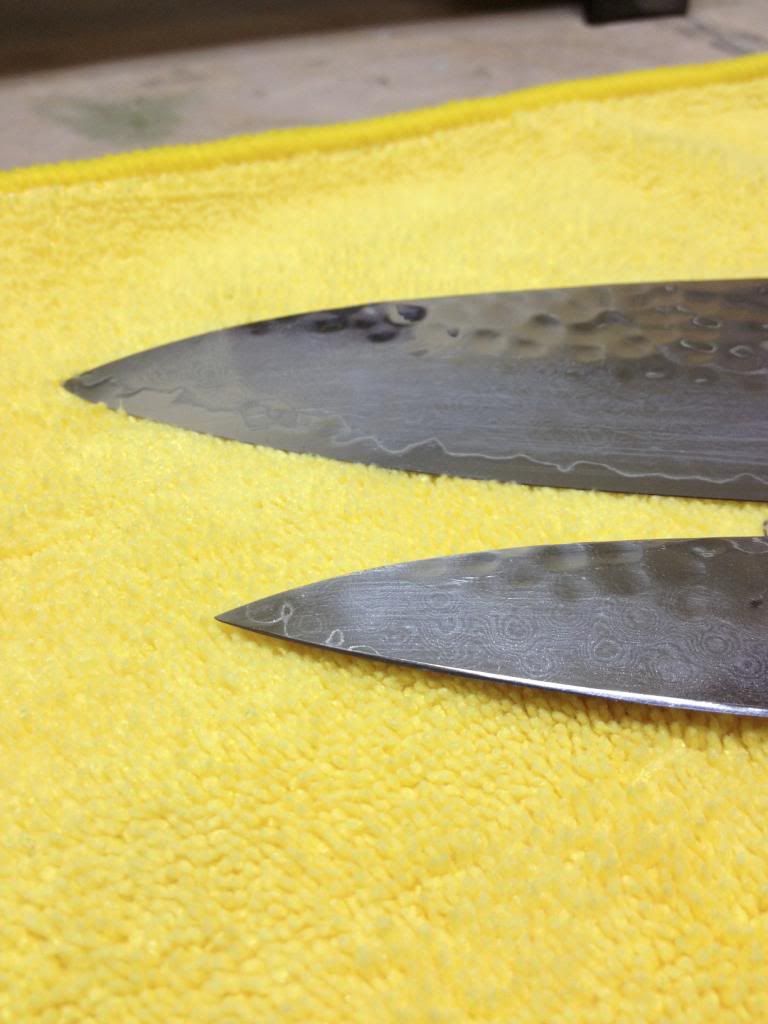 Tue Jan 07, 2014 10:17 pm
Great job Pete! I would have shit myself if I to fix those.
Tue Jan 07, 2014 10:19 pm
Nice work! Thats what most of the Shuns I see look like when I get them. Those were both VG ish steels?
Tue Jan 07, 2014 10:37 pm
Thanks and yes VG10. So true Pete, I get them quite a bit, bit so much broken tips but pretty rough edges. The problem seems to vanish or at least improve after a visit with the stones though.
Tue Jan 07, 2014 10:45 pm
Jeff, I don't get too worried about this stuff, the way I look at it no matter what I do it's going to be an improvement. Now I do worry about disappointing myself, it's never good enough but I suppose most of us are like that. I remember the first tip I did, I had no idea what I was doing and I ruined the knife but luckily it was mine.
Wed Jan 08, 2014 3:45 am
SAILOR <>
AWESOME JOB, PETE!
I've fixed some nasty ones, but never that bad. Astounds me how people can abuse a blade so badly.
Wed Jan 08, 2014 4:32 am
Nice job Pete.
....people like that should not have knives.....
Wed Jan 08, 2014 11:34 am
Hi and thanks fellas. I tend to agree Rook, the first thing I thought of was dishwasher damage but that is not the case here.
This isn't the first time I've had knives like this though and I think this is how things unfolded for these and other similar knives:
1. Owner purchases them 3-5 years ago with little knowledge of knives but thinking that he is getting the best because they are Japanese. In my area, when folks think Japanese knives, they don't think Takeda or Moritaka, they think Global or Shun.
2. After 2 months knives are dull and the chipping process begins, not stored properly etc., and the fact that the edges are deteoriating lead to frustration and giving up on them. The owner doesn't have anywhere to take them or he doesn't think they can be saved, they get worse and worse and get tossed in a drawer and drop on the floor, owner doesn't care about them at this point.
3. Owner finds old Pete Nowlan and takes a chance and is hopefully pleased and with any luck heeds some advice and treats them with respect.

I've learned not to judge people like this though, at least they have taken a step forward, googled knife sharpening and took the time to deliver the knives. I'll have a chat with him and hopefully in a few months I get to see them again, either that or the cycle continues. For 20 bucks the fella gets to start all over again with his "new" knives and I get the opportunity to operate on them.
Wed Jan 08, 2014 3:20 pm
I'm not sure dishwasher damage would be the first thing I'd have thought of... maybe a knife fight with a lawnmower, but not dishwasher damage... lol
That being said, excellent job on the finished product! Twenty bucks seems like a great deal for repair work of that caliber.
Wed Jan 08, 2014 3:24 pm
SAILOR <>
Even at $20 a knife... that's crazy cheap. Just crazy.