Thu Jun 07, 2012 12:46 am
Attached is a photo of my Mom's Shun Classic Santoku (7'?) that I just sharpened. She sent it back to the "factory" to have it sharpened. Whatever they do to these knives there is a tragedy. I wish I had a photo of the knife before I got ahold of it. It looked like they used some sort of double-wheel grinder setup to "re-sharpen" it. Almost like a hollow grinding setup for a straight razor. The edge was rough on the bevel ( you could catch your fingernail on the grooves from the wheels) and the angle it was sharpened at had a wave to it as you moved down the blade.
The photo attached is the "good side." Each side is definitely sharpened, by me, at a different angle. My bad, I guess. This side is close to 16 degrees. The other side ( not pictured) is probably more like 18 degrees.
Anyone have a tip to achieve identical angles?
Anyhow; I'm pleased. This is the 4th knife I've seriously sharpened.
King 1000/6000 and newspaper strop.
Thu Jun 07, 2012 1:07 am
From my understanding shun just started offering free sharpening service again and no telling what preschooler they hired to run the wheel. Outside of doing it myself their is a magic marker trick where you draw a line that is even and stay in that area also lay down two pennies on top of each other and consciously watch your knuckles and make sure u stay at that height other than buying the guards that force the knife to stay at 15 degrees or an edge pro that's all I can tell you. If I can help in any way please let me know I would hate to see that knife destroyed. Looks like shun already helped with that. We have a guy down here in a van with a belt grinder ( nothing wrong with that if u know how to use it) and I am always fixing his 12 different bevels on one knife, he ran the edge on a new ken onion shun all the way up into the faux damuscus about 3 inches and tried to fix it by laying the knife on the belt flat until the label was gone damdest thing I ever seen, shun sent it back and said it was unfixable, they were rite it moved like a filet knife when he was done I could actually flex it like a forschner. Peace and good luck I will help u where I can my email is listed. Bullman
Thu Jun 07, 2012 1:14 am
The marker thing is all I could think of. The issue with a Shun and that trick is you have to contend with the microbevel and the primary bevel. I always end up scuffing the knife a little ( mostly from the swarf I think) up the primary bevel right to the "damascus." It doesn't bother me though. I dont care what it looks like when it push cuts magazine paper, which this one did.
Thu Jun 07, 2012 1:25 am
I don't know I sharpen them all the time and own several. That's the only advice I know to give sorry I couldnt help u with ur issue maybe some shun fanatics who know more than me will chime in soon. Peace and my apologies I couldn't help more. Bullman
Thu Jun 07, 2012 1:40 am
I seldom put a micro bevel one unless requested to me unless it's absolutely necessary its a hassle but it's ur knife and like I said on the other post all my knives are set at 13-15 degrees and I can shave with all of them but usually I reserve that for my straight razors wich I sharpen myself also. I hope u work it out it's a beautiful knife. Peace bullman
Sun Jun 10, 2012 7:44 am
I am having a similar problem with my Shun knife. I sent it in for sharpening and i was satisfied with the sharpening but it was never nearly as good as when it was fresh out of the box. Even now it has many scuff marks and terrible chips from leaving it in my kitchen coming into contact with other knives and now I have these terrible chips in my Shun. Its embarrassing and almost unusable. I need help getting rid of these chips and any tips on how to resharpen it.
Sun Jun 10, 2012 11:45 pm
I just refinished mine and it's the original steel series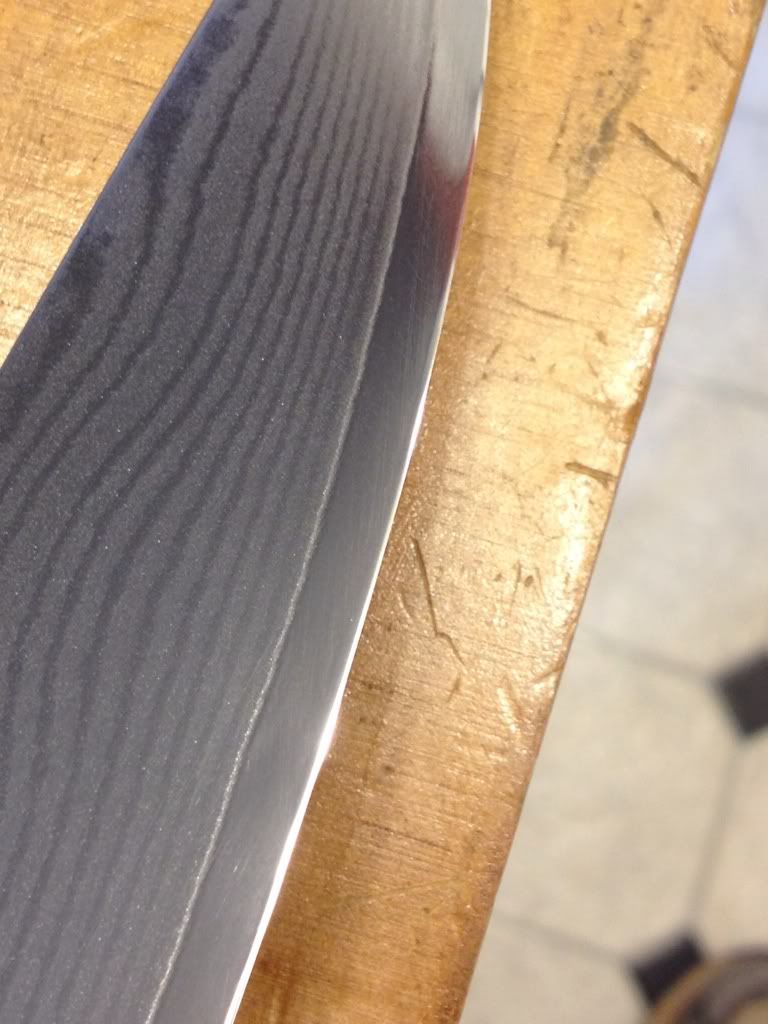 Sun Jun 10, 2012 11:46 pm
Last pic fixed a small chip in the middle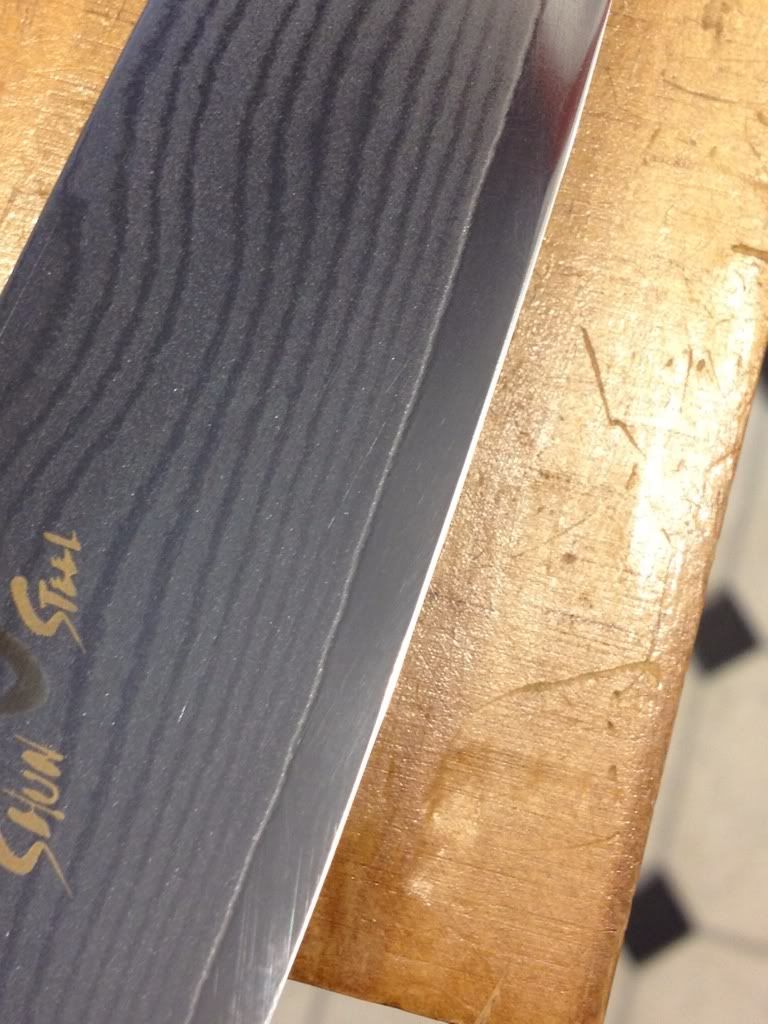 Mon Jun 11, 2012 7:55 am
So how did you fix the chip? I left my shun in the kitchen and someone else put it in with the other knives. Bad idea. it gave my shun chips. I need to fix it! Any help besides professional sharpening or should i go with the Pros?
Mon Jun 11, 2012 10:59 am
I had a tiny chip so I just removed enough metal on an even fashion till it was gone and put the final edge on it. If its a massive chip you may have to grind it down till rite where the chip ends and than reput whatever bevel u like. If u look in the centre of my knife it's actually slightly higher where the chip was no big deal but the knife is totally functioning again that id alas till wifey starts to think she can cook outside a microwave. Yummy I love nuked food that's why I do all the cooking. Peace bullman