Sat Feb 15, 2014 1:01 am
I want to see your knives. Take a photo and post it!
Sat Feb 15, 2014 2:00 am
I will next week
Sat Feb 15, 2014 2:26 am
I think I have one or two Shuns around in a drawer
I will snap a pic of them tonight.
Sat Feb 15, 2014 3:25 am
Like, all of our knives? Planned on posting a couple of my Kono to show off Tim's saya once I get it of course.
Sat Feb 15, 2014 7:56 am
Yikes, Mel and I did that before, I had to use a floor to get pics of my knives! LOL. I will try to get some when I am helping with a Game Dinner in early March.
Sat Feb 15, 2014 9:09 am
I just kind of toss all mine in a drawer and grab what I need......
Check out that Shun...She is a beauty!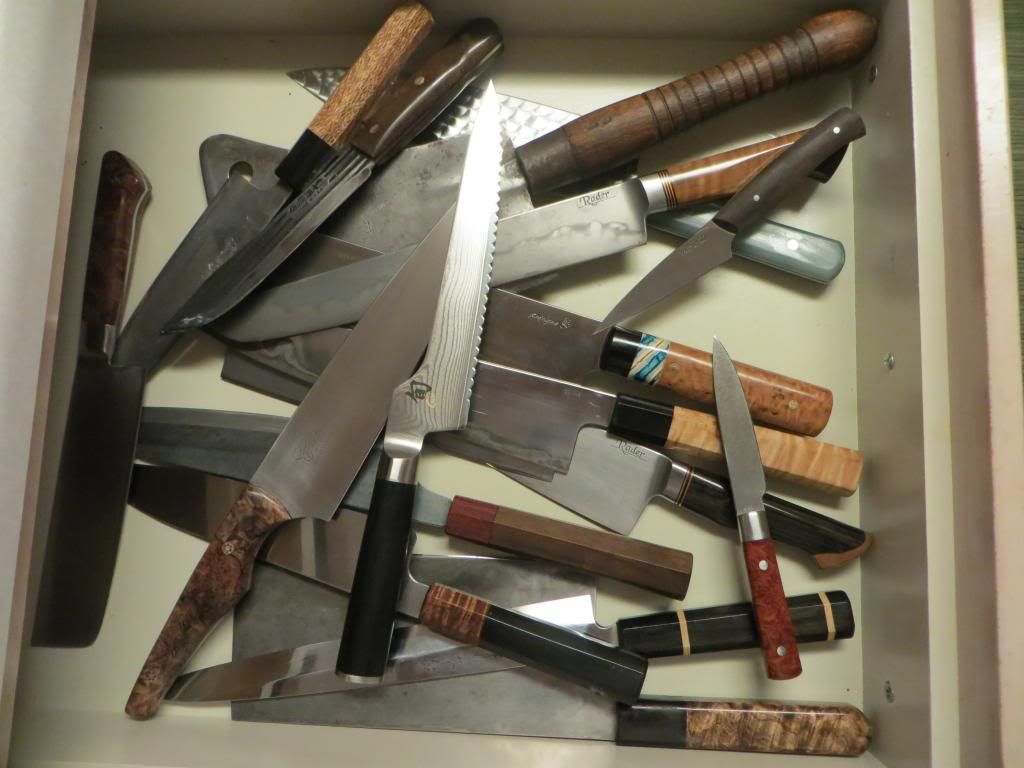 Sat Feb 15, 2014 10:36 am
Terrific set Matt.

That BIG cleaver looks familiar! I just gifted an offset Shun bread knife to a friend. It is a great knife. Looks like those are the only two without stock handles.

So, what's the suji and which is your go-to gyuto?
Sat Feb 15, 2014 4:38 pm
Thanks Mano. The suji is actually a yanagiba by Kenjiro Doi. Hopefully my "main" suji is still being made in Panaca.

Go to gyuto remains the DT, but I just got the Rader gyuto and have really been enjoying it.....of course I still really like my Warther too.
Sat Feb 15, 2014 8:37 pm
There is a drawer for the crap knives that my wife likes. Getting ready to make a new magnetic rack to fill up!
Getting ready to send a couple to Tim for new shoes! It's not Mel's collection but it gets me by, for now.
Sun Feb 16, 2014 4:54 am
Nice patina on the Suji!!!