Thu Jun 28, 2012 11:37 am
Thu Jun 28, 2012 11:38 am
scallops with a yuzu lemongrass sombal and a wasabi creme fraiche dab. also picked purple cauliflower

enjoy!
Thu Jun 28, 2012 12:55 pm
Awesome lighting, very clean presentation. That looks really good.
Thu Jun 28, 2012 1:09 pm
Thanks a lot! its nice to see that people appreciate food as much as i do as it does take a lot of time and effort.
Thu Jun 28, 2012 4:29 pm
a advises, if you want to keep the shell, keeps the upper shell and baked on.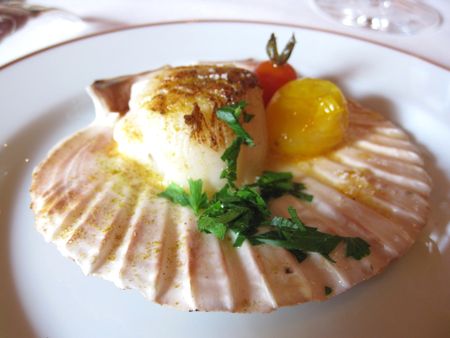 Thu Jun 28, 2012 5:28 pm
That looks delicious!
Thu Jun 28, 2012 5:32 pm
even simons looks great! i didnt bake mine though, i kept it raw
Fri Jun 29, 2012 2:46 am
Seafood is my favorite...
Nice....
Fri Jun 29, 2012 3:46 am
thanks! would love to see more of your posts as well