Welcome to Traditional Sharpening,
My style of sharpening and repair is true to the Traditional Sharpening name. I do what's needed and nothing more. I follow the less is more philosophy while using simple methods to repair, refinish, and sharpen knives. I use the highest quality Japanese waterstones and Sharpening tools to produce the Sharpest, most functional edges possible.
The greatest debate in Sharpening is what edge type, Coarse? or Fine? And to better fulfill my customers needs I now offer both. When getting a knife sharpened you can request a "Coarse" edge or "Fine" edge depending on your preferences. Coarse edges will be finished with a 2000 grit stone while Fine edges will be finished on my 16,000 grit Shapton Glass stone. If you are unsure of the edge finish that is right for you then I will used my experienced judgement to provide you with the cutting edge I feel best suits the knife.
My Standard Kitchen Knife Pricing:
• $10 for blades <8in
• $20 for blades >8in
Broken tips and heavily chipped edges +$5
Single bevel blades:
$3 per inch. Damaged blades to be assessed individually.
Straight razors:
$20
Machine sharpening:
For a factory-like edge at a lower cost.
(I reserve this for knives that see very rough use at work daily or knives that just need a basic cutting edge.)
• $4 for knives < 8in
• $6 for knives > 8in
Regrinds/blade thinning:
Starting at $10 for small blades this is an additional cost to sharpening.
(This is not an artistic regrind service, this is strictly for performance.)
Acid Etching also available:
This is a FREE service, just ask.
Folding knives, Hunting knives, Slipjoints:
These require a different level of attention and thus receive their own pricing category.
• $10 for blades <6in
• $20 for blades >6in
Multi blade pocket knives add $3 for each additional blade.
All payments can be made through Cash, Money Order, PayPal, or by Credit Card. (No personal checks)
Shipping is done through USPS Priority.
If interested in getting a knife sharpened send me a forum personal message (PM), or email me at --->
traditionalsharpening@gmail.com
Here is a example of a kasumi finish and my work on single bevels.
Super steels and premium high wear resistant metals are also a specialty of mine. When I started sharpening for others it was because I worked with premium alloys that were troubling to some to get sharp. I worked to a different goal at that time and gained a little fame for splitting hairs.
CPM-M4 Spyderco Military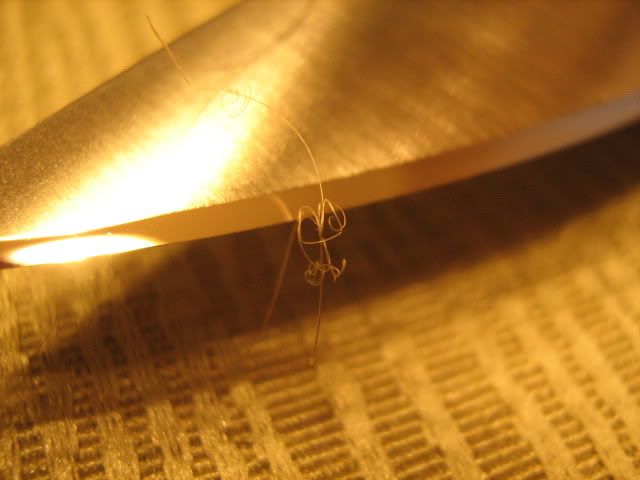 Today though I have left behind the polishing compounds and use just stones with only a light stropping on bare leather. This is part of the Traditional Sharpening method I employ today and use to challenge myself in making sharper edges.
Richmond addict, finished on a 6K Arashiyama. Picture @ 400x
My YouTube:
http://www.youtube.com/user/MrEdgy81
Thanks,
Jason