Started with this specimen from the un-named auction site.
Cleaned it up with baking soda, lemon juice and a blue Scothbrite- I didn't want to be too abrasive with it if I didn't need to.
I put a point back on it getting rid of the rounded tip. I also took out a lot of the large gouges on the spine from it getting beat on or doing the beating. I didn't get them all the way out but I look the bite off of them. I rounded the spine a touch while I had the diamond plate out.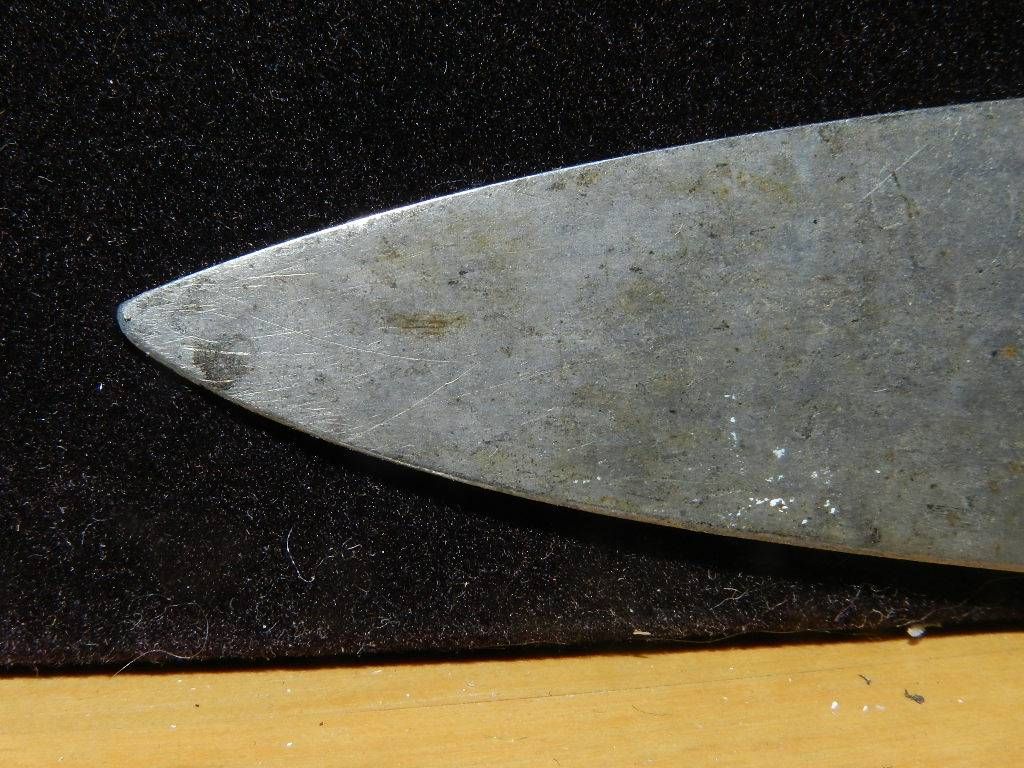 The edge was completely gone. I mean no bevel anywhere. Got it started. It isn't as sharp as it could be but it will get there. There is a large ding three and half inches from the bolster that should be out in two or three more sharpenings.
I waxed the handle. It soaked it up. It will need another coat or two. Now I just need to replace the broken rivet and I will be happy with it.
I cut five pounds of onions with it last night an it has a beautiful dark gray patina on it. I lack lighting in my house to get a a better picture of it so here is the best I've got.
My first attempt at a restoration. This one went too easy. So I'm sure replacing the rivet won't be as easy as it should- or the handle will split. Time will tell.
Now to find more knives to work on.
And on the off chance, does anyone know much about Veritable Sabatier or how old the knife is? I've seen the chef picture in the stamp change a couple of times on other knives for sale but I can't find much on Veritable, usually K or Four Star. I know the Sabatier name is a mess from old times. Thanks