When shipping a knife to me for sharpening or repair you may use any mailing service you are comfortable with and can even request I return your package through selected service. Standard shipping is done through USPS where I use their priority mail with tracking and insurance when requested. All shipping charges are the responsibility of the customer.
Remember to use your head when packaging a blade, Wrap the blade or use a saya/sheath and pack tightly in the shipping box. A sharp knife poking through a box could cause serious injury which I'm sure none of us want the responsibility of.
My basic Knife Pricing is,
$10 for blades <6in
$20 for blades >6in
Single bevel blades start at $25 and increase in price by length and severity of damage.
All payments can be made through Cash, Check, MO, or by PayPal.
If interested in getting a knife sharpened send me a email or forum message
To sharpen, I use a large selection of premium quality stones both synthetic and natural, I use Nubatama Bamboo stones almost exclusively with the occasional Naniwa and Arashiyama when needed. These stones provide natural stone abilities in sharpening and a sharpness alike that makes for a unforgettable cutting experience. The finish itself is also unique and at times difficult to explain, I've heard Hazy, sand blasted, foggy, and cloudy, but the correct term is Kasumi. Kasumi which roughly translates to "mist" is a product of polishing with the mud of the stone.
Here is a example of a kasumi finish and my work on single bevels.
Super steels and premium high wear resistant metals are also a specialty of mine. When I started sharpening for others it was because I worked with premium alloys that were troubling to some to get sharp. I worked to a different goal at that time and gained a little fame for splitting hairs.
CPM-M4 Spyderco Military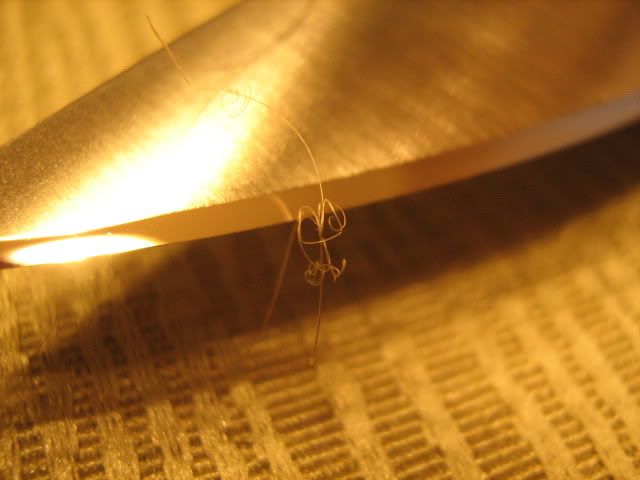 Today though I have left behind the polishing compounds and use just stones with only a light stropping on bare leather. This is part of the Traditional Sharpening method I employ today and use to challenge myself in making sharper edges.
Richmond addict, finished on a 6K Arashiyama. Picture @ 400x
My YouTube:
http://www.youtube.com/user/MrEdgy81
Thanks,
Jason