When shipping a knife to me for sharpening or repair you may use any mailing service you are comfortable with and can even request I return your package through selected service. Standard shipping is done through USPS where I use their priority mail with tracking and insurance when requested. All shipping charges are the responsibility of the customer.
Remember to use your head when packaging a blade, Wrap the blade or use a saya/sheath and pack tightly in the shipping box. A sharp knife poking through a box could cause serious injury which I'm sure none of us want the responsibility of.
My basic Knife Pricing is,
$10 for blades <8in
$20 for blades >8in
Straight razors
$10-$20, major repairs will be assessed individually.
Single bevel blades
start at $25 and increase in price by length and severity of damage.
Machine sharpening
for a factory-like edge at a lower cost is also available. I reserve this for knives that see very rough use at work daily or knives that just need a basic cutting edge.
$3 for knives < 8in
$5 for knives > 8in
All payments can be made through Cash, Check, Money Order, PayPal, or by Credit Card.
If interested in getting a knife sharpened send me a email or forum message at ---> traditionalsharpening@gmail.com
To sharpen, I use a large selection of synthetic and natural waterstone. I use Shapton, Naniwa Chosera, Nubatama, and many other high quality stones to provide the sharpest and best cutting edges for all cutlery from your pocket to the kitchen.
Here is a example of a kasumi finish and my work on single bevels.
Super steels and premium high wear resistant metals are also a specialty of mine. When I started sharpening for others it was because I worked with premium alloys that were troubling to some to get sharp. I worked to a different goal at that time and gained a little fame for splitting hairs.
CPM-M4 Spyderco Military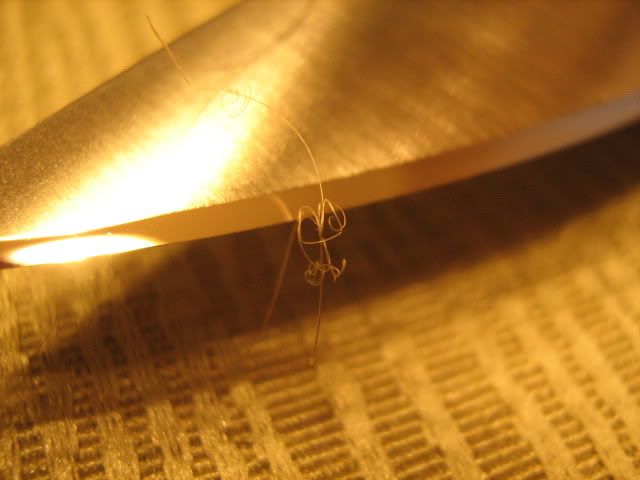 Today though I have left behind the polishing compounds and use just stones with only a light stropping on bare leather. This is part of the Traditional Sharpening method I employ today and use to challenge myself in making sharper edges.
Richmond addict, finished on a 6K Arashiyama. Picture @ 400x
My YouTube:
http://www.youtube.com/user/MrEdgy81
Thanks,
Jason