Hi Mark ,
Just wanted to let you know that I am very happy with my latest order. Customer service was top notch and shipment to Europe was very fast (slightly more than a week). And import taxes were moderate...
In one go my entire German kitchen knife set has been replaced by some great Japanese knives
.
I ordered a 210 mm Artifex gyuto which was rehandled by Tim in beautiful Sycamore burl. He also thinned out the area behind the edge. The Artifex is now such a great and beautiful knife! And the handle is not only beautiful, but also ergonomic. Everything is round and it fits my hands perfectly. And the thinning also works very well on the Artifex. It cuts like a dream. 13C26 is definitely my favorite stainless steel.
If anyone wants a knife rehandled, look no further than Tim. Here are some pictures he made: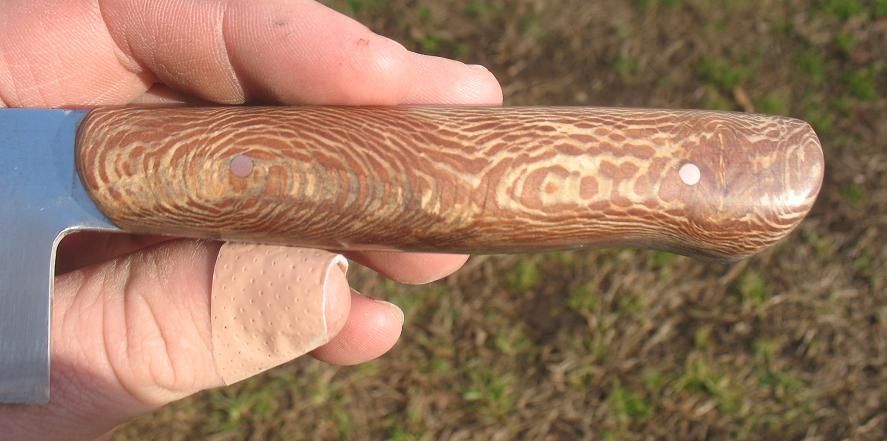 Then I got a 150 mm Konosuke HH petty which is great as well. I sharpened it myself, finishing with 10K Choseras and now it is not only very sharp, but it also has a mirror edge. And I love the handle on the Konosuke. I never was a big fan of wa handles, but this one is pretty thick and fits my large hands perfectly.
For a bread knife I think everybody agrees there is only one best knife, the Tojiro ITK bread knife. Now I understand why…
And perhaps the piece de resistance is the Takeda 275 mm AS yanagiba. It was sharpened by Ken Schwartz with Japanese natural stones (a Yaganoshima Asagi and a Tomonagura). These leave a truly beautiful finish on the knife! The kasumi (haze) is very clear. And the knife is sharp… I thought I was a pretty accomplished sharpener myself, but this defines sharpness once again! It is sharper than every knife I have touched in my life, including straight razors. Ken put a zero grind edge on it. AS, Ken, Japanese naturals and 0.050 poly diamond on a roo strop is a marriage made in heaven.
This weekend there'll be lots of sashimi and veggies on the menu!
I separately thanked Tim and Ken already. Thanks again, Mark! You've got a dream team.
Mark.