Fri Nov 23, 2012 11:24 am
Pierre, my son is a Combat Engineer currently posted in Edmonton, I'm going to buy you a coffee when we come out and visit him.
Those knives are very beautiful, well done.

Peter
Sat Nov 24, 2012 5:17 am
Name the place and time! I used to roll with 4 Air Defense Regiment, also some, umm, other stuff... nudge-nudge, wink-wink.
Sat Nov 24, 2012 2:13 pm
Understood Pierre, and yes, I will definitely let you know.

Respectfully

Peter
Sun Nov 25, 2012 6:17 am
SNEAK PEEK!
O1 core San Mai, Bright finish...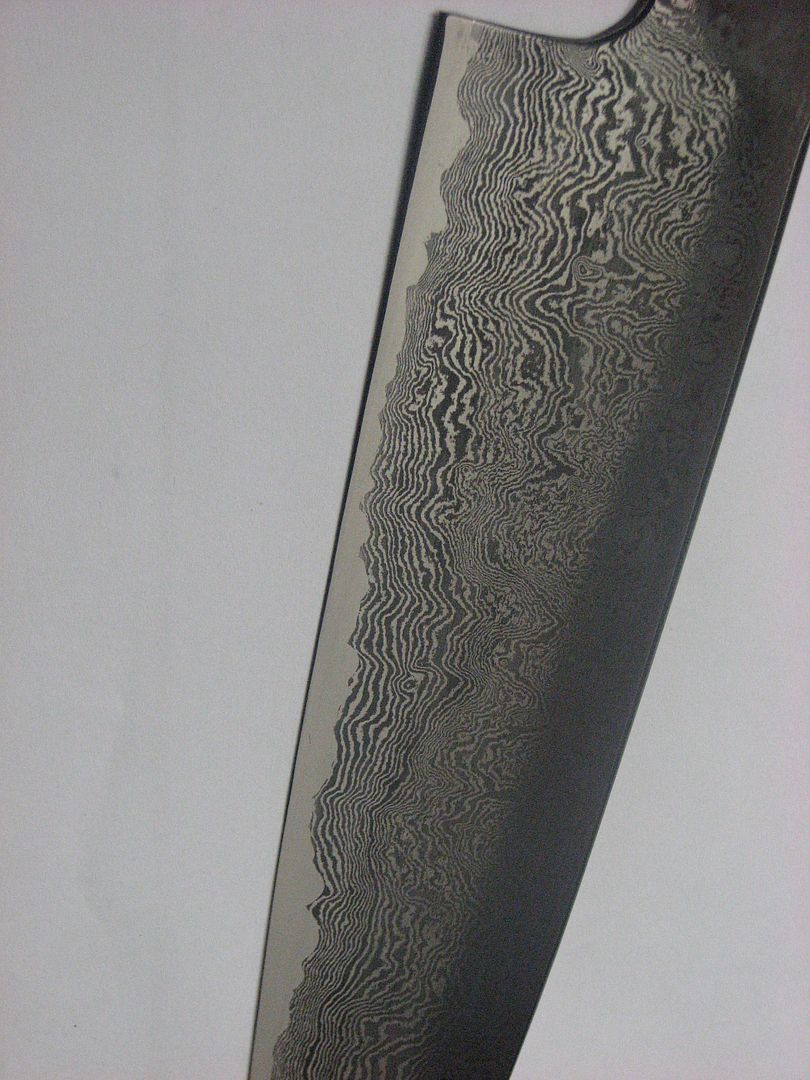 1084 and 15N20 Compressed ladder. This is the tightest ladder I have done to date! just over 1/8" rung to rung...
Sun Nov 25, 2012 1:12 pm
That is sweet!
Sun Nov 25, 2012 1:43 pm
Man, those look great!! I love that tight ladder, reminds me of Devin's tight stainless stuff I saw pics of years ago!
Sun Nov 25, 2012 5:04 pm
Here is a video clip of the San Mai

Sun Nov 25, 2012 5:04 pm
Crap, why wont it work?
Sun Nov 25, 2012 5:09 pm


Man, that damascus is SHINY!! So used to the flat looking damascus, cool to see the shine on a Damascus piece!
Tue Nov 27, 2012 1:50 am
Thanks! I was hoping to get a different result with the finish other than the typical light/dark contrast or full polish that seems to be the normal "Damascus" look. My goal was to get a bright polished finish, yet maintain contrast, a bit of a PITA. I did a hunter a few years ago using a similar construction, that had a bright edge, but dull sides. Ok for a hunter, but this seems a better solution for a kitchen knife.

This one will wear some of Devins raindrop monument for bolsters, liners of some sort, stabilized redwood scales, and I will attempt my first redwood saya. Heck, it will be my first saya period!

Stay tuned!