Thu Jun 13, 2013 8:09 am
The Chosera stones for the E.P are garbage, yes.. I have tried gluing them, shouldn't have to anyway. The 400 and 10000 won't stay glued, 3000 and 2 5000's are cracked junk..1000 not bad but had to re-glue a couple times. The E.P is junk in my mind now..pretty sure the W.E is better..wish I never bought this sharpener.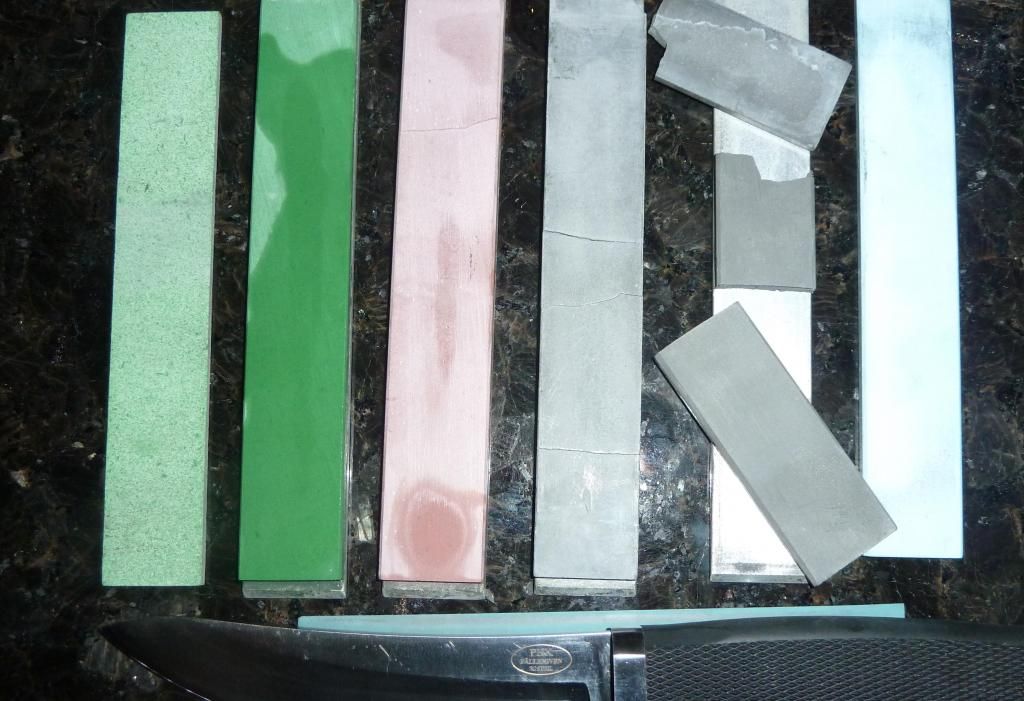 Thu Jun 13, 2013 11:51 am
I disagree with you.
You cannot blame the EP for your stones cracking!
Thu Jun 13, 2013 12:43 pm
Several complaints about the EP Chosera stones popping up, I see a pattern forming......

Have no doubts about the EP system but I'd have to stay away from the Chosera stones.
Thu Jun 13, 2013 1:33 pm
Madrookie..

I know what you are saying..but I have no need for the EP without "expensive" stones.
Thu Jun 13, 2013 3:59 pm
The Shaptons and Nubatama stones are excellent with the Edgepro . No problems cracking at all.
Thu Jun 13, 2013 7:04 pm
Welcome to the forum.

I'm probably in a fairly unique position to answer this question as I provide the Nubatama stones for the EP to Mark and also sell Chocera and Shapton stones for both the EP AND WE, as well as natural stones, other stones, etc etc. I have easily glued hundreds perhaps a few thousand stones and other things to EP and Wicked Edge blanks.

These stones are among the worst I've seen. Correction - the worst. Multiple cracks per stone. Some rather odd cracks, particularly on the 5k. Odd glue failures.

Of perhaps a few thousand stones I've glued, I can not recall ever getting glue failures of this sort. I also can recall maybe one stone cracking usually only in one place, but not a whole set of them at the same time.

This sort of post of showing a lot of smoke and having people think there is a fire going on is quite wrong.

To be quite straightforward about this, [some might say this is a flaw of mine], given the experience of literally thousands of EP users not having this sort of problem, I would strongly differ that this is a fault of the stone, the original gluing technique or the EP. If you are having multiple glue failures, it is clearly your gluing technique. What glue are you using, conditions for gluing, etc.? I'm seeing more glue failures in this one picture than I have had in my whole time gluing stones.

These Chocera stones have at times shown a few flaws, but what I'm seeing here is not the same issue at all. Whatever killed these stones would kill any stones on the EP or WE. I would really have to be convinced that this wasn't some form of operator error or possibly shipping incident. I'd spend some effort determining this before investing in either alternative stones for the EP or the Wicked Edge or bench stones, lest they suffer the same fate.

---
Ken
Thu Jun 13, 2013 7:41 pm
Out of curiosity, what are the dark splotches from?
As for the Edge Pro (I'm still learning to use mine), I personally wouldn't throw away my Florsheims over a broken shoelace.
Just an attempt at humor.
Thu Jun 13, 2013 10:22 pm
noneck180 wrote:Madrookie..

I know what you are saying..but I have no need for the EP without "expensive" stones.
Are you using a drill stop collar?
Fri Jun 14, 2013 12:00 am
Seems like your just trying to troll the EP to me. Each system has its pros and cons , but honestly using this brand of stones and having a poor experience with them all the sudden makes the wicked edge better?

In what world?

There is a damn near equal selection of stones for both systems. And whether your using these stones with either the WE or the EP I think you would have had issues. I am with Ken here.

There is more going on here than a rant and picture of some abused stones is showing.
Fri Jun 14, 2013 8:50 am
Hi Joey,

I tried calling you but got your machine. I'll help you out. Just call me and I'll get things straightened out. I'll also post the details once I talk to you about your order and you use habits. Hopefully we can fix it and get your edge pro working for you.