Tue Mar 19, 2013 10:12 pm
So far I'm loving my new Hiro AS. Compared to anything I've ever used, this thing is awesome. Haven't been able to cut too much yet, but now that I'm paying more attention, I'm more of a push cutter than I realized. I am trying to chop more for practicing though. The F&F was pretty decent, couple little spots around the handle, but nothin major. Overall very happy with it as my first J knife. Here's a couple photos after cutting some pineapple to help force the patina.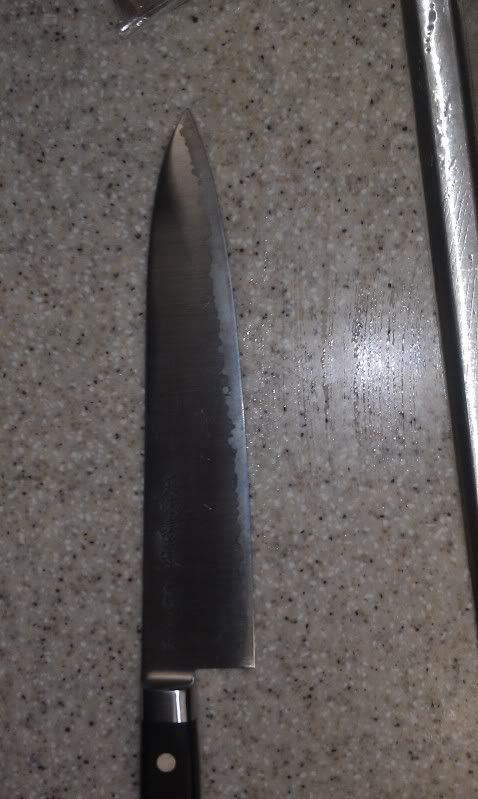 Tue Mar 19, 2013 10:49 pm
Looks good. Enjoy!
Wed Mar 20, 2013 5:18 pm
I've had one of them for several years and still enjoy it. Adam did a custom handle on it that I love.
Sun Mar 24, 2013 10:26 pm
The wife found out just how sharp this knife was tonight. Even with a factory edge, she sliced right into a finger nail at an an angle and barely caught the flesh underneath. She was enjoying it until that happened....at least she knows the money was well spent on a very sharp knife. Can't even imagine how awesome of the the more expensive blades are, or how much better this one will be after some convexing work.
Mon Mar 25, 2013 12:08 am
Ouch, glad she wasn't hurt.
Mon Mar 25, 2013 1:17 pm
What do you put on top of that granite (?) counter to cut on?

I'm still about half afraid of my Japanese knives, and I'm glad she didn't cut any deeper.

There are some photos floating around of someone who did, but I don't recall where they are.
Mon Mar 25, 2013 1:46 pm
We have a poly board for meat and a couple different sized bamboo boards for veggies and fruit. I also just picked up an inexpensive side grain wood board to try until I can afford, or have the time to make an end grain wood board. I just get a towel or rag damp and put it down on the counter or across the sink and then set the cutting board down. They won't slip at all with a wet cloth under them.