Thu Aug 08, 2013 1:39 pm
Hi Mark
I bought this knife a few weeks ago as a gift for my wife.
She has only used it a few times and cleaned and dried it after each use.
The other day when she went to use it she was dismayed to find that it had discolored in spots and appeared to have tiny rust spots.
She and I are both really disappointed and upset.
I do not believe a stainless knife should react this way.
What can be done to remedy this?

Thanks,
Eli
Thu Aug 08, 2013 1:41 pm
Hi Eli,

Don't worry. I'll help.

Can you please send me a photo of the knife and the box? I want to check to make sure what you have.

Make sure you show the whole knife, not close ups on the blade which won't tell me much.
Fri Aug 09, 2013 5:28 pm
ELI <>
Stainless
is a relative term due to Chromium content.
Mon Aug 12, 2013 10:35 pm
Hi Mark
This is a copy of the shipping invoice:
Name Code Qty Each Options
------------------------------------------------------------
Masamoto Santoku Knife VG-5218 1 134.19
180mm
(Shipped)
I could not seem to be able to send pictures so I will send them to you vial email.
Thanks,
Eli
Tue Aug 13, 2013 7:00 am
Barring seeing pictures, this does seem unusual. Some very slight discoloration should/could be expected, but rust would certainly not be. I've left other knives from this line (assumed Masamoto VG) dirty after cooking for hours without any troubles.

Like Mark, I'd love to see pictures.

Feel free to email them to me at adam at marr knives . com
Tue Aug 13, 2013 9:09 am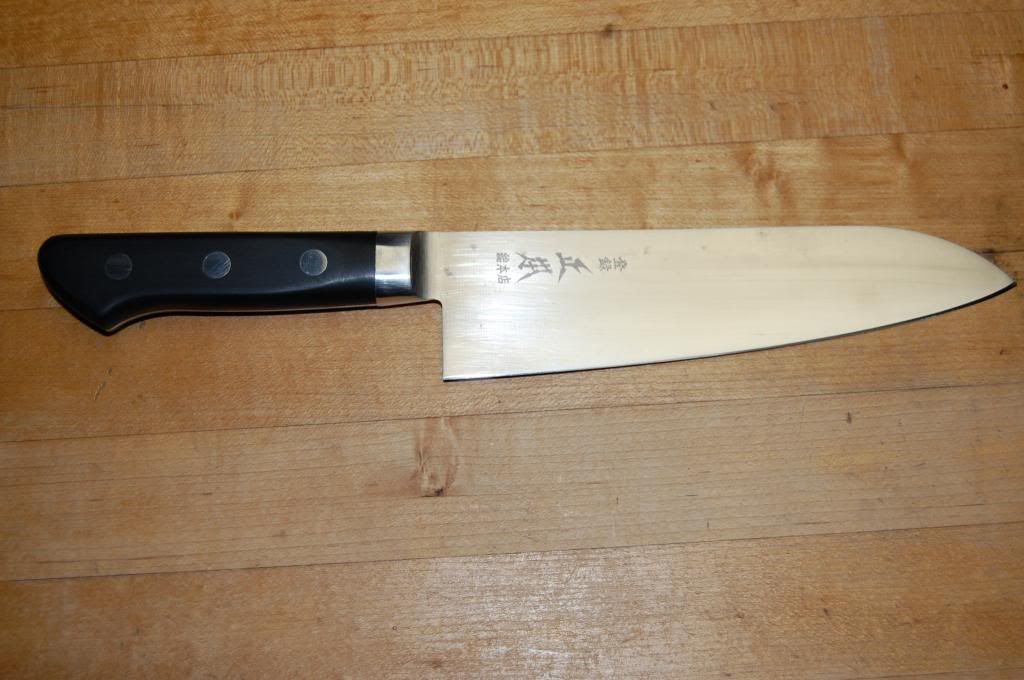 Tue Aug 13, 2013 9:11 am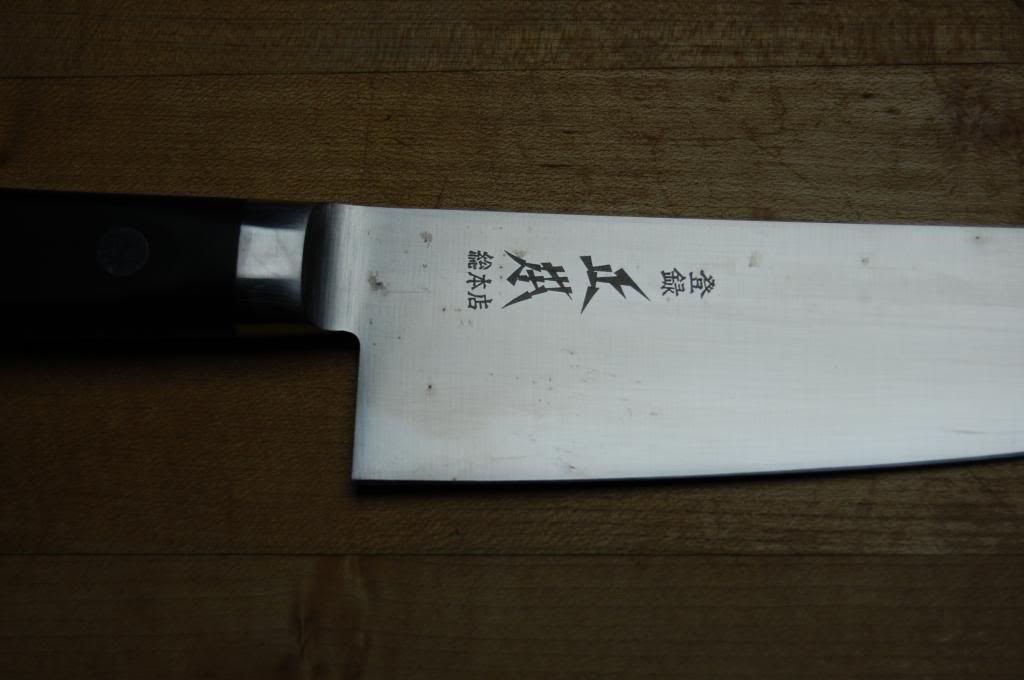 Tue Aug 13, 2013 9:16 am
Ok, so what I think is happening is the steel from this batch has some tiny carbon carbides that are reacting and giving you some tiny dots of rust when they come in contact with acids or water.

It's pretty minor and shouldn't be a problem. It looks like you scrubbed it with an abrasive pad or something which is fine. I would suggest a little bar keeper's friend and that should remove the tiny rust dots.

If you want to get something different I can take it back and offer you something else. But honestly on a scale of 1-10 this rates about a 1.
Tue Aug 13, 2013 9:19 am
Looks just like my Hiromoto Ginsanko which is notorious with this. Perfectly clean & dry, but the girlfriend gets it wet while moving it to the block or it gets wet on the drying rack from other items, and then I have to polish out the
rust
spots. I'm not talking pitting, but it is undeniably surface oxidation/rust. Polishes out w/metal polish or BKF, and then its off to reprimand the young Doctor.
In fact, I have the photos on my phone that I took to yell at her with... yes, I yell.
Tue Aug 13, 2013 11:58 am
I call neglected maintenance here...good customer service once again Mark....very accommodating you are.