Mon Dec 16, 2013 3:29 am
Some time ago I promised to post a picture of my kitchen knives. Here it is.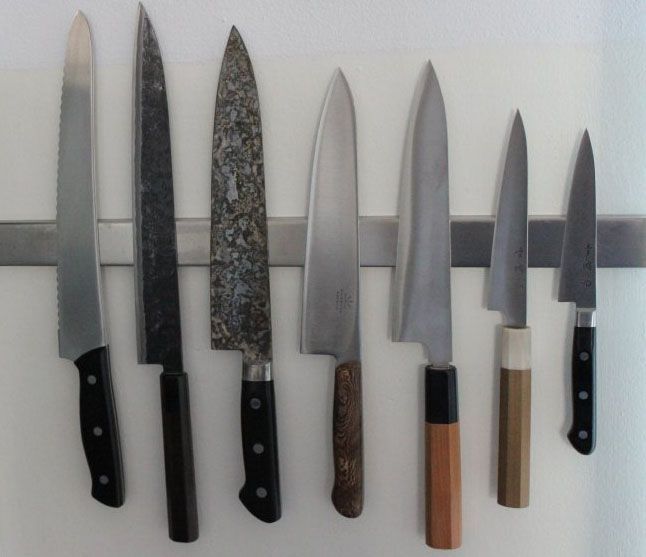 From left to right.
Tojiro ITK 270 mm bread knife. This must be one of the best bread knives around. It may sound odd, but it produces hardly any bread crumbs.
Takeda 270 mm yanagiba. (This is what it is called, it is more like a sujihiki.) Made of aogami super steel, with a beautiful kurouchi and and sharp... The kasumi is the result of sharpening by Ken Schwartz.
Fujiware 240 mm chef knife. Also made of carbon steel. I put on the patina myself and that really helps against rusting.
Artifex 210 mm chef knife. Convexed and with a new handle by Tim Johnson. Made of my favourite stainless steel, 13C26 (a.k.a. AEB-L). After convexing it cuts almost like the Suisin.
Suisin Inox Honyaki. Made of 19C27. This steel has a slightly better edge retention than 13C26. My favourite chef knife.
Konosuke 150 mm petty knife. Made of HH steel (which is rumoured to be 13C26 of 19C27; it definitely behaves like it).
Konosuke 120 mm petty knife. Made of proprietary HD steel. This steel is "semi-stainless". I haven't been able to get rust spots on this knife; it only develops a little patina. Behaves much like HH steel, except that the feel when sharpening it is much nicer than when sharpening stainless steel.
Mon Dec 16, 2013 7:27 am
MARK <>
AWESOME battery! That is one well chosen functional mess of steel. And we share our favorite knife, as well, I still have yet to find any knife I prefer overall over the Suisin IH... damn perfection!
Mon Dec 16, 2013 11:45 am
You're good to go with that packet!
Mon Dec 16, 2013 11:52 am
Very nice...
Sat Dec 21, 2013 5:31 pm
Awesome patina on the Fujiwara! How'd you get that look?
Sun Dec 22, 2013 3:18 pm
Thanks Mel.
Thu Dec 26, 2013 10:13 am
CEDAR <>
Yessur.
Wed Jan 01, 2014 5:23 pm
Cedar, Melampus is right. I forced a patina using bubble wrap foil with a mustard/vinegar dressing. There is also a vid on Youtube where Mark demonstrates how to do this.
Wed Jan 01, 2014 8:11 pm
"I forced a patina using bubble wrap foil with a mustard/vinegar dressing."
Thanks.
Yours came out better than mine
Guess I was wondering if I missed something obvious.