Tue Nov 12, 2013 5:41 pm
Well, I'm almost complete with my first saya. I need to get some better photos but figured I'd post what I had so far. I still need to order a pin for it, but as it sits, the handle creates a slightly snug fit so it won't just fall out. Worked on this over the weekend while I was back home and had access to my Dad's wood working tools. I'm very happy with how it came out. Now I just need to buy another nice knife so I can build another saya. This one is made with Bocote and I used oak for the middle section since my Dad has tons of it laying around.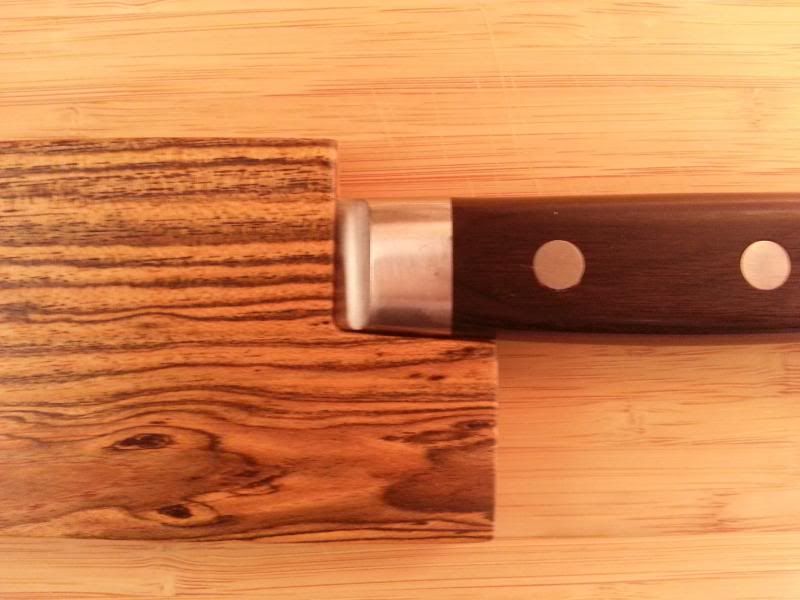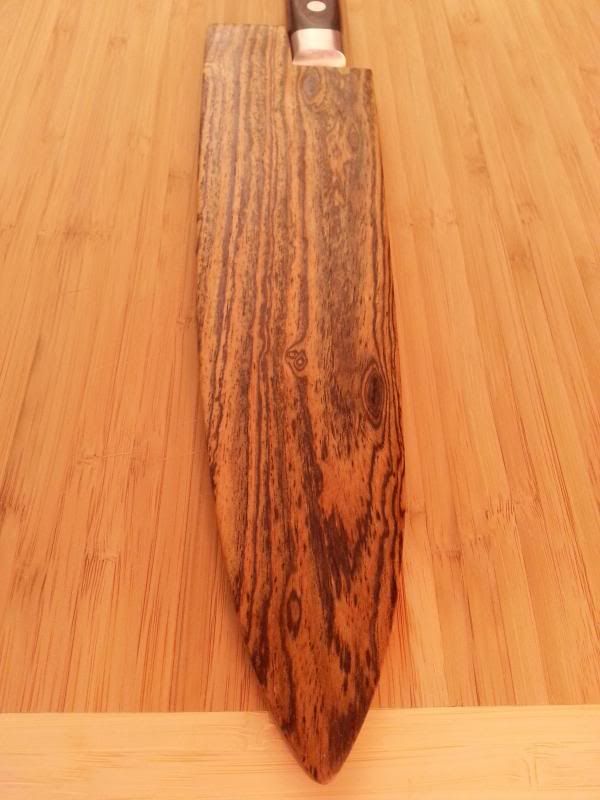 Almost forgot to say a huge Thank You to Tim for the WIP thread he did awhile back. Was a huge help in building mine this weekend. Only thing I wish I had was a 1" belt sander for shaping the wood a little better than sanding by hand.
Tue Nov 12, 2013 8:38 pm
Looks nice Diesel, I think you may have inspired me to give it a try!
Thu Nov 14, 2013 8:31 am
Thanks Jeff. It really isn't too bad. Here is a link to Tim's WIP thread that I used as a guide:
Saya WIP(Click Here)
Also think I've come up with a cool idea for a Pin for the saya, but want to work on it this weekend before I spill the beans. Will definitely be different, but will be fitting for me.
Thu Nov 14, 2013 9:56 am
Looks real good!
Fri Nov 15, 2013 8:25 am
Nice job Diesel - that looks very nice!

On another topic, I've always been curious as to your forum name. Are you a diesel mechanic or something?
Fri Nov 15, 2013 8:48 am
Thanks y'all.

Not a mechanic by trade, but I had at once attempted a little side business with accessories and such, work just doesn't allow me enough free time to really make something of it. I have a F-350 with the7.3L Powerstroke that I drag race for fun whenever I get a chance. It's got some work done to it, 90% of it I do myself. Mostly run bracket racing.

Cooking is a passion that I wish I could spend more time on. Hence the reason I ended up here.
Sat Nov 16, 2013 4:58 pm
Another couple quick photos. I need to touch up the oil after cleaning up around the pin hole and then I'll use a real camera instead of my phone. Only question I have is how far do the saya pins sitck out of the back side of the saya? I decided to make this a Redneck Japanese fusion saya.
Fri Nov 22, 2013 6:03 pm
LOL, love the brass as a pin!!!! 1/4" is fine to stick out the back. I use guitar bridge pins and leave them full length.

Go to Harbor Freight, they have 1x30's for like $50 or $60 if that much and they go on sale.
Tue Nov 26, 2013 6:04 pm
Awesome pin
Wed Nov 27, 2013 8:45 am
Thanks guys. Was struggling to figure something out as I didn't want to pay more in shipping than the 1 bridge pin was going to cost me. Decided it would be something different and fun.

Hoping to pick up a belt sander from Harbor Freight or Sears on Friday. I have a few old knives that I want to try and rehandle. Just waiting on the Corby bolts to show up.