It arrived today (actually yesterday but I didn't check the mail since the office is closed when I get home).
I've been told it would need some hefty thinning, but I am not certain it does, at least not right away. the profile looks very nice, much like the 270 I tried out for a week, but not nearly as thick. Very smooth grind on the righthanded bevel side with a mostly flat back side (much like my Masamoto). The spine and choil were nicely rounded and polished, which ive never experienced in a new knife its nice to know that I am getting what I pay for. Feels really good in the hand both pinch and hammer grip.
It came without much of an edge, but I had the 220 grit soaking to set an edge on it already so thats no concern. CAnnot wait to try it at work today, not sure how much action itll see today is poussin day so mostly buchery and such today. Thursday Friday it will see its paces though. We need to make onion syrup this week I think, which involves 50# of onions, so I'm wondering if I should force a patina on it before that. Any ideas? I dont like what onions did to the 270..
These pictures don't do it justice, entirely. I also asked Koki to pick me out a slightly taller and thinner one out of what they had.
choil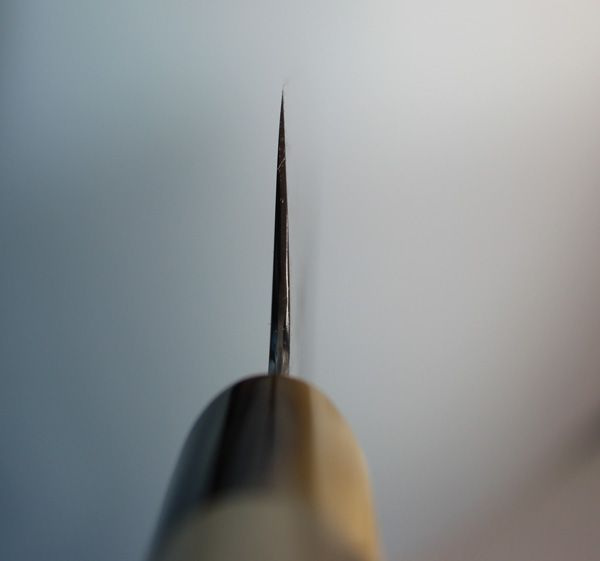 spine