Tue Apr 16, 2013 8:42 am
Hello,
I recently purchase this knife:
http://www.chefknivestogo.com/higykn24.html
Before using the knife I chose to sharpen it as other suggested in the reviews, and when sharpening the flat side of the knife the metal in the middle of the blade became very dark and unpolished. I am pretty sure i sharpened it correctly so I am wondering why this has happened. I attached a photo for reference. I was using a 1000 grit whetstone and sharpened this side flat like shown in videos online.
Best regards,
Eugene
Tue Apr 16, 2013 8:44 am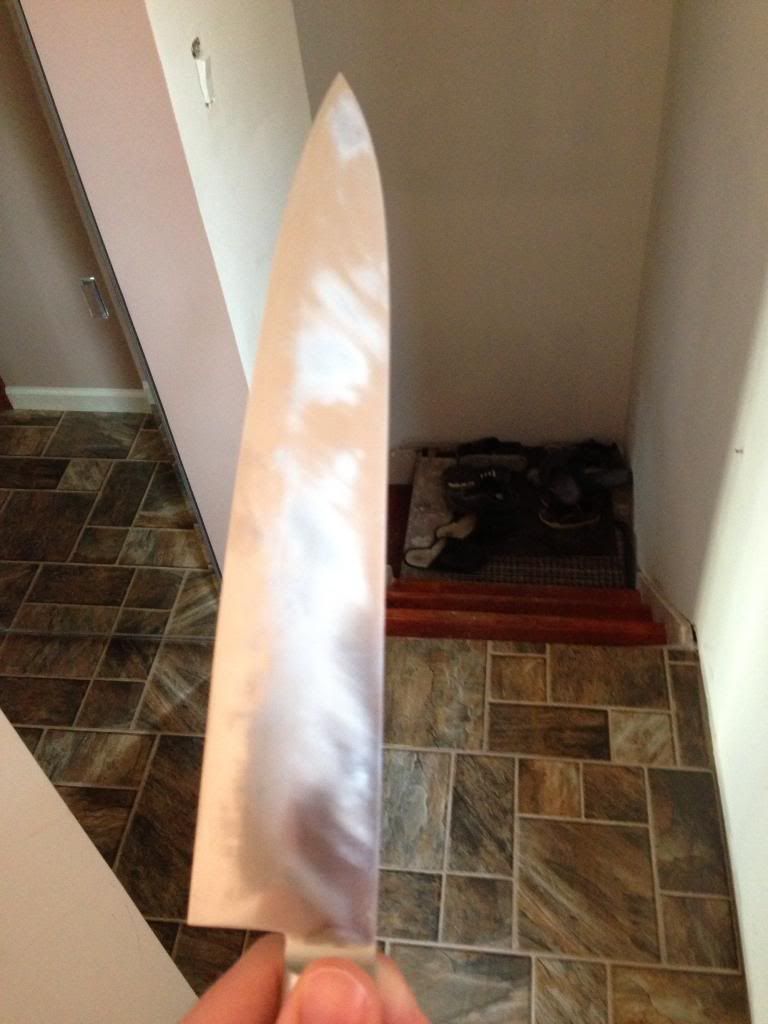 Tue Apr 16, 2013 8:44 am
Adam, Shaun, Tim do you want to help this guy out?
Tue Apr 16, 2013 9:06 am
The knife in question does not have a "flat side". I'm going to assume by looking at the knife that you laid the left side of the blade flat on the stone?

If so, that shouldn't have been done.

This is a double bevel knife and unless you wanted to severely thin the knife (which I doubt you were trying to do), the spine of the knife should have been raised from the stone.

I can't tell from the picture if the thinning got too drastic or not. I'm hoping you didn't grind for very long. If you didn't, it's hopefully just a repolish the sides of the knife.

A knife like this should be sharpened like other double bevel knives. That it's asymmetrically ground does not mean the one side should be laid flat like a try single bevel knife like a yanagi or deba.
Tue Apr 16, 2013 9:20 am
I thought that all Japanese knives were single bevel looks like I made a big mistake. This happened after about 20 total swipes on the stone don't know if this would be considered a lot of grinding. At parts this metal feels rough. Is this knife still safe to use? How would I polish it?
Tue Apr 16, 2013 9:21 am
Shaun is offering etching and thinning on these knives for a reasonable price if you want to contact him. I'll make sure he see's this and as long as you didn't grind too much of it is spots like Adam said he should be able to make it look really nice.
Tue Apr 16, 2013 9:35 am
I think that knife can be refinished just fine. If you only did 20 swipes I seriously doubt you did enough to gouge through the cladding at all, not that will affect the performance of the knife anyway, purely aesthetics.
I'd be happy to take care of the knife for you for cheap if you want it refinished. Currently there are a few Hiromotos in my garage and I'm quite familiar with their finish. Please message me for more info if you're interested.
Tue Apr 16, 2013 9:39 am
20 swipes probably didn't mess anything up permanently.

It's most likely just cosmetic at this point. Without seeing the knife, though, it's impossible to say for sure. If you want to try and clean it up yourself, get some ScotchBrite pads and try to repolish the blade side. Then sharpen normally.

A good way to tell if the knife is messed up is to take some yellow mustard and apply to the entire side of the blade. Let sit for about 5 minutes and rinse off. Take a picture and repost it.

What I'd be looking for is a patina that shows up really high up from the edge, or past the start of the stainless cladding. This would mean you thinned the knife A LOT and might want to look to someone who really knows what they're doing to see if they can fix it. I doubt you've done this though and it's just cosmetic scratches.
Tue Apr 16, 2013 9:51 am
Okay I am going to see if I can fix it by myself first. I also have a 6000 grit whetstone. I will try the mustard test in a few hours when I return home
Tue Apr 16, 2013 12:25 pm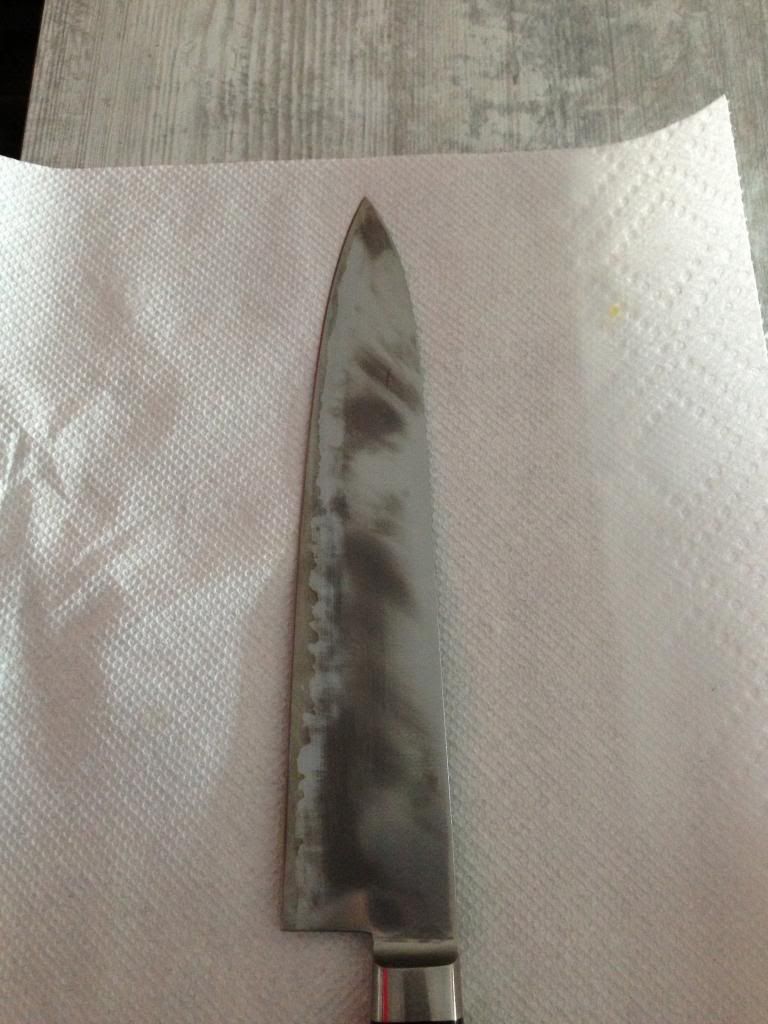 I used honey mustard because that is what I had available and this is how it came out, what do you guys think?