Sun Nov 25, 2012 11:59 am
Very rarely do I say a stone I a super must have gotta get it if you love naturals, well this time I have, it's called the Meara which loosely translates to pre-finisher, well to me it is the most perfect finisher in the medium list I can think of, if you make a slurry and this is by far a muddy stone it's comes in at about 4-5 k after that I sharpened the Aeb-l 240 with just plain water and it left I would say almost if not an 8 k finish which is toothy and cuts like a mother. I am the first one to test this to my knowledge and it is a winner if you want to leave it as is off the stone or if you want to make a jump to a yagonoshima asagi that's your business but I think its the perfect edge coming off any j-nat I have ever seen and most of you know I have seen a lot, the stone had beautiful black streaks running through it that really show themselves when wet. If the other mods will indulge my for a few out of place pics I would like to show the stone and its markings along with the edge it leaves. I will be doing videos shortly as I am healing from a surgery that limits my time and I want to give this stone all the justice it deserves. I purchased this from ken Schwartz with just a middle finisher or jumper to something higher but I think this stone will surpass its legacy.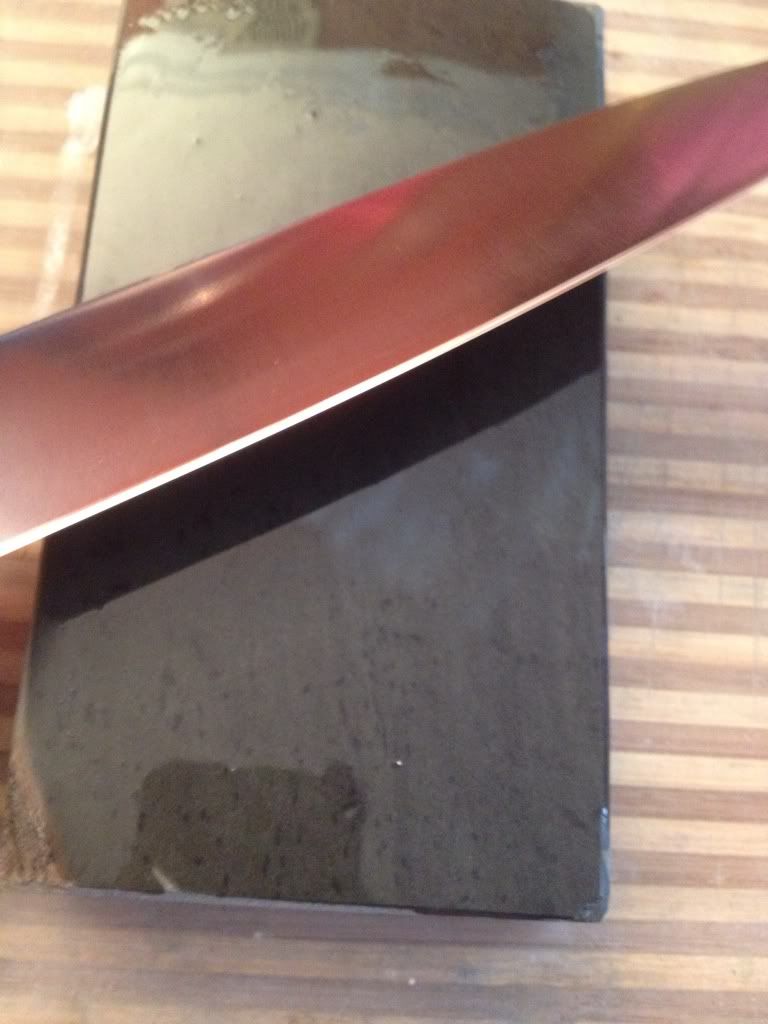 Sun Nov 25, 2012 12:00 pm
Sun Nov 25, 2012 12:01 pm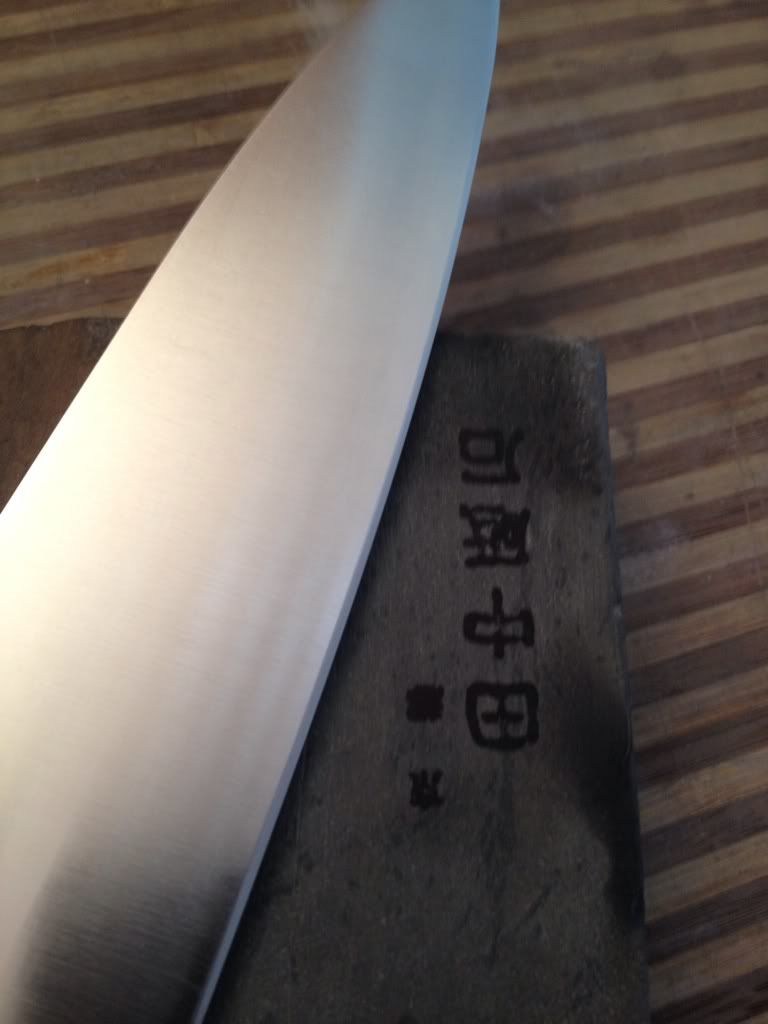 Sun Nov 25, 2012 12:11 pm
That is just a couple shots, I will do a video soon as I can to cutting ability or just trust in me in that I have never steered anyone wrong and get in touch with ken or I to purchase this sleeper that's going to leave a long legacy. Peace and prosperity, jmbullman
Mon Nov 26, 2012 11:19 am
Naturals....I want, but I can't have.
Mon Nov 26, 2012 11:33 am
My I inquire to why mr. Marr, I've seen your work and its beautiful. Jmbullman
Mon Nov 26, 2012 1:11 pm
It's a very slippery slope that I fell down once. Money needed elsewhere in the knife hobby these days.
Synthetics do the job very nicely and are much cheaper.
Mon Nov 26, 2012 1:22 pm
I understand perfectly and I also use synthetics also as u know but u and most know me as old school and like that feeling and it was how I was taught, u can understand that, I was just introducing a new j-nat that I believe is something special. Peace and prosperity my friends and I understand ever aspect of where you are coming from. Jmbullman
Mon Nov 26, 2012 1:39 pm
Oh yeah...and I appreciate the read as well.
Thanks for sharing.
Mon Nov 26, 2012 1:45 pm
Anytime my friend and please keep building beautiful knifes. Peace and prosperity, jmbullman