Thu Feb 28, 2013 8:33 pm
Alright, looking pretty hard at these bad boys, have had a few really good honest reviews from some friends, but looking for more. Anyone own a Masakage please chime in. Looking specifically for pros and cons. Anyone own both the white and the blue? Is the blue worth the extra 100.00 bones.

Thanks in advance, Matt
Fri Mar 01, 2013 7:32 am
I am interested in the shimo petty as well. Any insight on this particular knife?

Chris
Fri Mar 01, 2013 8:13 am
Matt and Chris:
I don't know if this will help you decide, but I put up some shots of the Yuki 210 that I got yesterday in the photos section. There are some closeups of the finish and blade profile. I was limited to 400 pixels with the image upload - too bad, the shots look really nice in a larger size.
I haven't used my knife yet, but it's a fine piece of craftsmanship. The Yuki finish is wicked cool! I'm sure the Shimo finish style would be awesome as well. A laser it's not, but the grind is very thin behind the edge and it does feel like you have something in your hand.
I'll post additional feedback after I use it this weekend.
----------------------
Steve
Fri Mar 01, 2013 8:58 am
try photobucket, they take up to 1024x786 which is slightly better.
Fri Mar 01, 2013 12:42 pm
franzb69 wrote:try photobucket, they take up to 1024x786 which is slightly better.
Miles better really. Huge difference.
This pic is resized to 400 wide for uploading here: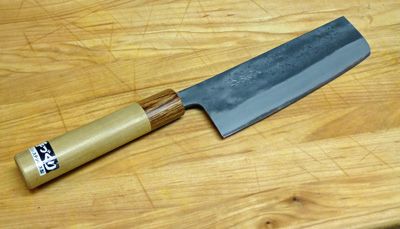 This is a photobucket hosted pic 1024 wide: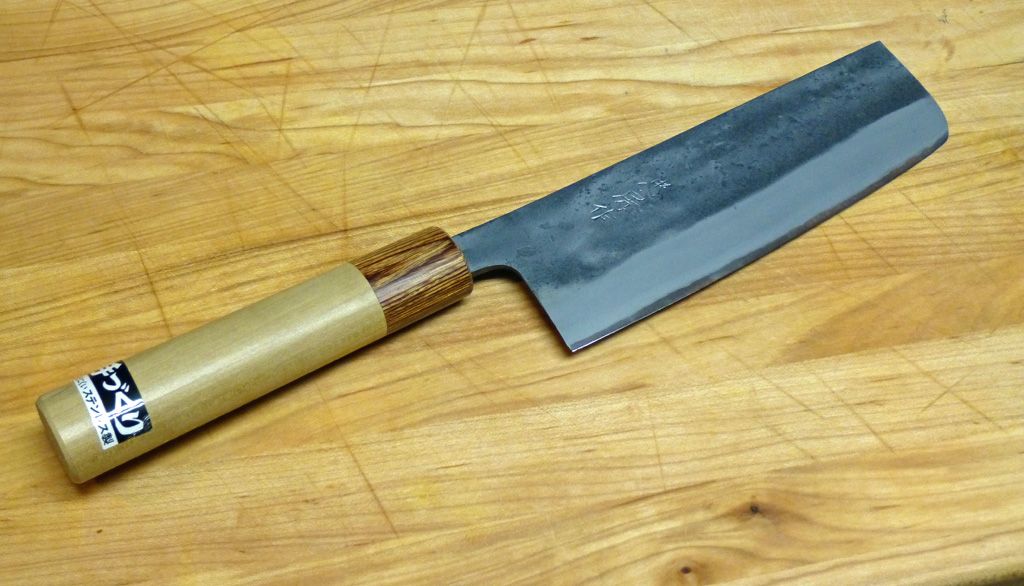 Fri Mar 01, 2013 12:58 pm
Steve G - I have been eyeing the Shimo for a while but when I saw your pics it pushed me that much closer to pulling the trigger! I have been waiting for the pics since your 'masakage heading to STL' post
Chris
Fri Mar 01, 2013 1:09 pm
Thanks guys. Great suggestion. I like the idea of the photos appearing directly in the post, but I know they must be hosted somewhere first and available via a URL.

Hey Chris -- thanks. I guess it depends on how light, thin, and nimble you want your petty. You might want to get Mark's opinion on how the Shimo petty feels in the hand compared to some others. I suspect he'll say it's awesome!

Are you thinking of the 120 or 150?

--------------------
Steve
Fri Mar 01, 2013 2:28 pm
Check out photobucket.com it's fairly easy to use and it's free. The pics I posted are hosted there. They even give you the url with "img" code for easy copy paste into forum message bodies.
Fri Mar 01, 2013 4:03 pm
The 120. I have a Tojiro ITK 120 but am not totally in love with it (like I am with the Tanaka sekiso 240mm gyuto). I don't know why, it works well and the shape isn't an issue, I just don't love it. I like everything Ive read about the Masakage knives and really enjoy the unique finish on the shimo. Just looking for more info (like I could ever get enough!
) Thanks for the awesome pics, gorgeous knife!!
Chris
Fri Mar 01, 2013 11:31 pm
sorry i only said it was slightly better coz of the resolution i use. lol.

1920x1200 and a secondary monitor that's 1920x1080

so there's not much difference unless I raise the size of view on my browser. =D