Sat Jul 07, 2012 7:29 am
I have seen many of you are making your own but I have a lack of tools to do so. If I were to make one what tools would I need? Would a hand held router be sufficient if I had someone cut the wood too size?

Also if more power tools are needed what is a good quality magnetic strip for a reasonable price. I would need a few of these for all the knives.

Thanks for all your help!
Sat Jul 07, 2012 9:06 am
I think the only power tool you'd need is a drill with some Forstner bits to make the holes for the magnets. A Forstner bit makes a hole with a flat bottom, so the magnet fits flat. Stagger the hole spacing so a knife will be held no matter where it is on the strip. Use rare earth magnets like these:
http://www.amazon.com/dp/B000SJ61EC
Be careful not to drill through the wood with the point of the drill bit. Cut a dowel the size of the hole to use for plugs.
If it looks like too much work, the nicest magnetic strips I've used are made by BenchCrafted. Worth every penny.
http://benchcrafted.com/Magblok.html
Sat Jul 07, 2012 9:41 am
Thanks for the advice...Would it be better to go with a lot of round magnets like that or would bar magnets going entire length be better?

Whats everyones thoughts?
Sat Jul 07, 2012 10:03 am
We have a really nice one on the site. The picture doesn't do it justice:
The maker uses nice mother of pearl caps over the strong rare earth magnets:
http://www.chefknivestogo.com/mamaknho.html
Tue Jul 10, 2012 9:36 am
I wanted a nice wood wall strip but decided to save my money for the knives instead. I bought an aluminum strip from Ikea for about $12. It's not made with rare-earth magnets, but they're strong enough to hold all my knives, including a heavy deba. Magnets are on the back, so the face is flat, and the edges are rounded. As long as you don't let the blade slap on, it's quite safe on the knife. Works well enough for the time being.
Tue Jul 10, 2012 5:27 pm
Here's one I just put up on the site.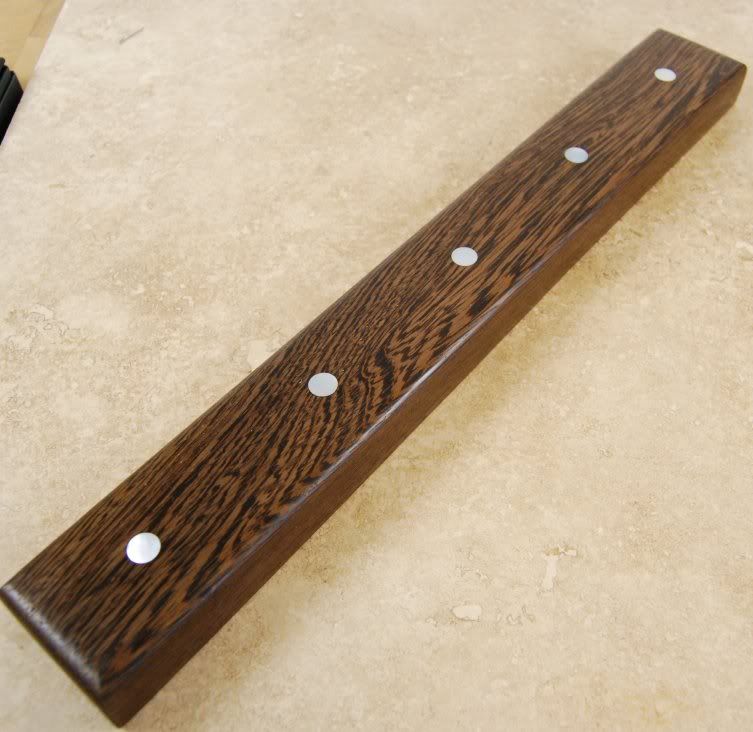 Tue Jul 10, 2012 9:08 pm
I saw that this morning Mark! Very enticing...how many did you get in? Just curious due to the money this pay period has already been spent! So Ill have to wait a few weeks and would like to get 2 possibly. Also looking at getting a cleaver after the magnet purchase. Would the cleaver take up only 1 magnet???
Wed Jul 11, 2012 7:25 am
I've only got one of these left and also one larger 7pc one in maple that I should have up on the site later today. The magnets are strong so they should handle most cleavers without trouble.
Mon Jul 16, 2012 11:10 am
I've spent several hours today researching this. According to several magnet wholesalers, rare earth (neodymium) magnets have gone up 700% in price in the last three months. Apparently, iphones and some other gadgets with touch screens now use the same powder that rare earth magnets are made of. If you are in the market for magnetic knife strips, now would be a good time to buy one. I'm pretty sure there's about to be a significant price jump. I'm a professional woodworker and I can't MAKE a wooden strip with rare earth magnets as affordably as I can buy one at CKtG, even if I buy 500+ magnets at a time. The rare earth magnets have become just too expensive.

I'm bummed. I was hoping to make some of these for resale.
Mon Jul 16, 2012 11:48 am
Is that 7pc gone, I just saw your post Mark and I don't see it on the site?