Sat Mar 09, 2013 3:46 pm
I see we are still confusing spine thickness with performance a bit here. While slightly thicker at the spine, the Richmond AS Laser will beat the Hiromoto in performance. No contest.
Now, when it comes to the AEB-L Laser vs. the AS Laser, it is the AEB-L one that is truly the thin knife you think of when you hear laser. The AS one is extremely thin behind the edge with a slightly thicker spine... which is actually what I tend to prefer. It gives you more steel to form a convex, and more weight to let the blade do the work for you. That being said, both knives are ridiculously good cutters, it comes down to personal preference and cutting style as to which one is better.
Sun Mar 10, 2013 3:03 pm
Well, I think I'm going to take the dive on the Hiromoto AS this week. Since this is my first Japanese knife, I'm going to stick with the Yo style handle since I'm comfortable with it and my knife skills are novice. I'll probably keep my eye out for a used Wa style knife for the next purchase.
Sun Mar 10, 2013 4:26 pm
Good choice! Please report back on how you like it.
Sun Mar 10, 2013 9:12 pm
Great choice. I'm sure you'll love it. Here's what mine looks like after it took a little trip to the Martell spa.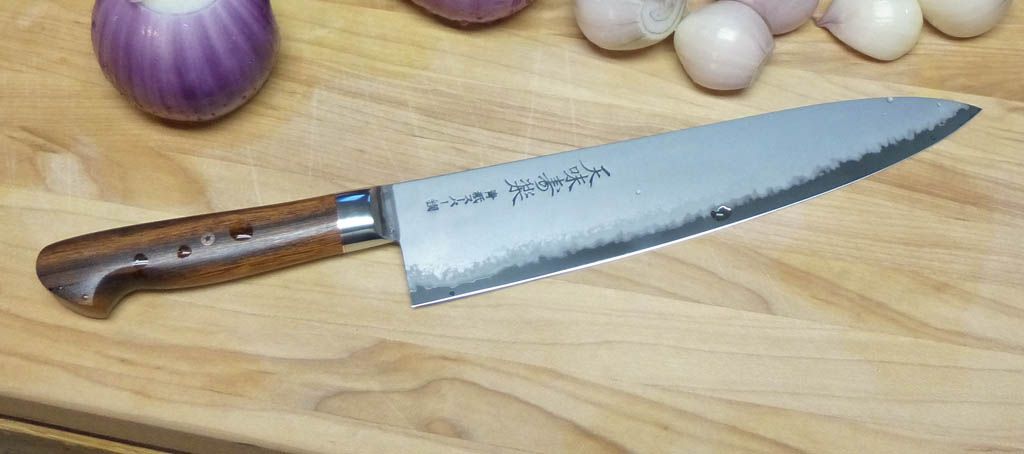 Sun Mar 10, 2013 11:15 pm
I had a quick second to log in, and am going to make a quick comment.
Shaun
I am not sure if that sentiment was directed at me & no worries either way, but if in fact it was, please allow me to clarify. I wasn't comparing performance, only physical attributes w/o any association thereto. I am aware there are those, particularly one guy, who believes anything not thin is garbage. I am not one of his groupies.
PARADOX <>
That's one clean patina, and it really exacerbates how gorgeous that cladding line is.
Sun Mar 10, 2013 11:46 pm
That's one nice looking knife.
Sun Mar 10, 2013 11:48 pm
+1 on how sweet that patina looks up against the cladding line
Mon Mar 11, 2013 12:06 am
I know you knew that, but I wanted to beat you up a little bit for not being totally clear.
lol, my bad!
Mon Mar 11, 2013 2:27 am
I have seen a couple of the Hiromoto AS knives that have been worked on by Martell and if I get into this like I have a bad feeling I will, eventually, it will be getting his treatment.
Mon Mar 11, 2013 2:33 am
D.H. The treatment you should be begging for is the Adam Marr Love Handle Treatment
Not sure if Mr. Marr is taking any new patients right now but.... If I was you...