Sat Nov 30, 2013 9:31 pm
I've read where glass is sometimes used as a backing for mounting an abrasive on because it is so flat. One is using a glass mounting blank for the polishing tapes with an Edge Pro. I don't know if it is flatter than the aluminum blanks or not.

I have a hanging strop I got to strop my straight razor but I don't like it. I'm thinking about mounting it on something. I've always used a piece of wood from Lowe's but I'm thinking of using a piece of glass. Leather is soft so I don't know if it would make any difference or not. Does anyone know? If so I'll try it. If not I'd rather not have a strop I worry about dropping and breaking. Thanks for any help.

Jack
Sat Nov 30, 2013 9:48 pm
I don't think glass would bring any added value.
Sat Nov 30, 2013 11:15 pm
Ken will make them that way for you if your interested. On leather though I don't see it being of any benefit though.
Sat Nov 30, 2013 11:19 pm
Yeah, the leather's surface and softness would negate the flatness of the glass.
Sun Dec 01, 2013 12:26 am
Ok Guys:
Yes & no.....
Firstly I have noticed over the years that the wood does tend to warp slightly, seasonal dependent on the moisture in the air which it absorbs - this becomes especially noticeable on bigger strops.
Secondly the leather type/thickness plays a roll as well - a very thin leather layer or very thick hard leather, has very little give.
....me, I believe in the glass and all my strops are mounted on 1/4 inch float glass plate.
I feel it supports slightly more accurate bevel contact - this I noticed especially when attempting a true mirror finish and becomes more evident on larger blades.
Call me anal if you wish.......
Some evidence.....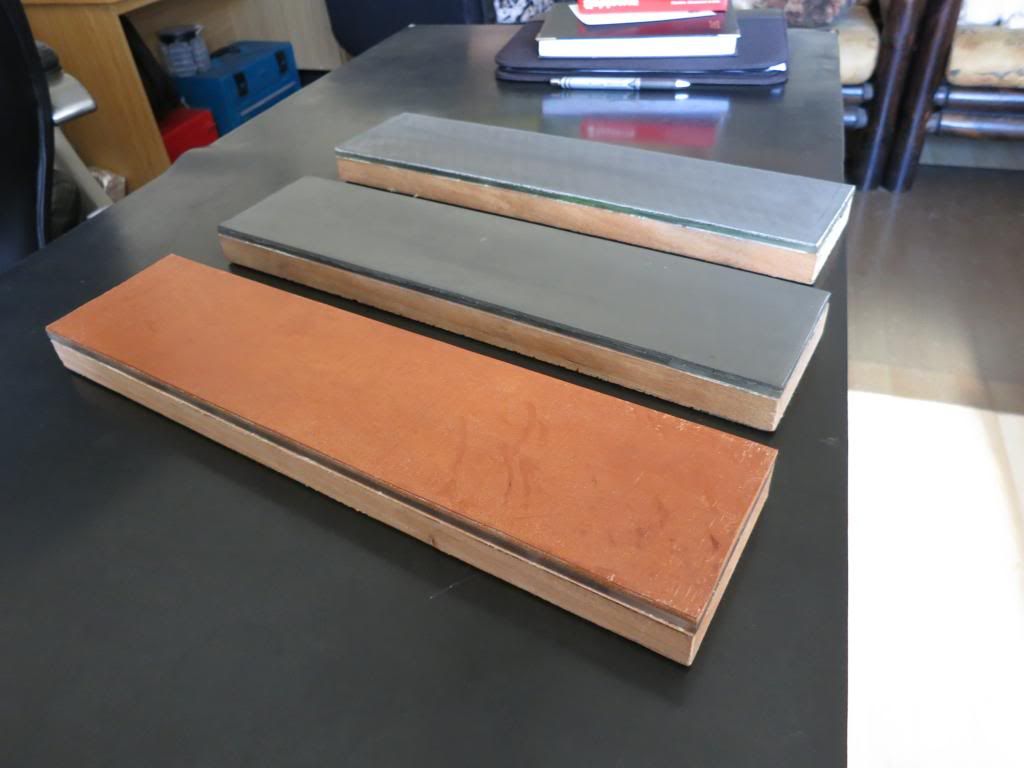 Sun Dec 01, 2013 1:02 am
I totally see the point about the wood , all my strops are mounted on aluminum or glass so the warpage is not a consideration. Even with nanocloth and roo though I haven't noticed a difference between float glass and aluminum. I don't have anything mounted on wood so its not something I normally consider.
Sun Dec 01, 2013 1:56 am
I stand down to Mad Rookies opinion.
Sun Dec 01, 2013 11:05 am
I'm with Rookie. Ideally they should be mounted on glass because glass is dead flat and both wood and metal can be slightly warped. If you're anal retentive go with glass under your strops.
Sun Dec 01, 2013 11:20 am
I'm not that anal, but I will say that those are some NICE looking strops, Rookie! lol
While I wouldn't want to drop one, they do look fairly well protected.
Sun Dec 01, 2013 12:52 pm
LOL
Yeah, they hang below my prep counter and NOBODY, but NOBODY goes there.....I even clean up myself....
By the way, the wooden base is purely there to give sufficient clearance to facilitate stropping ease.