Performance
First of all. The knife got sharper as I used it. I did 3 lbs of onions, 1.5 lbs carrot, and 1.5 lbs celery, as well as four poblano peppers, seven green bell and four red bell peppers, and a couple pounds of roma tomatoes. (large pot of stuffed pepper soup). It is a laser, the blade is very thin, and at the tip it is wickedly thin.
This knife is exactly what I wanted. It seems almost immediately telekinetically linked through your hands. The knife is EXACTLY the length I wanted (~262mm) it weighs a nice light 5.8 oz. and it's height, 48mm at the heel, is exactly right for my pinch grip. This is a push cutting wet dream, and it rocks as well as my 240mm gyuto thanks to all that extra length. The kiritsuke tip is fantastic, you can go into a pepper to roll cut or seed a tomato with precision, you can mince garlic the way you'd mince an onion, even with a knife the size of a short wakizashi. I cut several lemons to put in water, just to test the HD steel, and I got no patina. My siberian red garlic did give it an AWESOME blue haze, but it wiped right off.
STEEL
I'm in love. Holds an edge much better than AEB-L it seems, only time will tell though. After cutting several pounds of veggies the knife is sharper than when I started. I will put a really nice edge on it tonight, but this knife will be immediately inserted into the primary role. I'll be cooking for a banquet coming up, and I can't wait to bust this out in front of my buddies. I'm really glad that I solidified a deal for my sharpening company to do the knives for all of the cooks at the 4 best restaurants in town, because there is not a chance in hell that I will send this knife back.
My conclusion
This is my ideal chefs knife. Profile is perfect, the steel seems great, its a laser, and the handle looks fantastic, very unexpectedly. I wanted to find something I don't like about it, because of the way people around here seem to worship konosuke. Just some niggle to knock it down a peg, and I found ONE thing. Fit and finish is very, very good, the knife came sharp, the steel holds a very nice edge, and I have no words to describe how much I love the blade profile, shape, curve, and grind. As a piece of steel used to cut vegetables, and proteins, I am truly impressed beyond words. The ONE thing I am going to complain about is this. The Kanji are not chiseled. lol. That's it. Konosuke for the win, I am deeply and truly impressed. I was thinking masakage for my deba when I get around to it, but the Kono white just took a big step forward on the list.
If you don't have a konosuke, and you are hesitant because it is $50-100 more than whatever you are considering, all I can say is remember this. You WILL have this knife for a LOOOOOOOOOOONG time. For me, knives become like pants. When I find some that I like (levi's jeans in my case) I stick with them, and stay loyal until something changes about them. I spend a lot of time with my knives, I cook professionally, and I cook EVERYTHING at home from scratch, including bread and pasta.
I will be buying more konosuke knives in the future. I want a bunka, and a deba, probably a yanagiba eventually. Right now, there is a very good chance that at least one of them will be a konosuke. The knife is really quite special, and while it doesn't have the beauty of damascus, or san mai, it has a more important beauty. This is a pretty darn big knife, it is over 10", and that is precisely how I wanted it. It is an absolute machine of a knife, for me, the perfect tool. I love it.
Yes, those are single cloves of garlic. The vendor next to me at the farmers market yesterday grows exotic garlic, this particular species is called Siberian Red. The cloves are huge, and EXTREMELY concentrated. This is a hot garlic.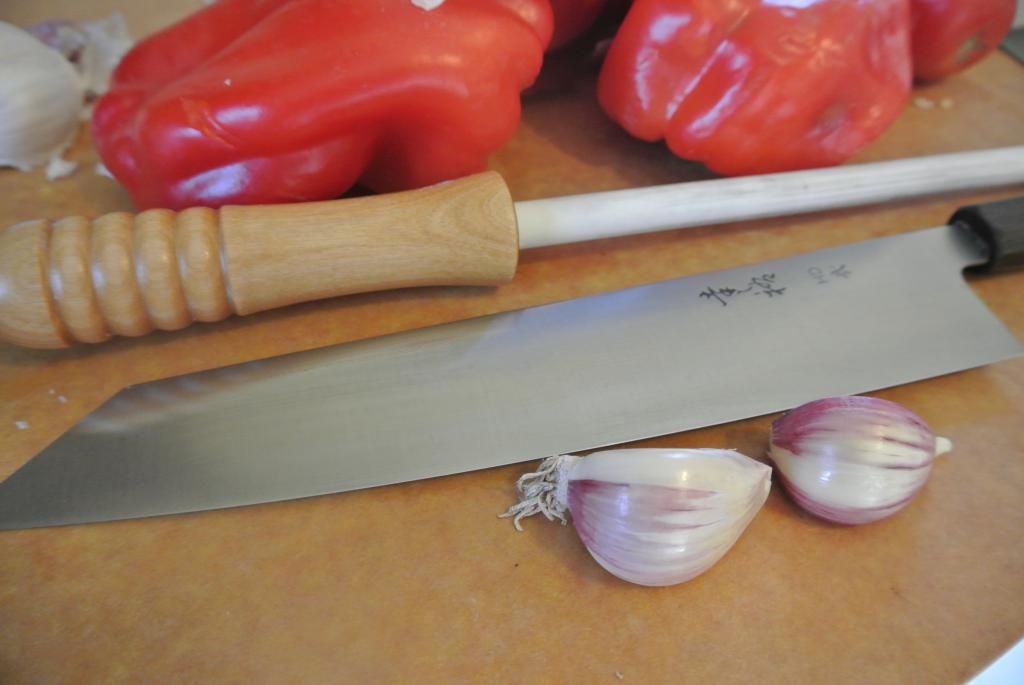 A little fuzzy, but you get the idea. The knife is thin, and although I believe my AS laser to be thinner behind the edge, it is not a big difference. This knife is a laser.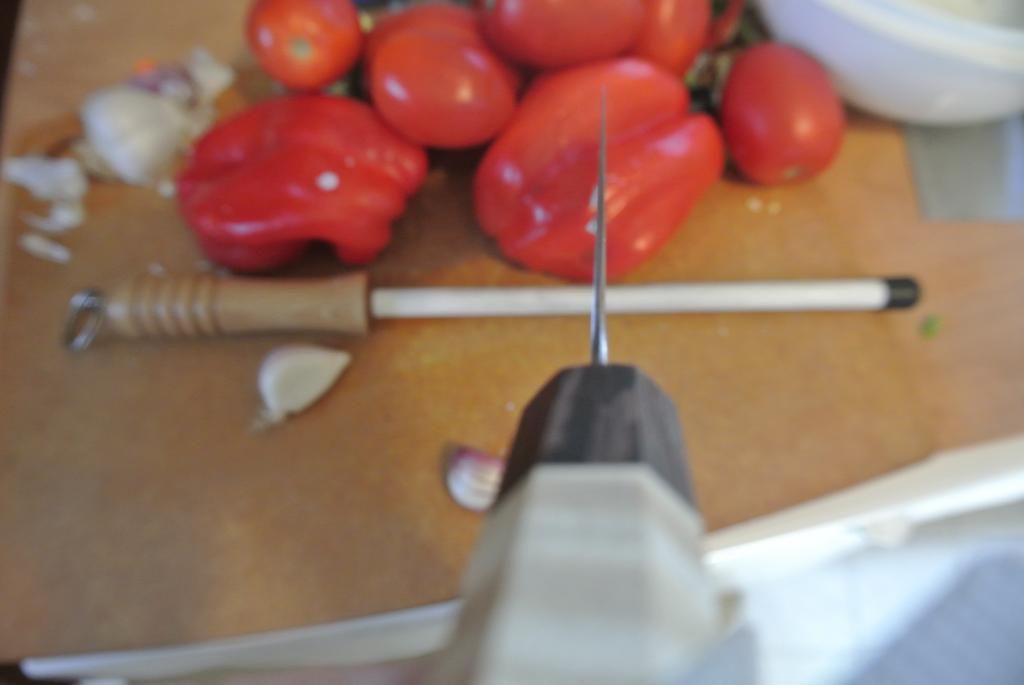 You can see how much the tiger maple is striped.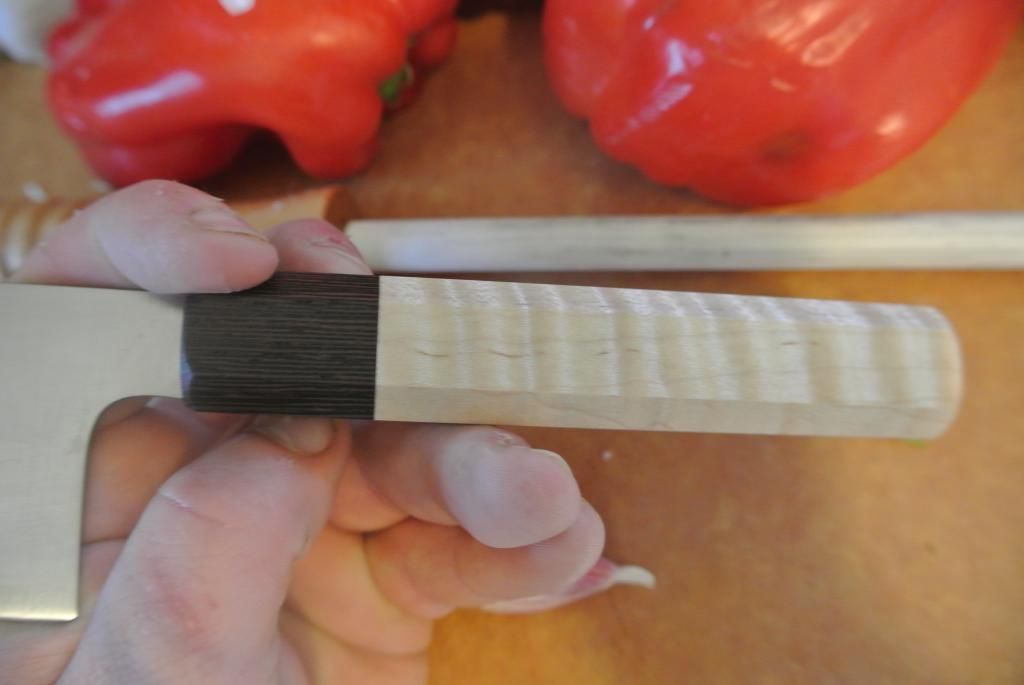 Profile. Very very large radius.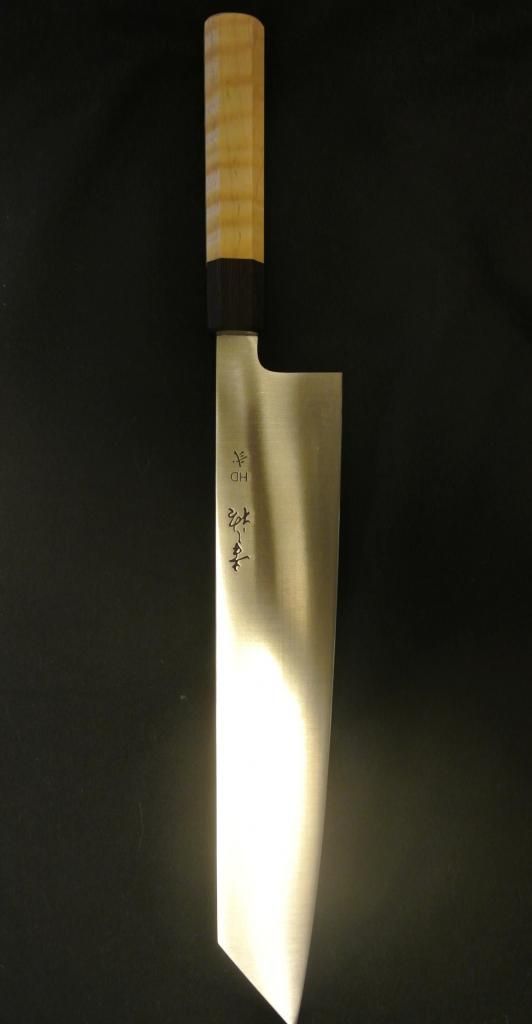 Started working on the Saya right away tonight too. It will look really nice when it's done. Not to toot my own horn, but I am a pretty talented artist.