Sat Jun 09, 2012 12:05 pm
I've been thinking about trying to do some out of the box knife handles using different materials. These would be drawer queens but if I could pull it off they could be spectacular.

Tell me I'm crazy and I'll move on to some other obsession. What about Polymer Clay? Look at the designs this guy does by pulling different types of collored clay. It's unvelievable what you can do with this technique. I'm sure handles or ferrules could be made out of this stuff.
Sat Jun 09, 2012 12:09 pm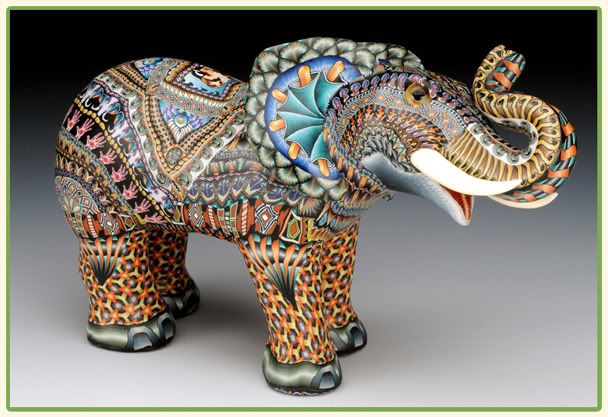 Sun Jun 10, 2012 6:02 pm
I know where I can get rolls of Abalone for Wa style handles
I can also get M3 Mokume stuff as well.
Tue Jun 12, 2012 1:00 pm
Here's a look at how this stuff is made.

Tue Jun 12, 2012 1:05 pm
Here's some guitars they've worked on in the past.
http://hand-guitars.com/
Wed Jun 13, 2012 7:50 am
As cool as that is, I still want (but lack the balls) to take a piece of $500 mammoth ivory (the really good stuff) and make a knife handle out of it.
Wed Jun 13, 2012 7:57 am
Adam, check out giraffe bone . com . They sell all sorts of bones and pieces of bones from Zebra, Giraffe, Wildebeaste, etc and they are dyed and stabilized and much cheaper than most places in the US! I ordered a bunch of stuff from them, very nice pieces! I got smaller pieces of Giraffe bone for spacers for like $5-$10 each piece. Like you, I'm not brave enough for the Mammoth Ivory, Mastadon Tooth, Ox Horn, etc!! I like stabilized burls and the synthetics I make up!
Wed Jun 13, 2012 1:37 pm
Awesome site...thanks taz!!
Wed Jun 13, 2012 5:59 pm
If you're crazy, then the boat is getting crowded fast. How would the polymer clay hold up to use?
Wed Jun 13, 2012 7:00 pm
I don't know but I contacted the artist and he's going to do a couple handle scales for a Hiromoto so I'll let you know.

They make custom guitars out of this stuff which makes me think it might work.