Fri Mar 08, 2013 11:19 pm
Wondering if anyone knows much about this razor? I haven't been able to find much info on this specific model. Only thing I can really tell is that it is early 1900's since it was made in Prussia. From the little that I've found, it probably isn't a real expensive razor, but wondering if any of you know much about it. Also, does the blade look salvagable? It is a little rough, but also has a couple very small "dents" in the edge, although they are pretty hard to see in the photos. I'd like to get it honed if possible and try a shave with it. Thanks for lookin.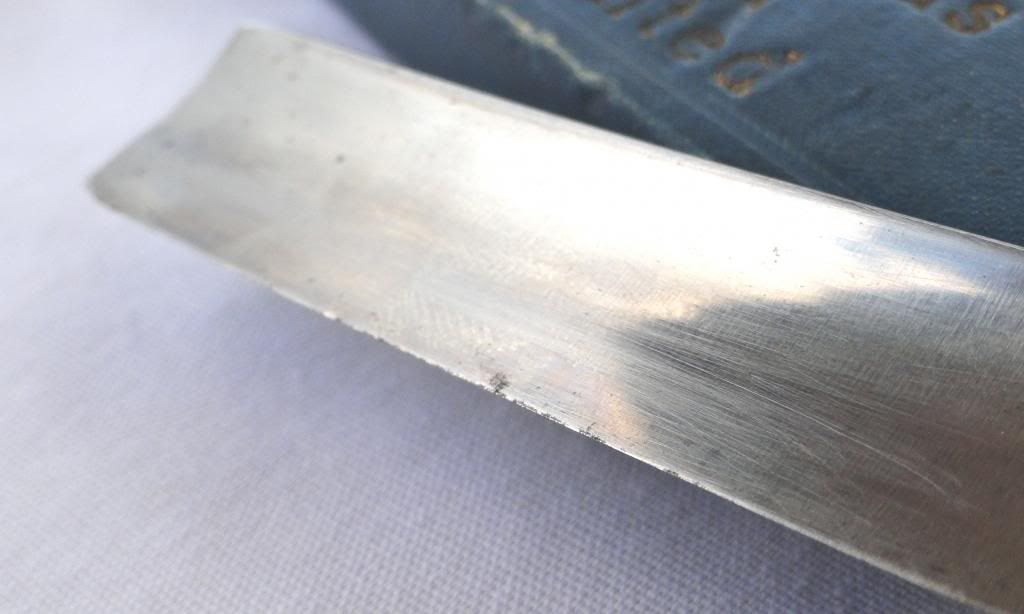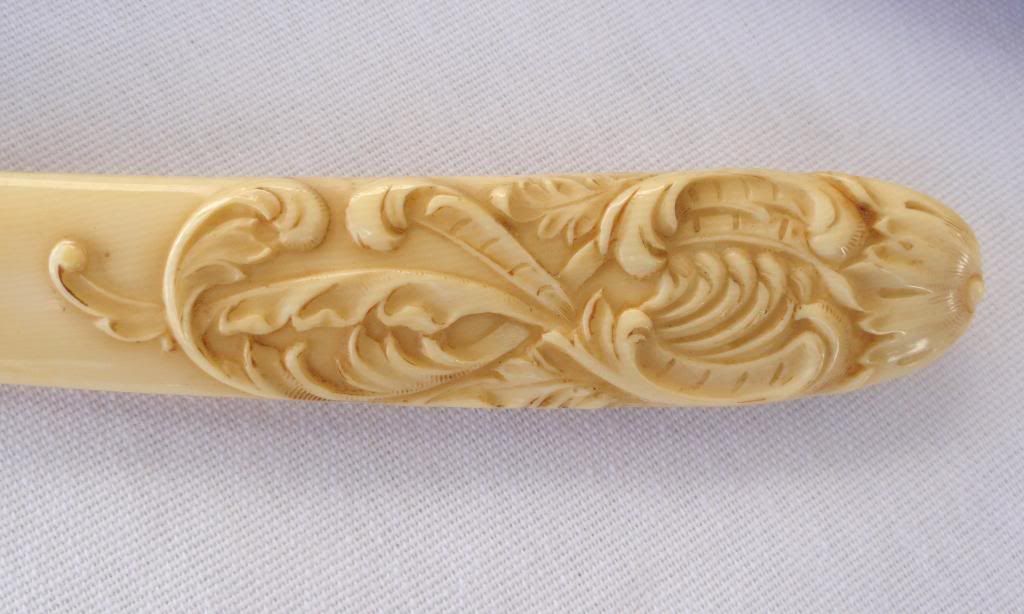 Sat Mar 09, 2013 1:18 am
NATHAN <>
Oh wow, that's a big bad hollow grind! Is that real ivory? I can't wait to hear from Michiel and/or Magnus on this one cuz it doesn't look all that bad, but I'm no expert. I wonder if after taking that much steel off the edge it wil screw up the geometry too much.
Sat Mar 09, 2013 9:01 am
Too be honest, I'm not sure if it's real Ivory or not. I haven't really handled any Ivory, but the mom and wife thought it might be. It flexes quite a bit, and I've never handled Ivory so I'm not sure how stiff or flexible Ivory is.
Sat Mar 09, 2013 9:18 am
it should be salvageable. i don't have a lot of experience with straight razors. i only have a couple of cheap gold dollar ones that i play around with. it looks like it's in pretty good shape.
Sat Mar 09, 2013 4:46 pm
Hello. Your razor looks salvagable for sure. should not be a problem putting a new edge on it. i would send it to someone in your country for honing its easier that way. the blade has been cleaned with very low grit sandpapper. try to avoid using sandpaper under 2k grit. about the the handle , i think its plastic scales but it looks handcarved witch makes me cofused, another thing is that thay almost never used washers on the pins for ivory, another thing that you can look on is the grains, if the grains lines are to perfect geometry its not real, if you stil dont know, take a nail and heat it up to red and touch the scale on the inside, plastic will melt/smell in a heartbeat and ivory or bone takes the hear better and smells like burnt hair or fingernails..


cheers.
Magnus
Sun Mar 10, 2013 8:57 am
I will try to get a better picture of the grain lines. After a little more looking last night, the grain lines definitely aren't perfect. I'm not brave enough to do the nail trick, I don't want to risk doing any damage to it.
Wed Mar 13, 2013 2:02 pm
Oh yes that's no problem!