Wed Jun 20, 2012 10:04 pm
Alright everyone, I know I still need some higher grit stones added before the razor purchase and some strops but I would like some opinions first!
What high grit stones are great on razors but equally good on kitchen knives?
What strops are best for razors?
Also does the shaving soap make a world of difference like others say?
I am at the very very beginning of the process and have no timeline of when I would like to make a razor purchase. My thoughts are if I slowly obtain everything needed then for my 50+ years I will have a very nice shave! And also a very sharp set of knives
Thu Jun 21, 2012 1:46 am
Welcome to the rabbit hole!
It's a deep one, but it's fun!
I use Shapton Pros mostly for my razors and knives. That said, different people like different stones. You can use natural finishing stones like Coticules or Japanese naturals too. What stones do you already have?
Generally people use hanging strops and I like them better too. I've tried a few, but my favorite so far is my 50000 Kanayama. I do NOT recommend you start on such a fine strop as you WILL nick your first strop a few times. For a starter strop, I would look at Dovo or Whipped Dog. Both are inexpensive and when you nick them you won't cry over it.
Shaving soaps or creams make a HUGE difference. A nice brush and a good soap make a big difference as it softens your stubble and will let the razor glide easier. For starters, look at Proraso cream or soap. It's a popular cream that is easy to lather, even with hard water. In the US you can find it as C.O. Bigalow. Same stuff, but rebranded for the US.
Welcome to the club!
Thu Jun 21, 2012 8:39 am
Drew,
A good kit for razors would be a 1k to set the bevel, and a 4-5k, 8k and 15-16k for polishing.
It's possible to get a good shaving edge on an 8k stone, in fact a few months ago SRP encouraged members to go a month with only the edge you could get from a Norton 4/8 combo and a plain leather strop. It worked, but left something to be desired for comfort. That's why I recommend a higher grit like a 15-16k; Shapton Pro or GlassStone would be my choice.
You'll need a balsa strop with some .25 micron chromium oxide paste to really get a nice comfortable shave. The HandAmerican strop at CKtG with the balsa pad is perfect for this. You'll also need a leather hanging strop with a fabric back for daily use prior to shaving. I like a 3" wide strop so the whole edge is stropped and you don't need to use an 'X' stroke.
There are lots of great shaving creams and soaps out there. I'm partial to Mike's Natural Soaps:
http://www.mikesnaturalsoaps.com/Mikes_ ... lcome.html
You may want to lurk some at either Badger & Blade (
http://www.badgerandblade.com/
) or Straight Razor Place (
http://straightrazorplace.com/
).
Don't get discouraged if it takes a while to get the hang of shaving with a straight. It takes a few months to get comfortable.
Thu Jun 21, 2012 9:03 am
Thanks for the input so far! I definitely understand it will take time getting used too! It will also be a while before I get a strait probably.

Another question just popped into my head. How many shaves can you go on an edge before needing honing? Just wondering because the 2 stones I will need are an 8k and 16k, so if I can go a number of shaves on the first hone while saving money for the stones that would be awesome. Also whats everyones opinion on whippeddog sight unseen? It looks like there are some good reviews from it, but personal trusted reviews are better!
Thu Jun 21, 2012 9:27 am
Never saw a bad review from whipped dog, but ymmv.

I get 3-5 shaves out of a razor depending on the finish and the razor. After that I go to a pasted strop or a high grit stone.
Thu Jun 21, 2012 10:29 am
Is a razor similar to a knife that you can strop or repolish with a high grit stone a few times but then have to go through progression to get new hard steel?
Thu Jun 21, 2012 10:49 am
hos1109 wrote:Is a razor similar to a knife that you can strop or repolish with a high grit stone a few times but then have to go through progression to get new hard steel?
Not in my experience. A good rule to follow is less is more: remove as little metal as possible. You should be able to maintain the edge on a chromium oxide balsa strop for six to nine months before you need to go to your highest grit stone. Remember that you should be stropping on linen and then plain leather before every shave to align the edge.
Thu Jun 21, 2012 11:22 am
Hi Drew,

I started using a straight back in 1980. I gave up corporate life, didn't have to shave everyday, the disposables back then just clogged up and were useless.

I got very lucky. I called a beauty supply store in town and asked if they had any straight razors. Bear in mind this was many years before the razor renaissance that started about 12 years ago.

They said 'sure - we have plenty somewhere in the basement'.

So I went down and picked up a 5/8 Fromm, should have picked up all they had.

The reason I say I got lucky is because I didn't do anything at all the the razor. I just lathered up with some Williams cake shaving cream and had at it.

The experience was like nothing I had ever had in my life. Three days of heavy growth shaved off like brushing crumbs off a table. No problem with the neck or chin, my face was as smooth as silk.

The moral of the story is to start with a shave ready blade purchased from a reliable source and hopefully you will have that same epiphany.

Also:

If you splash on after shave and your face burns (not tingles) the razor has not been honed correctly. It is not cutting the hair, it is scraping your skin.

Start with a clean face, it makes a diff.

Start with a 4-5/8 full hollow blade, it's easier to see what you're doing and the blade is easier to care for. Bigger blades do not shave better.

If you decide that straight razors are for you then:

No true blade nut will ever restrain themselves when it comes to buying blades. I have over 200 razors and use maybe 7. Try to avoid razors that need restoration, it's not worth it. Purchase wisely from good people.

Indulge yourself in soaps and creams, it's kind of fun and the one opportunity for men to show their fuzzy, warm, cuddly side.

If a razor starts to pull and nick stop using it, it won't get better until you hone the blade and razor cuts don't look bad until the next day.

Keep a good disposable or safety edge on hand just in case.

Hanging strops are wonderful if you know how to use one - start with a flat leather strop for best results.

Most old bastids like me only use two or three items to keep their razors in good shape so watch your dollars there.

Remember, you are doing something that men did on a regular basis for hundreds of years before safety edge razors came on the scene so it's not rocked science.

Best of luck, hope this helps,

Keith
Thu Jun 21, 2012 11:34 am
Keith knows his stuff. Listen to him
I buy restored razors in good shape. Pretty much all my razors are Swedish (I have 1 german razor).
I honed these over the past 3 days. Tired now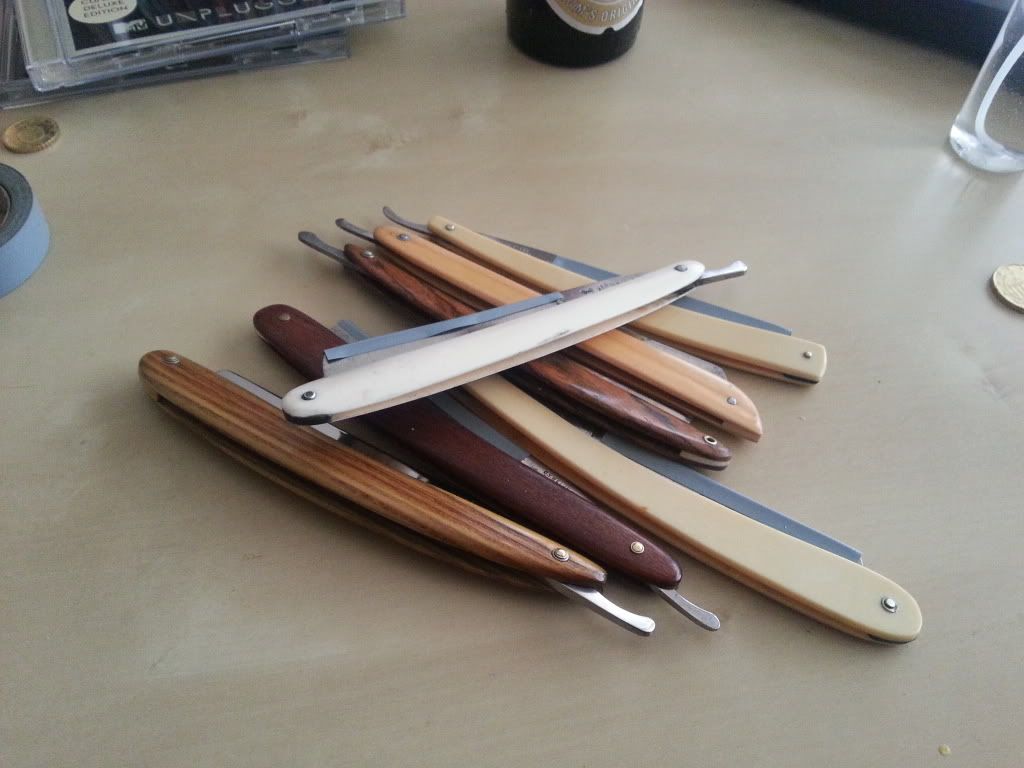 Thu Jun 21, 2012 12:16 pm
Mike - you've got quite a collection going on there, betcha they're sharp & ready.

The pile gets big pretty quick.

Keith