Tue Jul 09, 2013 7:22 am
Hello,

I own a Deba knife that is a little bit crooked. I understand that sometiimes these knives will bend slightly because of the lamination. Can someone please help me with suggestions on how to go about straightening this knife? I've never tried it before but I'm willing to give it a try.

Thanks,

Nick
Tue Jul 09, 2013 11:09 am
Hi Nick,

On the occasion I've bent a knife, a Gyuto, I've gripped it in both hands, thumbs in the center of the bend and just bent it back.
If its a tip bent, you can press it against something hard.

Most of the time, this is all that was needed. Not sure how well it would work on the thicker Deba, but its worth a try.

If the knife is twisted, I would think you could put one end of the blade in the crack on top of a closed draw, and twist the other end with your hands.
Tue Jul 09, 2013 11:59 am
We used to sell a stick that Japanese makers use to straighten knives. I should do some more of these but the basics are pretty straight forward. You just put it in the slot to give you leverage at a specific point in the blade and torque it a bit to straighten the knife. Japanese knives will often warp a little when they are first made. They often will let the blades "rest" before straightening so that they won't bend again shortly after they're made.
Tue Jul 09, 2013 3:51 pm
It's driving me nuts....I can't find a picture of one.
Like Mark said, they make a stick for just this purpose.
Imagine a 2x3 with a several slots in it. Angled slots you put the spine of the knife in and then squeeze the wood stick and the handle of the knife together like loppers.
Best I can do.
Tue Jul 09, 2013 3:56 pm
Screen grab from a Murray Carter sharpening vid.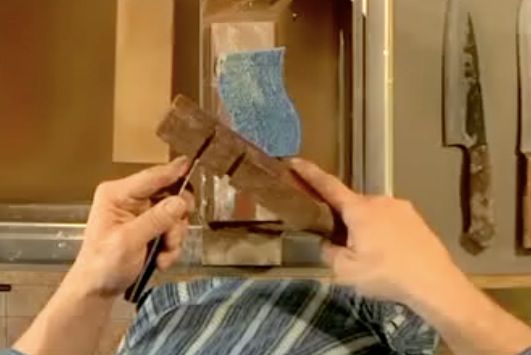 Tue Jul 09, 2013 6:36 pm
Ya that's it! I'll have Isaiah whip up a couple more and throw them on the site. Maybe I'll do a little video on it. It's really pretty simple.

Also hot water is a good way to soften up the knife just enough to help things along. Takeda taught me this when he fixes knives from time to time. And no, boiling water will not detemper a knife.