Tue May 28, 2013 12:20 pm
Last week I received my new Yamashin and Richmond Addict 2 52100 gyutos. After a very busy week and a weekend out of town I needed to spend some time on myself. Here's the result of that effort. Unfortunately, my belt sander's drive belt broke during the making of the handle, so all of the shaping had to be done with disk sanders and then by hand. This is my second handle effort and this time I rounded the ends a bit more and rolled the angles between panels for a little more comfort. The materials are cloud cocobolo scales with a walnut spacer, Turkish boxwood and the cap piece is some kind of tiger wood.
Tue May 28, 2013 7:28 pm
Man all this pretty wood! Very nice work!
Tue May 28, 2013 8:33 pm
Thanks. I'm pretty happy with in and can't wait to buff up the handle and glue it up tomorrow after the oil is finished curing. The ferrule wood that I forgot earlier is tulipwood, btw.
Tue May 28, 2013 9:05 pm
Looks nice!!
Wed May 29, 2013 7:29 am
nice handle! i would round down the spine and choil for an overall more pleasant experience

=D
Wed May 29, 2013 7:34 am
Good shades in there!
Wed May 29, 2013 12:18 pm
Here's a final shot with the polished handle glued in place. Now to use it...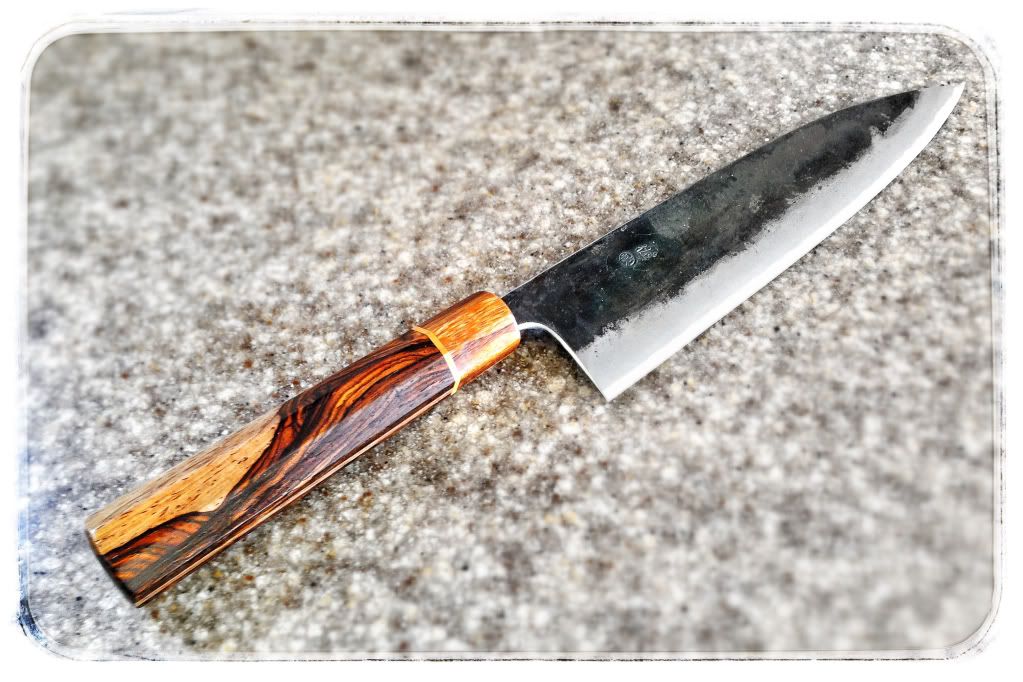 Thu Jun 13, 2013 12:52 pm
Looks nice!!
Thu Jun 13, 2013 1:15 pm
Good job!
Fri Jun 14, 2013 12:55 am
PIPES <>
For your second handle ever I'd say you knocked it out of the park. Gorgeous work. Awesome synergy in the choice of materials.