Wed Nov 06, 2013 9:11 am
I'm sure there is a more technical name for it, but reverse curve sounded good. As you can see in the photo, the Blur has a bit of a reverse curve on the back end of the blade. Doesn't fit on a stone very well. How do you guys sharpen blades like this? Is a ceramic hone my only option?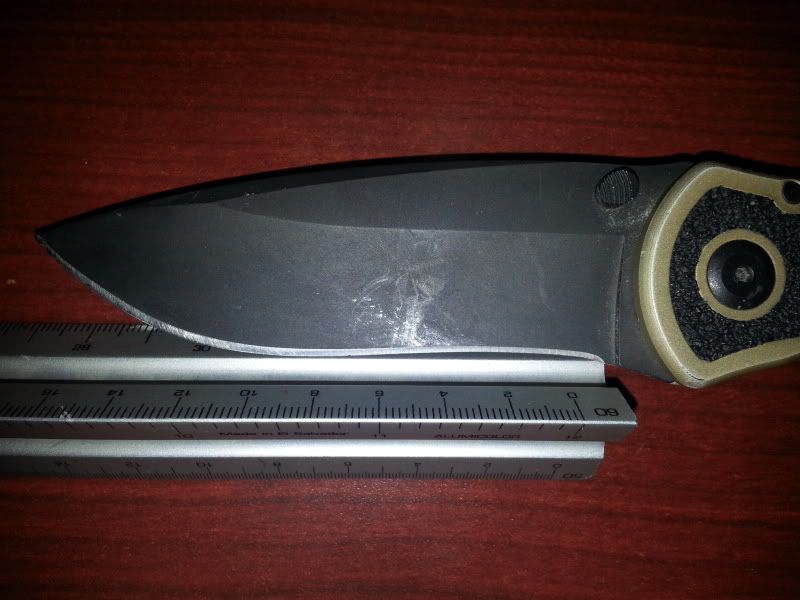 Wed Nov 06, 2013 1:43 pm
I end up using the edge of the stone. Sharpening normally except for the reverse curve portion which I basically just drag across the edge of stone cross the flat stone.
Wed Nov 06, 2013 3:34 pm
Round over the edge of your stone a bit and its pretty easy. The blur doesn't have much re-curve anyways so it shouldn't be too hard.

One bit of advice.... Dip the handle for the inner part of the curve or you will never touch it.
Wed Nov 06, 2013 9:26 pm
I don't sharpen professionally, so I just throw recurve blades in the trash when they get dull....or grind the recurve out with a ceramic belt.
Thu Nov 07, 2013 3:28 pm
"...I just throw recurve blades in the trash when they get dull..."

+1

I have slowly given away/sold any knife I cannot up keep at home. It seems with time I get to the point with every knife I own that I need to tear it down an rebuild the edge and I don't have the patience to do that if I have to stand on my head to get it done. I also have rid myself of all my serrated blades except my Tojiro ITK bread knife.
Thu Nov 07, 2013 4:32 pm
Re-profile it or pitch it.
Thu Nov 07, 2013 9:35 pm
Nathan you could use those stones I sent you to get into the recurve if need be. Thats one of the things those are good for. Jason's suggestion is what I do on those. Use a sharpie at first to get an idea where you are on the edge. Works very well in my experience.
Thu Nov 07, 2013 11:19 pm
Definitely surprised by the negative comments on the recurve blades. Although it is more of a tactical shape I guess compared to kitchen cutlery. I am a fan of the shape of the blur myself, completely forgot about the stones you sent me Pete when thinking about this problem. They should work pretty good for this. I'll let ya know.

For those that use the corner of the stone, do you round it at all or just start sharpening on the hard corner?
Fri Nov 08, 2013 8:52 am
I really like the look of the recurve....but don't understand any practical advantage to is. And sharpening them is a pain.

To answer your question, though....yes....I have two old stone's that I've rounded the edges over one with a DMT plate. I use them to sharpen curved surfaces....chisels, serrations on bread knives, etc.
Fri Nov 08, 2013 9:24 am
Recurves are great for machettes, large camp knives, etc where the recurve portion of the blade can actually be employed for chopping. A recurve on a small folders is a design flaw. I just grind them out eventually after multiple sharpening sessions.

Josh