Tue May 29, 2012 1:32 pm
Before and after photos of my Hiromoto 150 petty. Amboyna.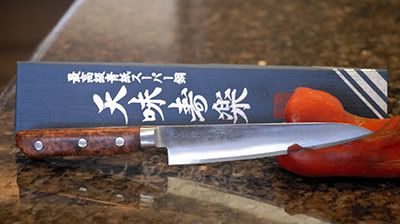 Attachments

(113.53 KiB) Not downloaded yet

(180.87 KiB) Not downloaded yet
Tue May 29, 2012 2:01 pm
Nice! Bigger pics if you can.
Wed May 30, 2012 10:46 am
Adam- I first tried at 3,872 pixels by 2592 pixels and got a message that I was limited to 400 pixels by 400 max. I can make the photo any size you want, but will I be able to upload it?

I have another knife handle to upload, so any help or info is appreciated.
Wed May 30, 2012 11:23 am
Yes it's limited. 3872 by 2592 pixels is huge and will fill up the entire page
Wed May 30, 2012 1:46 pm
You can upload the pics to something like Picasa or Flickr or anyone of those picture hosting sites and then put the pics up that way.

You'd have to find the link to the picture within the hosting site and then surround that link with image tags like [img]......[/img]
Wed May 30, 2012 1:50 pm
Correct. Also, if they right click on the image and open it in a new tab, it will enlarge too.
I use photobucket myself, but I've been postponing switching to Picasa for years now
Wed May 30, 2012 2:04 pm
Picasa is much better. BTW, Michiel, seeing your name in two places is confusing. I should really get to work.
Wed May 30, 2012 2:44 pm
Yeah problem is I have a paying subscription at Photobucket since I exceeded my bandwidth more than once.

i'll do it eventually