Tue Dec 24, 2013 10:14 am
Hi Mark, thanks for your reply. I am very interested in both the gyuto and mioroshi deba. In regards to the gyuto, I have read on-line posts saying that the 240mm honyaki gyuto comes with a 90/10 edge and a others saying that it comes with a 70/30 edge. I take it that is incorrect. I just want to confirm that the 240mm honyaki gyuto is 50/50 before I order. Thanks.

- Kyo
Tue Dec 24, 2013 10:16 am
I'm seriously thinking about offering a choil shot of all the knives so people can see the actual grind of the knife. There is lots of misinformation about this stuff since the edge on a knife is kind of hard to see. At least choil shots give you a good idea of the grind of the blade.
Here is a choil shot of the Suisin Ionox 240 Honyaki Gyuto.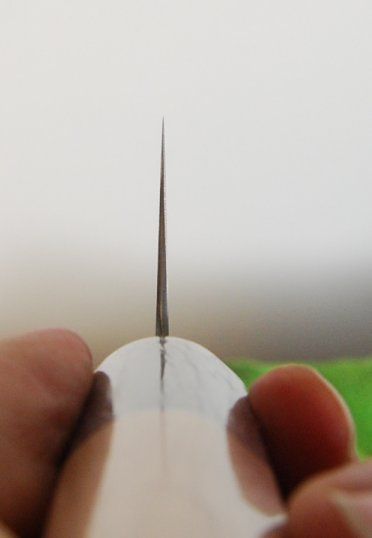 Tue Dec 24, 2013 10:51 am
Yeah, choil shots will be better to show people what the grind of the knife looks like, it's just hard to get the blade fully/perfectly vertical so you can see the true grind. If it's off a few degrees from vertical down the midline, it may look more symmetric or more asymmetric.
Tue Dec 24, 2013 11:22 am
chefknivestogo wrote:Hi Mark, thanks for your reply. I am very interested in both the gyuto and mioroshi deba. In regards to the gyuto, I have read on-line posts saying that the 240mm honyaki gyuto comes with a 90/10 edge and a others saying that it comes with a 70/30 edge. I take it that is incorrect. I just want to confirm that the 240mm honyaki gyuto is 50/50 before I order. Thanks.

- Kyo
I used to be all concerned about knives being 50/50 bevel until I got my hands on and extensively used some 70/30 or so beveled blades. You will not have any issues with steering or anything like, also if you even try and give any attention to the bevel while sharpening you will find that it will be close enough. Just my two cents.
Tue Dec 24, 2013 1:13 pm
Mark-
I think a few people have been asking for awhile about getting alternate photo angles.
I as well as other forum members asked about it in the forum thread below.
new-improvements-to-cktg-t2405-10.html
Mowgs
Tue Dec 24, 2013 2:01 pm
Speaking of that thread I'm ready to do a major update on the site so I'll be using that for input with my designer. Work starts next week.