Sat May 12, 2012 9:24 am
Being testing a CCK slicer, Shigefusa 165 Nakiri and Takeda 240 Gyuto for home cooking for the past year.

Takeda is the goto for the moment.

The main performer is helped by a cheap 7cm Henckels bird's bick paring knife and a large Zhibazi bone cleaver for scooping and whacking stuff.

Cleaver+bird's beak comes second and could have a chance for top spot if it were something of similar quality like the others.
Sat May 12, 2012 12:05 pm
Of my CKTG collection: Masamoto 240 Honyaki gyuto.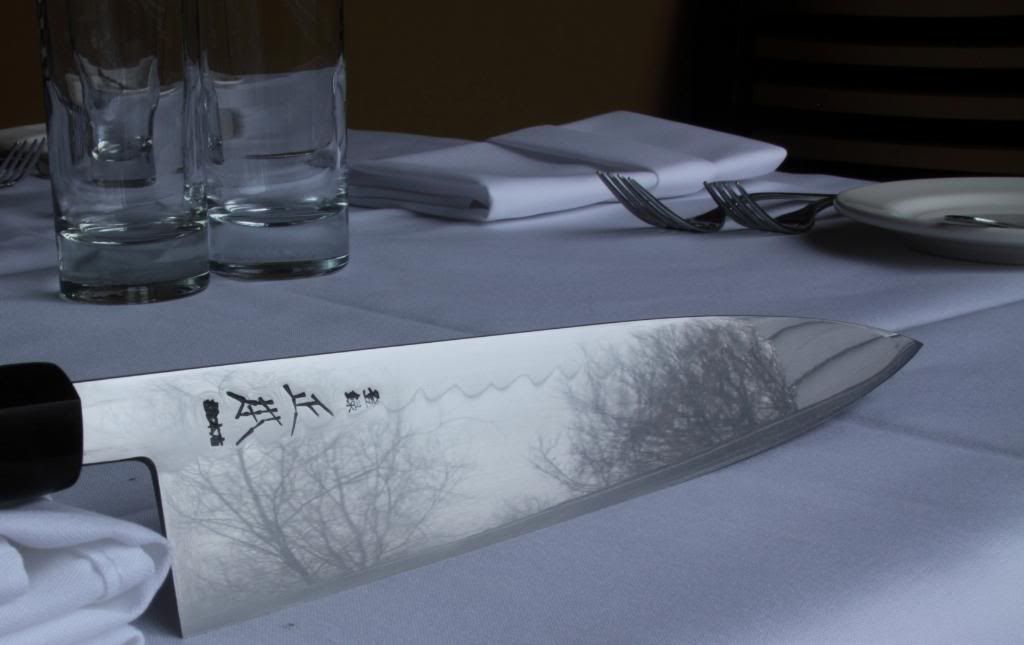 Sat May 12, 2012 3:32 pm
I've been won over by my CCK 1303 since I bought it. Having used deep-bellied western knives for a very long time, the straighter edge profile and ridiculously thin blade have improved the accuracy of my cuts a little more each day.
Into the roll with it go a 4" Sabatier paring knife and 300mm Hiromoto gyuto, but as it turns out the Chinese bargain just seems the most versatile (not to mention the cheapest to replace should tragedy strike.)
Sat May 12, 2012 4:51 pm
Right now a Victorinox 8" chefs knife and a MAC 6.5" Nakiri. I will get some Carter's soon.
Sun May 13, 2012 1:54 am
My go-to as of this moment is a
Bark River Knife and Tool - Chef's Utility
, pictured at the bottom.
Sun May 13, 2012 4:00 am
Currently mine is the Richmond Fanatic, but I hope to change that to the Richmond M390 Ultimatum in the near future.

Leigh
Sun May 13, 2012 12:06 pm
for now an inexpensive J.A. Henckels 8" chefs knive
Sun May 13, 2012 12:56 pm
Hiromoto AS 210 Gyuto
Sun May 13, 2012 2:26 pm
This is probably over, but I will add my DT 270 pm stainless san mai to my current go to.
Sun May 13, 2012 6:24 pm
Tojiro DP 210