Next up we have a 225mm gyuto I made for a very close friend of mine in Canada. She's a photographer, graphic artist, painter, tattoo model, and does some really varied types of catering. She's also rather...outgoing, to say the least. At the same time, she's one of the most classy women I've ever met. I felt her knife should reflect both traits.
So...the pictures!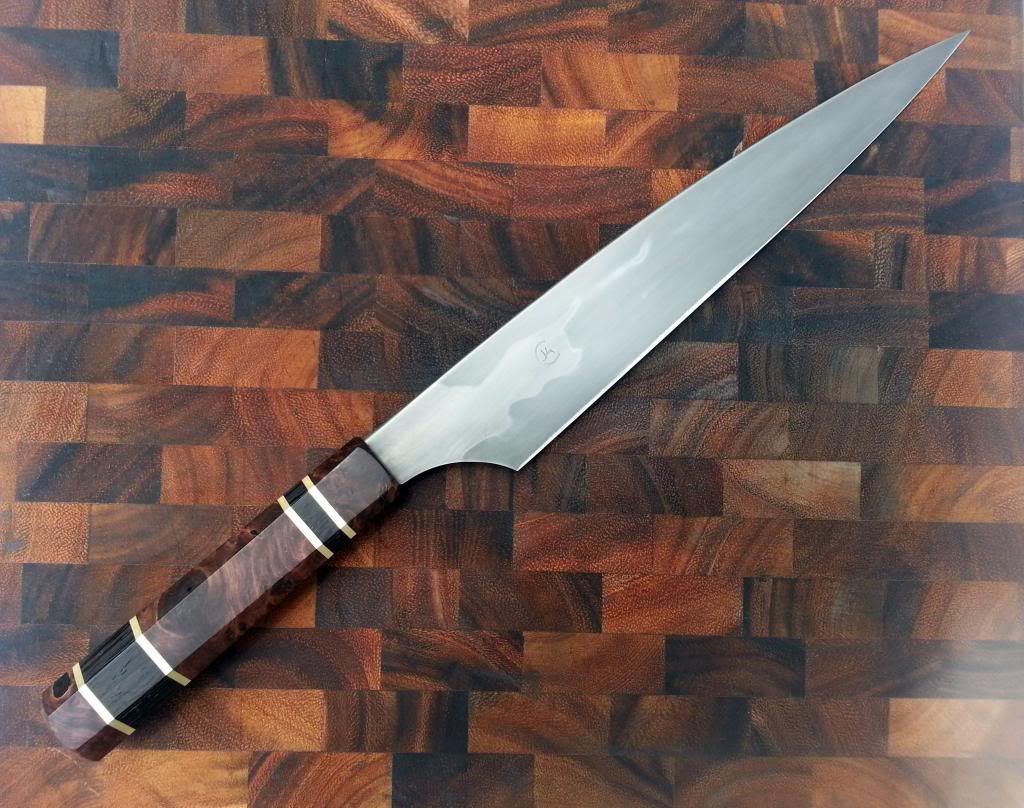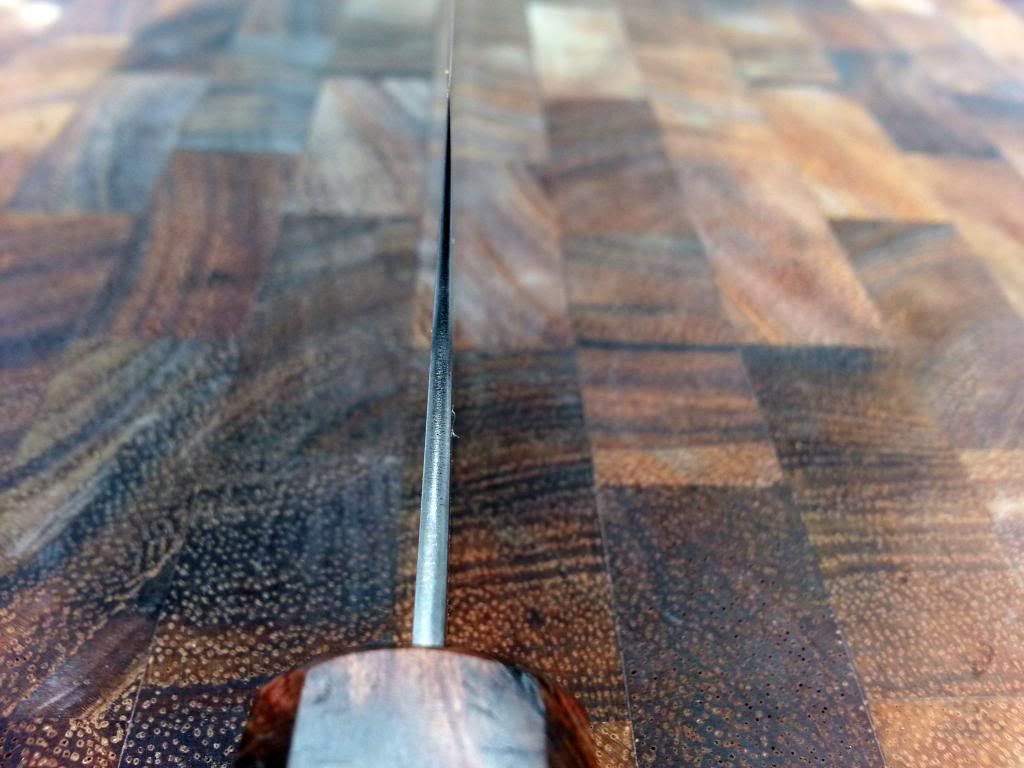 And a couple so you can see more how I setup the dimensions on the handle.
This is from the top.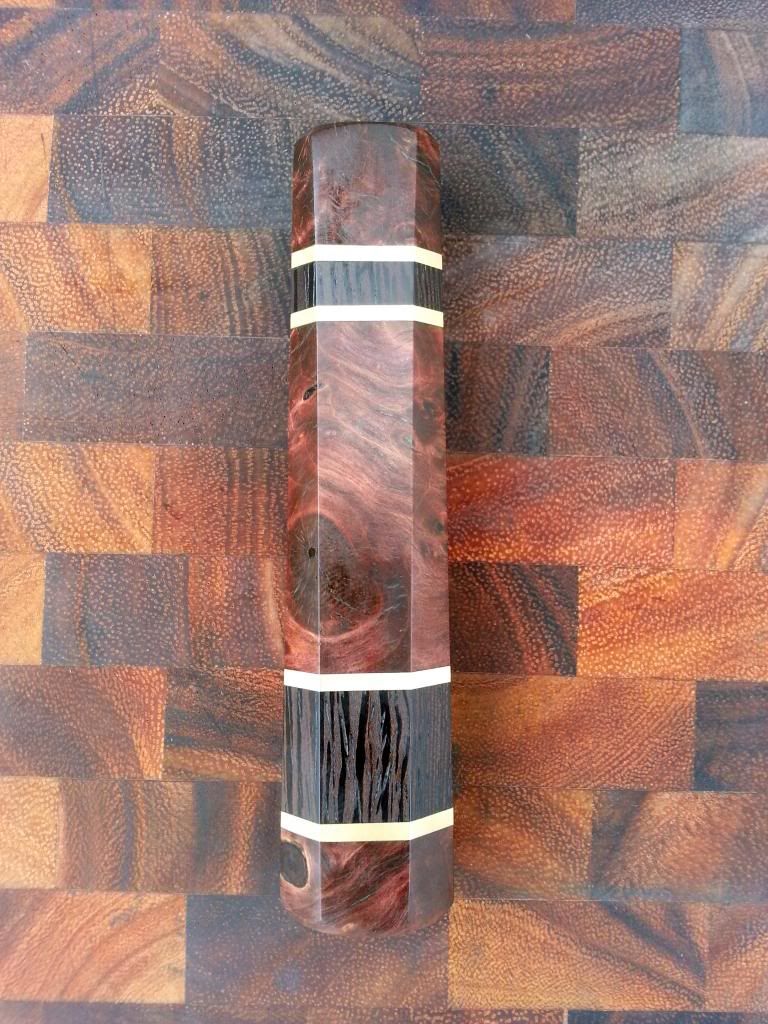 And this from the side.
Overall stats:
Weight - 173g
Balance right at the ferrule (its a tad handle heavy in my opinion...the blade came out a good bit lighter than I expected)
Edge length - 225mm (8.5")
Heel to belly (flat part of edge) - 115mm (4.5")
Overall length - 365mm (14.4")
Height at heel - 40mm (1.57")
Height at midblade - 33.5mm (1.34")
Height 5cm from tip - 19mm (.75")
This blade was originally intended to be 230mm. I'd never quenched with oil (Parks 50 in this case...previously I'd always used brine), and so I wasn't prepared for the rather massive downturn in the blade post quench. I'd of course read about it, but seeing how drastic it was caught me off guard. I ended up having to shorten the blade by half an inch in order to get my edge profile back where I wanted it. I also ended up taking nearly a quarter inch off the heel to spine width in order to get the edge flat from heel to belly as well. This will be taken into consideration on the next one.
Blade: W1 drill rod.
Spine thickness is 2.35mm above the heel, 2.27mm midblade, and .50mm 1cm from the tip.
Thickness 1cm above the edge is 1.14mm above the heel, 1.10mm midblade, and .5mm 1cm from the tip.
The blade seems to cut well. My previous attempt in W2 above cuts better, but is much thinner and more flexible. This doesn't bother me personally, but I was advised that a stiffer blade would be better in a professional kitchen. If this knife were being made for my own use, I'd have thinned it out a bit more behind the edge (from 50mm to 150mm above the edge in particular). As it is, I can't wait to get the feedback on it...as it's going to be in use in a pro kitchen for a week before going out to the end recipient.
Handle: Stabilized cottonwood burl, African wenge, and brass (special thanks to Craig Stevens for the burl).
Length - 120mm (4.73")
Ferrule, width x height - 19.2mm x 22.8mm (.76"x..90")
Butt, width x height - 25.73mm x 25.92mm (1.013"x1.020")
I'm pretty happy with the handle. The young lady who is receiving it has smallish hands, thus the intentional shorter length. I considered thinning it out a little for balance, but to be honest...she seems very happy with the dimensions as/is. We discussed the handle size on her current favorite knife...and I figured this would work out well for her.