The suji is finished
.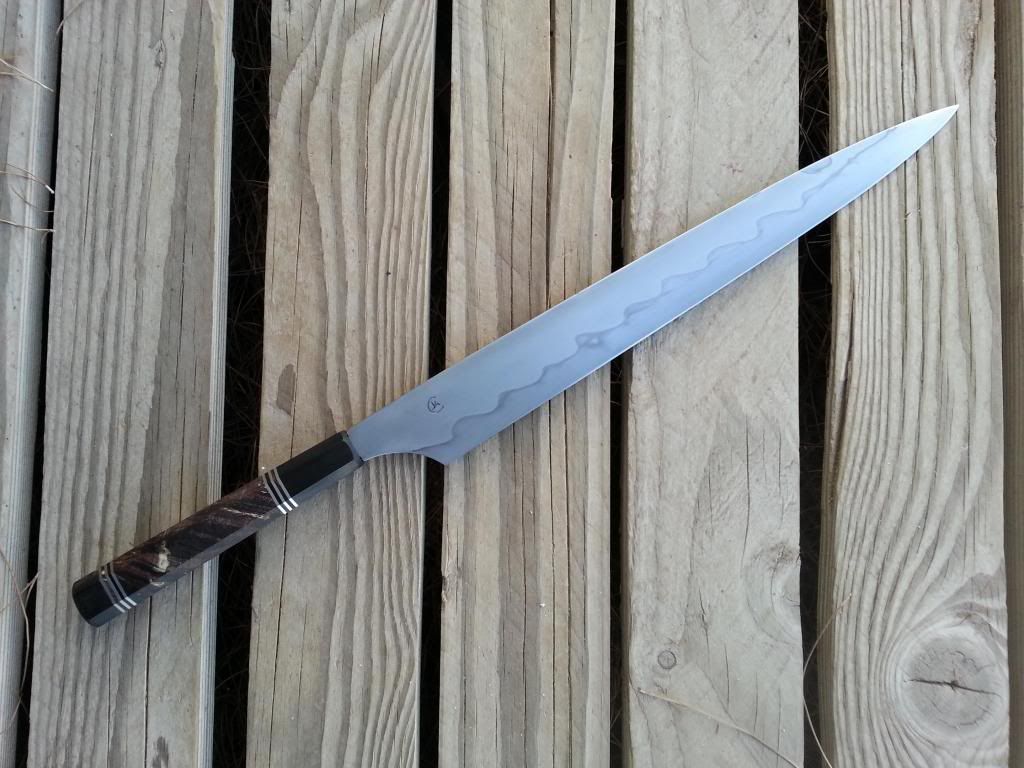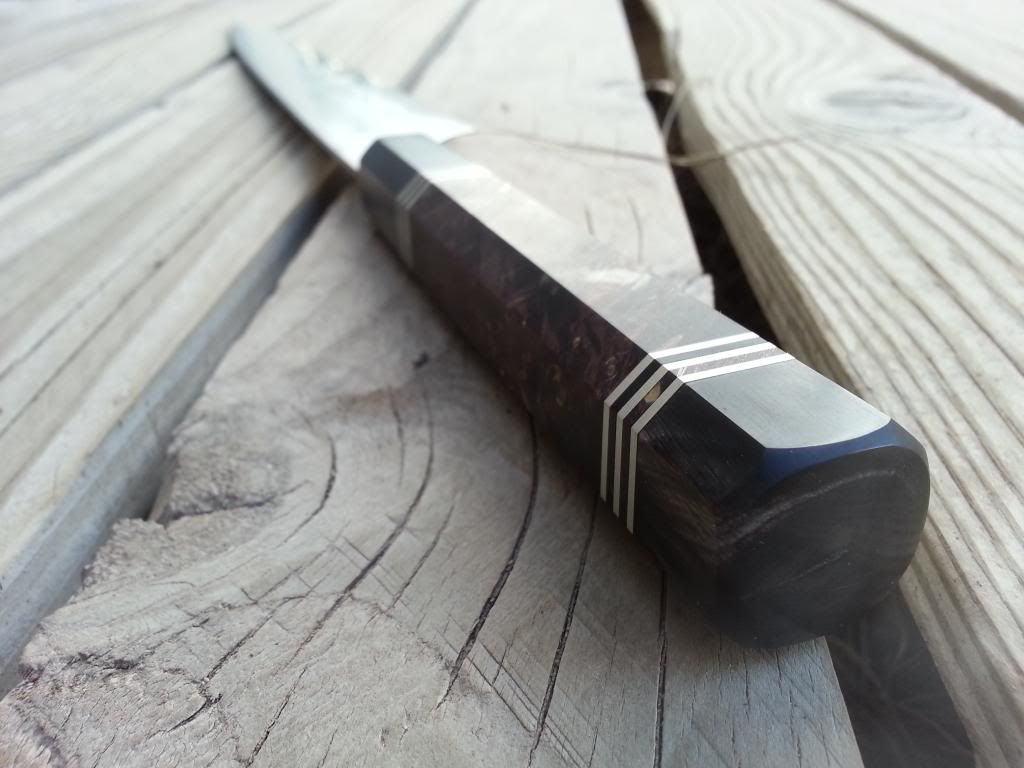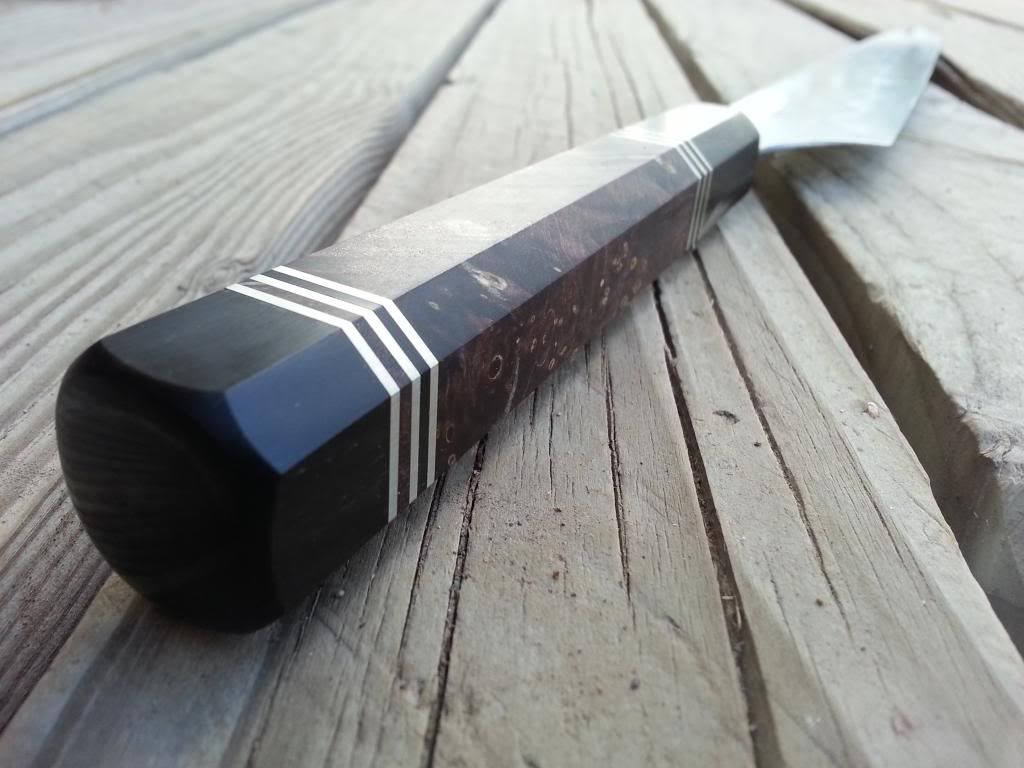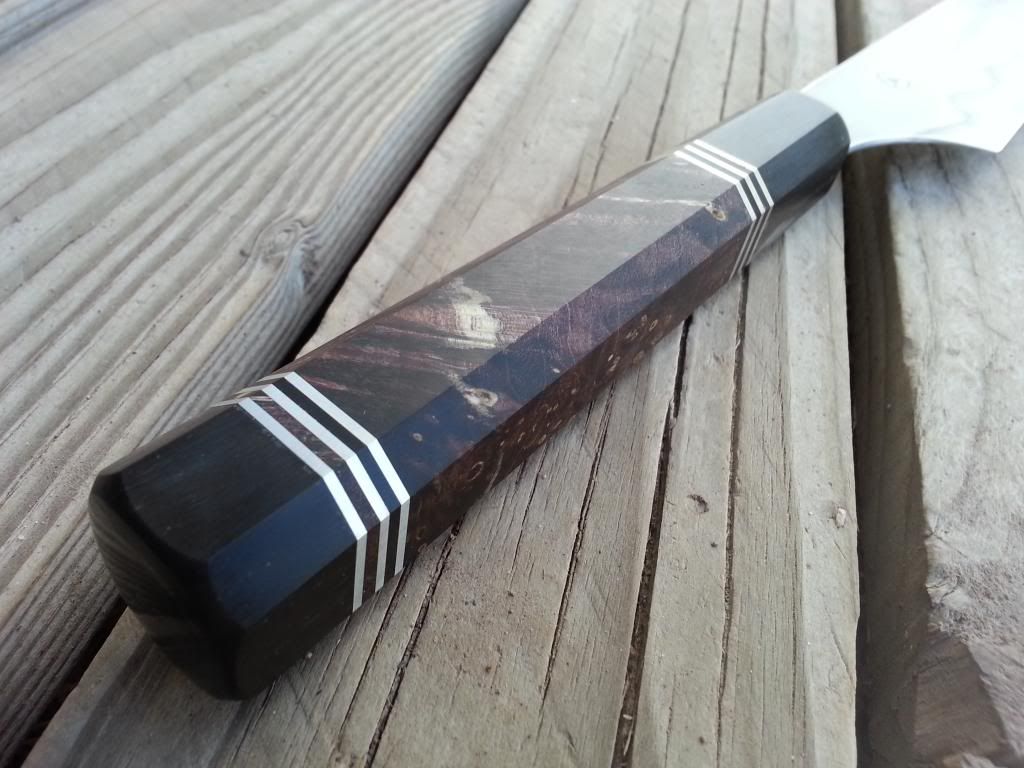 Overall stats:
Weight - 239g
Balance right at the maker's mark. I honestly thought this one was going to end up a little handle heavy, and require some serious and creative adjustment.
Edge length - 323mm (12.7")
Heel to belly (flat part of edge) - 140mm (5.5"), but the upsweep from there is VERY gentle. What I did was watched hundreds of people cutting with suji on YouTube lol, and adjusted the curve of the belly to suit.
Overall length - 500mm (19.7")
Height at heel - 41mm (1.61")
Height at midblade - 33.8mm (1.33")
Height 5cm from tip - 21mm (.82")
This blade was a lot of fun to make. If you've read the thread you know its the longest kitchen knife I've ever made lol. There was a couple times I thought it might not make it...but it managed to pull through
. Overall I'm very pleased with it. I feel this knife represents my goals with these knives, and hopefully upholds not only my aesthetic standards, but also my performance standards.
Blade: Aldo Bruno W2 (old stock).
Spine thickness is 2.41mm above the heel, 1.96mm midblade, 1.47 5cm from the tip, and 1mm 1cm from the tip.
Thickness 1cm above the edge is 1.21mm above the heel, 1.25mm midblade, 1.17 5cm from the tip, and 1mm 1cm from the tip.
Thickness 2cm above the edge is 2.03mm above the heel, 1.84mm midblade, and 1.45 5cm from the tip.
The blade seems to cut very well. It went through stacked skirt steak (for fajitas!) like nobodies business. The other things I've cut with it probably weren't a good judge of its intended purpose...but it handled general cooking tasks with ease.
Handle: Stabilized box elder burl, water buffalo horn, and nickel silver.
Length - 146mm (5.74")
Ferrule, width x height - 20.1mm x 20.08mm (.79"x.79")
Butt, width x height - 23.14mm x 23.99mm (.91"x.91")
I'm very happy with the handle for my third attempt. About the only thing I'd change is the color of the wood portion...as the piece I ordered looked grey in the pictures, lol. The idea was a pure monotone, but it came out so well that I decided to keep it
.
So there we are folks, my first suji! Please feel free to critique. If there's anything you prefer (I understand much of that is subjective...but I'm still interested in opinions!) in a knife, or would change if the knife were for you...I'd love to hear it.
Thanks for looking!