Tue May 29, 2012 9:27 am
1940's old hickorys edge restored and tip repair on boning knife all done start to finish with arky's.
Tue May 29, 2012 9:28 am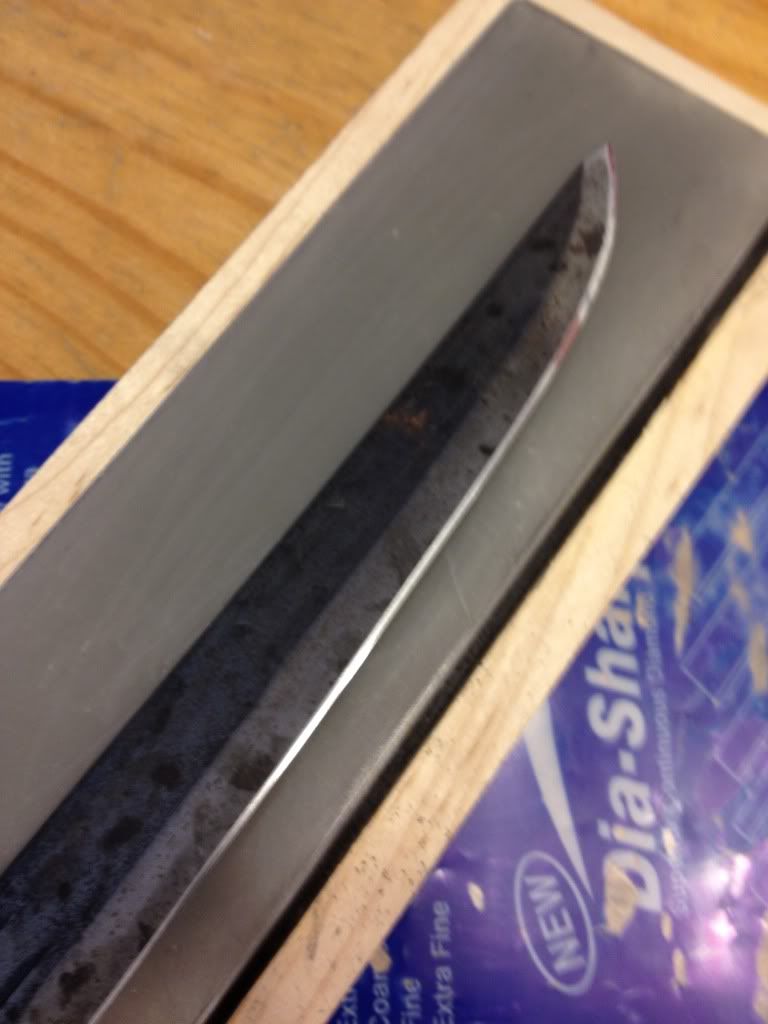 Tue May 29, 2012 5:37 pm
It looks like you got some blood on that blade or is that a tomato?
Tue May 29, 2012 6:08 pm
It's not tomato, thank goodness for those cape cod cloths you sell, I was trying to save the patina and was wiping the edge and i know better but the knife cut through the towel and rite into the crease of my hand. I have never been so proud of my work. Now for the next couple of days I will have to wear either gauze or a procotogist glove, ribbed of course. All I have is the ones that are blue and have a rough dot finish for grip. Yea me. Peace, jmbullman
Wed May 30, 2012 9:15 pm
I may have to send you some of mine. I have a heckuva time getting an even bevel on the tip with those bull nose butchers, even with an Arky.
Wed May 30, 2012 9:30 pm
Sometimes they still don't turn out even one side is usually thicker than the other quality q was not one of old hickorys strong point but if I can help please let me know. They are thick and don't get the sharpest in the world but I can make them shave paper an debone a chicken, peace jmbullman
Thu May 31, 2012 1:00 pm
For some reason I find these old carbon butchers knives frequently. I taught myself how to sharpen on stones with the four or five that I have. There not my favorite knives to use but they sure are fun to build back up from a pile of rust. Your knives look great, I put up a pic of one that has been in regular service for about 3 months now, just about time for a buff on the blade.
Attachments

(23.64 KiB) Not downloaded yet
Thu May 31, 2012 1:01 pm
*They're
Thu May 31, 2012 1:08 pm
Looks good the only thing about those is the inconsentency they can be thin I'm one part and super thick I the other, makes u want to pull ur hair out. Down here in the south I bet they are still in the top ten insales they are just loved by so many down here and sometimes u get one to sharpen that is easy and than their is the one that makes u want to pull ur hair out. Peace jmbullman. Good job btw