Tue Apr 24, 2012 8:43 am
We got a load of Butch Harner gyutos. I'll post pictures when I get them up on the site.
http://www.chefknivestogo.com/butchharner.html
Tue Apr 24, 2012 1:22 pm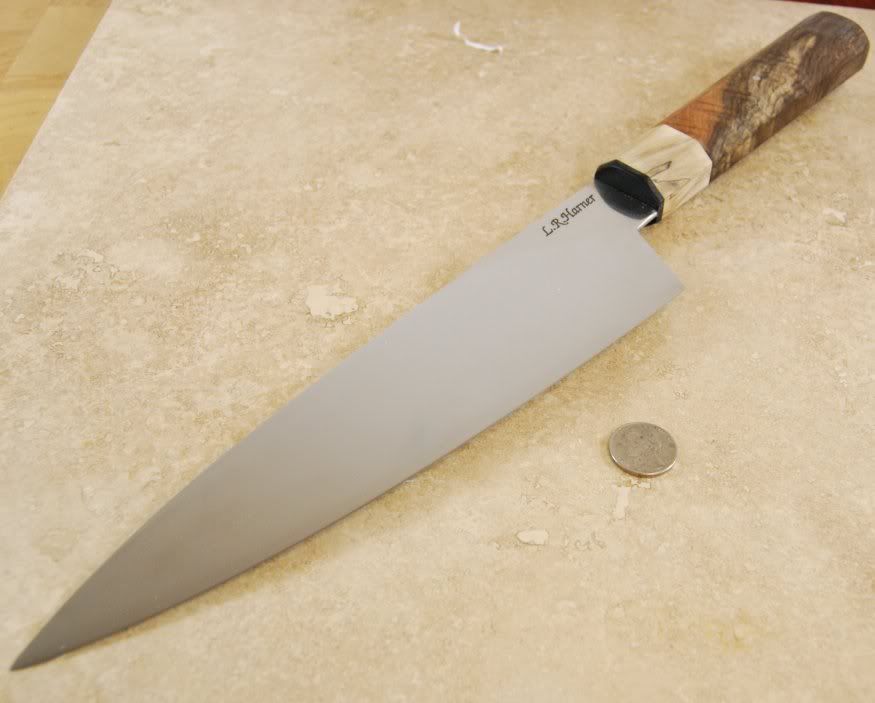 Sat Jun 16, 2012 7:14 pm
The handles on the Butch Harner knives look like they would get in the way of a standard pinch grip. Or is that just the photos?
Sun Jun 17, 2012 5:22 pm
They're large handles and not overly tapered. If you have some modifications you would like to see, Butch is making another half dozen of these right now so please let me know and I'll see if he can change them up a little. It's better to have some variety since everyone has different likes and dislikes.
Sun Jun 17, 2012 8:19 pm
I like large handles, but it seems like Harner's handles extend so far up the tang that you couldn't use a pinch grip. They look like you would have to hold them like a western handle, so you might as well have a western handle rather than a wa handle. If he can move the handles back far enough to leave room for a pinch grip, or just do western handles, that would make more sense.
Mon Jul 16, 2012 9:46 pm
Saweeeet! Those are very nice!
I'm a huge Butch fan

Specs on handles would be nice Mark... although i've had no problems with the Siblings (Butchkiri and butchhiki)