Mon Oct 15, 2012 3:33 pm
I'm hoping a few of you have some nice photos of knives with full edge burrs they can post. I have gotten a visable burr before, but I am not sure I'm getting the results I'm looking for. Maybe I am not getting a fully developed burr. Maybe I am not as stable as I think I am drawing strokes. Maybe I think I have fully deburred, but in fact, am not. I do end up with a nice polished looking edge, but performance cutting into say a carrot it not what I know it can be. On the other hand, slicing a piece of rare seared tuna has improved upon my own sharpening. VG-10.
Mon Oct 15, 2012 3:37 pm
At what grit are we talking? Anything 1,000(ish) grit and under is easily felt with your fingers. You should be able to "strop" your fingers with the opposite side you were grinding and easily feel it along the length of the blade.
Mon Oct 15, 2012 3:50 pm
All grit burr pictures desired. I see a burr at 1000. I don't see one at 5000, but I just pretend its there. I de-burr by running through a cork and finish on Hand American Loaded Bamboo, then Horse. I am a total NEWB, but have cut food for 20 years
Tue Oct 16, 2012 10:06 am
This is a M390 Spyderco with a burr from my DMT C (320 grit) plate: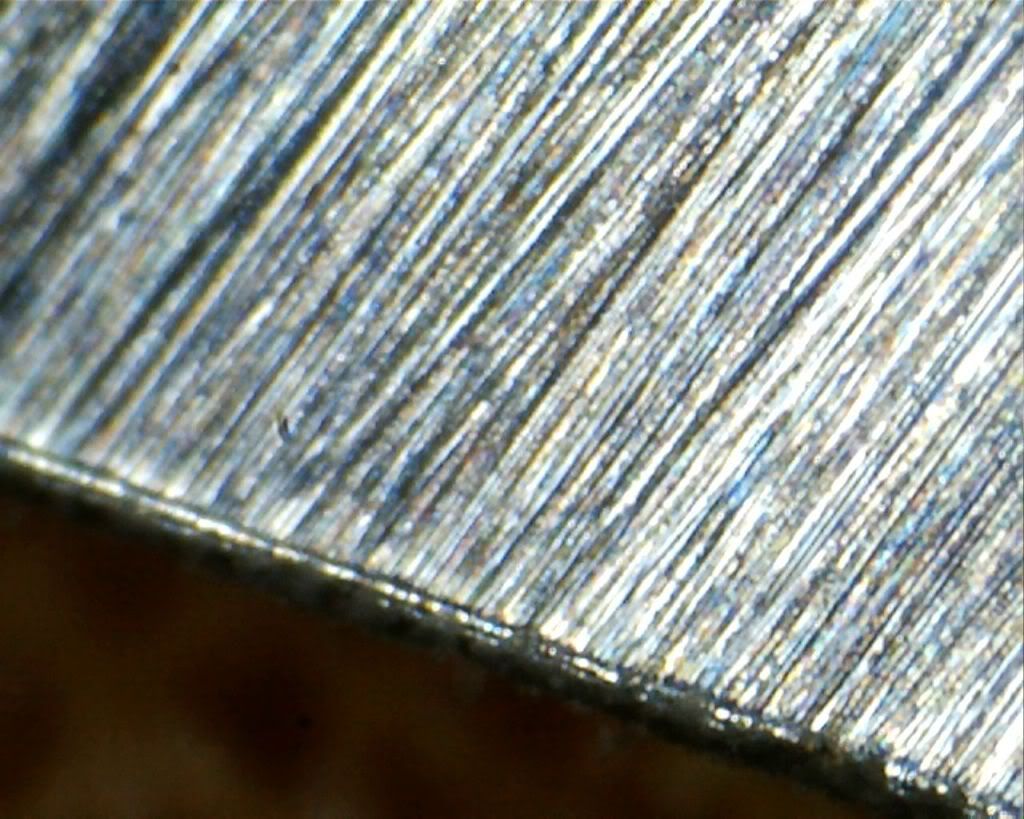 Tue Oct 16, 2012 2:49 pm
Nice so far all around, and also good thread Jason. Thanks.