Mon Mar 18, 2013 6:19 pm
I was wondering what types of blade finishes folks have applied to their knives. Not the edge but a patina or some other sort of treatment.

Adam, I believe you mentioned some sort of diluted acid in another post (which I cannot find now). I want to do some experimentation and while I have forced a vinegar patina (in various patterns) that is the extent of my experimentation.

Anyone have other methods? Provide pictures if you can . . .
Mon Mar 18, 2013 9:23 pm
Lying in bed on phone, so no pics, and but:

A diluted acid bath will patina carbon quick. I use the acid from Radioshack at a 50/50 dilution with distilled water. Shack sells it as an etchant

Yellow mustard can make some really fun patina patterns. Use a finger to puts drops on the blade, let soak for a few, wipe off, repeat, and do so several times and you can end up with a neat pattern. Same mustard and cheesecloth is cool too.

These are my favorites.
Mon Mar 18, 2013 9:52 pm
I forced a 'general' patina on my knive using smashed up bananas for about 20 min...
I think it really brought out the beauty in the damascus finish. Since then it has formed a very nice blue/purple natural patina just from use. Sorry no pics, im at work
Chris
sorry about the crappy quality pics...only have iphone photos
Tue Mar 19, 2013 5:21 am
Bananas, who would have guessed??? It looks good, thanks!
Tue Mar 19, 2013 9:02 am
Almost any fruit seems to force a patina rather quickly. Citrus slices make a pretty cool patina.
Tue Mar 19, 2013 1:43 pm
Got the banana recommendation from Tim (Taz575). Just smashed a couple up and coated both sides of the knife. I really like the way it came out

Chris
Tue Mar 19, 2013 6:16 pm
Adam,

I would like to see a picture of that acid finish you were talking about. Will you post a picture?
Wed Mar 20, 2013 8:28 am
I'm thinking of buying one of the more inexpensive carbon knives to see if I like them, and also to try my hand at forcing a patina.
I was thinking of buying two or three cans of shredded sauerkraut, draining them overnight, and sandwiching the knife in it with a little weight
for a short period of time. Anybody ever try this? Don't know what made it enter my rather odd mind, but just been wondering.
Wed Mar 20, 2013 8:37 am
Here are a couple pictures after cutting up a pineapple last night with my new Hiromoto AS. The edge is carbon and the rest is SS so it's not a full blade patina, but the blade clean with zero patina before I started slicing the pineapple.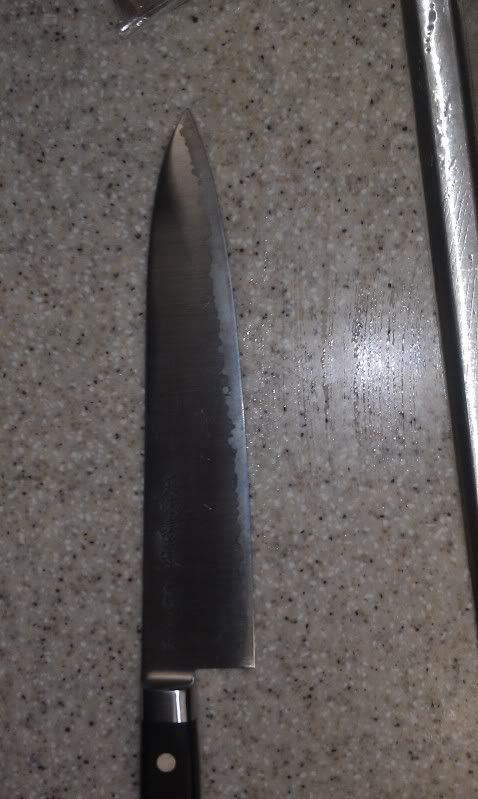 Wed Mar 20, 2013 8:50 am
I don't know if I have any pictures of an acid etched knife right now. Let me see if I can find some....if I don't reply, I couldn't find them.