Fri Sep 13, 2013 3:56 pm
Thanks for posting Melampus! I was intending to only post kitchen type styles here but truth is I have been testing out most of these knives in my kitchen even though they are better suited to fishing and hunting. The top one was my first design for a "steak" knife. Ive since redesigned what I think would make a good "steak" knife. Also these pics were taken of unfinished knives as you can see:) No worries, Its always hard to decide when a knife is truly done. You get it hardened, shaped, sharp, polished, regrind it, reshape it, get it sharper and on and on. I did in fact finish my light box today and got a few petty knife profiles ready for photos. Ill get em up tonight or tomorrow morning and let the kitchen cutlery pursuit of perfection begin:)
Fri Sep 13, 2013 5:19 pm
these are blackwood and AEB-l
madrone burl and 1095
g10 and aeb-l
and 1095 and oosik
all ground with 36" radius platen to mimic the grinds of old.
Thu Sep 19, 2013 5:41 am
Heres one that is turning out pretty good ...Hand sanding the blade still to go. Its an rc 60 o-1 steel blade about .007 behind the edge with a bit thicker towards the tip. The handle is fossil walrus cheek. Very solid and dense stuff. Feels awesome in the hand. I might scrim some subtle embellishments into the handle.
Wed Sep 25, 2013 5:45 am
If you like Camp knives and choppers I have a Work In Progress page on my site. It is slow going though, I am planning to finish these hopefully by christmas...or easter! lol.
http://blackstoneknife.com/wip-vendetta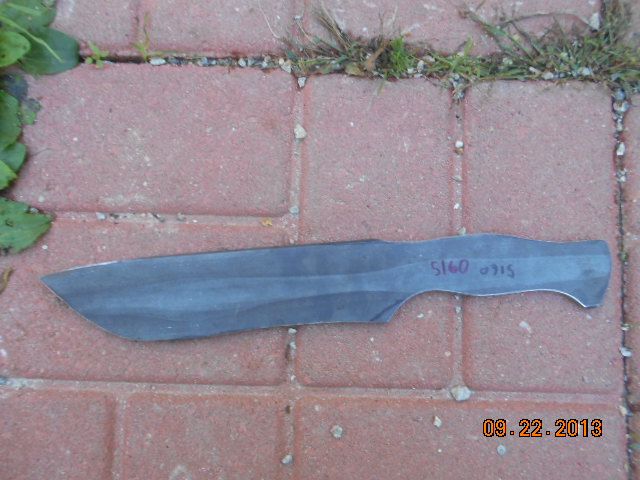 This knife pictured is about 13" Overall
Wed Oct 09, 2013 6:57 am
Just finishing up my batch of hunting/fishing stuff then onto the kitchen blades